We've worked with thousands of St. Louis brides and grooms just like you who are eager and excited to tackle wedding planning, but can easily be overwhelmed as the to-do list grows. We believe the entire wedding planning process can be fun, and we like to treat it that way! In the end, it all pays when you can trust those who chose to help execute your day. We have St. Louis DJ reviews, photographer reviews, videographer reviews, and overall service reviews! Reach out to us to learn about how we can help create and capture your big day, or just read on to hear straight from newlyweds who chose Complete Weddings + Events St. Louis!
 Complete Weddings + Events Reviews
"We loved our DJ's calm and organized personality. Loved his sense of humor. He was super good with requests to give it a more personal touch!" – Peter K.
"The DJ was polite and professional. He listened to our requests and any changes we needed throughout the night. The music wasn't too loud that people couldn't have conversation." – K.L.
"The DJs and videographer were great about making sure that all of our needs were taken care of for our special day. They were extremely friendly and thorough and consistently followed up to ensure that everything was going according to plan." – M.F.
"Zach was very professional and super fun! He did a great job listening during our consultation call regarding our wedding, the music, and our expectations for the evening. With a sudden family emergency, he wasn't able to make our ceremony but communicated the change to us and made sure his replacement knew what to do. Zach and Mo kept everyone on the dance floor for our entire reception and I learned just how much our families loved to dance! Jordan was also wonderful during the planning process and was extremely timely with answering all of our questions and making changes to our contract. I would HIGHLY recommend them to any family or friends looking for a DJ for their next event!" – Megan A.
"Aaron was our DJ this past Saturday night for our wedding. He was fantastic! We met up about a week prior and went over all the details. He ran the evening smoothly and played all of our requested songs! He even did the cupid shuffle with us! He played all requests by the guests and we danced until the end!! I would definitely recommend Aaron, he has a great personality and really focused on how bride and groom want their evening to go but also reads the crowd!" – Valerie B.
"Complete was great to work. They were always emailing or calling months before the wedding and especially a week before to make sure we had everything in place for the wedding day. I can not thank Jordan, Mercedes, and Taven enough for the hard work they put in on our wedding day. They were with us most the day and helped make sure we got every photo and video shot we needed. Jordan was an awesome DJ! The dance floor was packed and he played everything we requested of him. I was really worried about getting a DJ, uplighting, photo, and video all from one place thinking they wouldn't be very personable but I was wrong they were three great people to work with. Thank you complete I would recommend them to all my other friends getting married. 10/10 would recommend!" – Lexy W.
"Our DJ, Aaron, was so great! He was very flexible with scheduling a meeting before the wedding to go over all of the details for our big day, and he spent time get to really know my husband and I as a couple. On the big day, Aaron helped make everything so perfect! He was a wonderful DJ and helped keep guests on the dance floor all night!!" – K.T.
"My entire experience with Complete wedding and Music was great and continued to get better with each step. Libbi in the front office was very professional in setting up the appointment and sending me a calendar invite. When I arrived at the office she was prompt in getting us a meeting room and getting right to business. (FYI, the other company we were considering were late for their appointment by 10-15 minutes and the manager never apologized.) We were then introduced to Evan and hit it off with him in our first meeting. He has an easy going demeanor. He was prompt, professional and reassuring throughout the event. The kids, teenagers and adults all loved him. He was lit!" – Iram T.
"Complete did a fantastic job making sure everything was perfect for our wedding. The online forms were simple and laid a great groundwork for what we wanted. They were willing to answer questions at any time and truly made us feel special the whole way. The music was incredible even when we had some odd requests. I couldn't imagine there being a better DJ service anywhere. I wouldn't even consider hiring anyone else." – Sam H.
"We really appreciated the pre-wedding call to organize the night so everything could be stream-lined the day of with no worries about the timeline of events! Bruce was extra kind to bring a cord and amp he had for a couple of singing with guitar performances that I (the bride) and best man did!!! Everyone has said over and over it was one of the best weddings they have been to, with a very good flow to the night and a constantly full dance floor – mostly thanks for our awesome DJs. And the amber lighting they provided was perfectly placed and added just the right touch to the ambiance. Literally we cannot thank complete weddings enough for their services! Everyone (esp the bride and groom) had an amazing time!" – Bridget T.
"Jay was not who we had originally requested but he certainly surpassed our expectations! He was highly attentive, even to the point of serving the groom and I drinks ( which is for sure not in the DJ job description). All of our guests raved about how amazing our DJ was at the end of the night, so much so, that we had some friends decide to specifically book him through complete weddings and events for their upcoming wedding. We could not have asked for a more genuine, funny, or outgoing DJ. He read our crowd perfectly while keeping in mind our favorite songs/restriction recommendations and kept the party going until the very end. I could go on and on but he was outstanding! On a scale of 1-10 he's off the charts and an excellent representative complete weddings and events." – Katie E.
"We booked both our DJ and Videographer through complete. Let's start with DJ…. Nathan was our contact throughout the whole process (and the whole reason we booked Complete in the first place after meeting him at a wedding show), he was AMAZING! Always quick to answer any questions I had along the way and make sure I had a good understanding of the process and what we could expect. He was super accomadating and fun and day of had the dance floor packed for the whole wedding! He is hands down one of the best DJs I have ever encountered, as well as fantastic at customer service and ensuring that our day was perfect! Now for videography… we decided very last minute (one month from our wedding day) to add on video and as I came to expect with Complete, they took it in stride and made sure that we had everything we wanted. Christian was super laid back and so fun to work with! He made sure he got all the shots that we possibly could have wanted and was also incredibly helpful all day long (going as far as to hold my veil during photos and always making sure my hubby and I had a drink in our hands!) All around, I couldn't have asked for a better team or a better experience all at a very reasonable cost! I would, and have, recommended Complete to anyone who asks!" – K.L.
"Complete provided my photography (Derrick), Videography (Judge), and my DJ (Brenton) for my wedding a few weeks ago. I was beyond happy with all of the services provided. It was extremely easy to communicate with Complete (Libbi was my initial contact) and when my photographer, DJ, and videographer were assigned, they were also very easy to get along with and communicate what I was wanting. The photographer, Derrick, captured our wedding perfectly ensuring he got the best of the best. The videographer, Judge, was so creative and friendly. He went above and beyond to get great video. And our DJ, Brenton, kept the energy up and the dance floor full through the entire evening! Overall, I had a great experience with Complete and couldn't have asked for a better group of individuals to help make my wedding day perfect." – Morgan W.
"Would highly recommend Complete Weddings. Sara, our DJ, was awesome! Playing just the right music at just the right time. Mixing it up with the guests. Heard nothing but good stuff about Sara! Mathew, our photographer, was wonderful! His quirkiness matched ours! Can't wait to see the end results. :)" – Diana K.
"We went through Complete Weddings + Events for our wedding DJ and photographer and we could not be happier with their service! The photographer was relaxed, had a great personality, highly skilled with recommending and executing photos, and went above and beyond by asking our wedding party and guests if they needed drinks or anything as he was able. The DJ also went above our expectations by going around to each table asking guests their music preferences and our dance floor was busy pretty much the whole night! We had an incredible wedding day and we would recommend them to anyone else wanting a wedding reception with fantastic service." – Amy T.
"Nik was our videographer and he was great to work with, he was fun and hard working and always recording. We can't wait to see the video of our daughter's wedding. We also used your photo booth and our guests loved it. I spoke with Kyle but I think it was David working the booth. He was fun and engaged the guests. We ended up with a full book of pictures. Thank You for helping make the night so special." – Todd B.
"DJ John did a fantastic job. We didn't have to spend any time worrying about what he was playing. He felt out the crowd and pick music based on the mood. He also did an amazing job asking guests for recommendations which the crowd LOVED. We absolutely loved that we didn't have to worry about the DJ all night and he kept our dance floor full the entire night. We could not have chosen a better DJ and we are extremely happy with both, Complete Weddings & Events and DJ John. Thank you so so much DJ John!" – Holly J.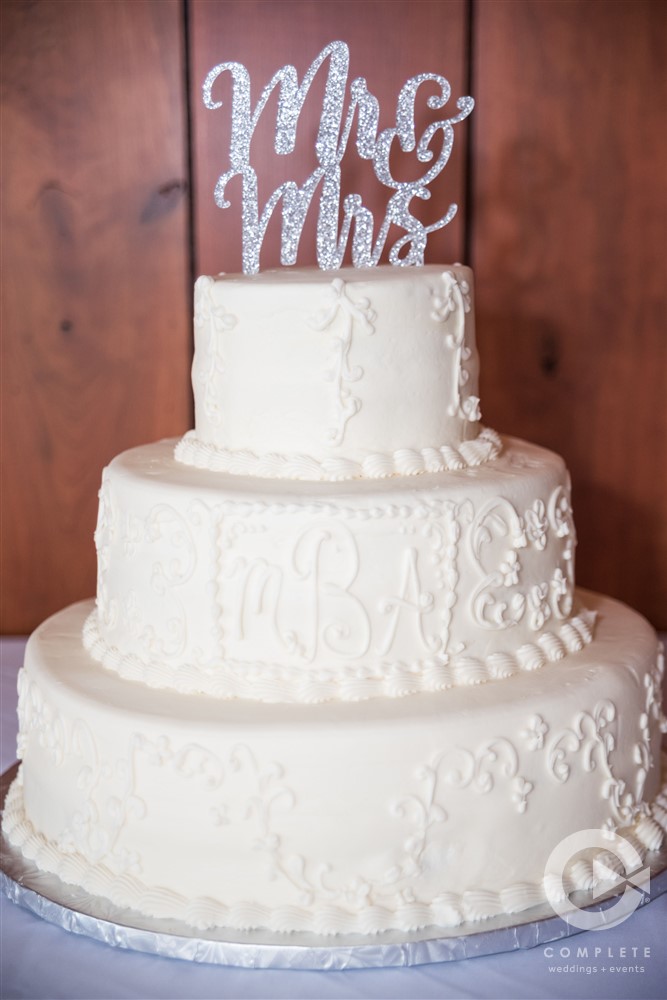 Contact us to begin creating your team of professionals that will make your wedding a memorable and enjoyable one!