Party Like You is a monthly series from Complete Weddings + Events. It is candid, down-to-earth advice aimed at helping couples keep things real for them. At Complete, Party Like You is more than a slogan. No two couples are exactly alike, so we work to package wedding services that fit couples as uniquely as their love story.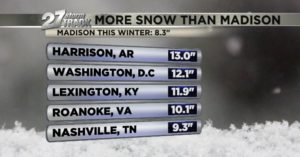 January brings an expected set of factors: holiday hangover, return to work after downtime, and the chance to start a new year. In places like Milwaukee, where I live, it also brings snow. However, 2022 is already throwing curveballs as shown here by Madison, WI meteorologist John Zeigler. Wild times, right?
For folks in the wedding industry, January means another layer: wedding show season. This starts as reliably as the clock and calendar turn. Complete Milwaukee and Chicago teams spent the first weekend of January doing three wedding shows. Wedding show season directly follows engagement season. The holiday season remains the most common time of the year for couples to become engaged. Attending a wedding show is a great way to ease into the wedding planning process. Tara and I put together a great podcast episode full of tips to have a great show, and that is at the bottom. But this is about Party Like You. Let's dive into how to attend a wedding show like you.
Align the Mindset
This starts before attending a wedding show and involves aligning with your future spouse. Picture the wedding day, establish the desired mood and vibe, and plan with that mindset. What am I getting at here? There are a million ways a wedding day can come together. Not every way is right for every couple. One couple may have a vision for an elegant, formal, meticulously planned fairy tale for 100 guests. Another couple may picture a small, informal, backyard affair with close family and friends. A third couple may have visions of a raucous party with their 300+ closest family and friends. These are 3 different events, all the correct approaches, but all approached differently.
The first wedding requires impeccable execution from selected vendors. Our second couple needs to find vendors that fit into their inner circle for a day. The third couple needs bona fide party animals. Regardless, correct vendor selection is key to a successful, stress-free day.
Wedding Show with a Purpose
Align your mindset with your future spouse before stepping foot into a wedding show. This will increase efficiency and avoid future conflict. It also gives you a plan to approach the day. My recommendation is to get into character and focus on the vibe.
High Execution Needed
If you fall into the category of needing a high level of execution, make sure to live that need. Use the day to dress up a bit and spend time interviewing your potential vendors. Take time to think of worst-case scenarios and failure potentials on your wedding day. Ask vendors to talk about how they plan for success, deal with adversity, and how they fix problems before they happen. Make sure that wedding planners are on the list.
Vendors are the Friends You Pick
The party people and inner circle couples should approach the interview differently. Think harder about how you picture the vendors fitting in with you and your crew. Ask this question: can I spend 8 hours in the same room with this person? My suggestion is to be open with your most important vendors about this dynamic need.
Wisconsin Vibes
January brings a couple more things in Southeast Wisconsin. The first is the NFL playoffs, and the second is Packers being contributors. Wedding show season would not be the same without an eye on the NFL playoff schedule. The important thing is to party like you. Make sure to let the world know if the Packers and football are part of your DNA as a couple. This can mean planning your time at the show around kickoff. Most wedding shows have broad windows, so pick the spot that lets you watch the game. And, wear your jerseys to the show. This helps us as vendors know how you party. Stop by the Complete booth next wedding show when the game is on. We probably have it on one of our TVs.
Complete Weddings + Events in Milwaukee
Reach out to Wisconsin wedding professionals to help you or connect you to more wedding resources to make sure you're getting help where it's needed. Complete Weddings + Events in Milwaukee is a text or phone call away (414.751.6886 ) for advice or to set up a consultation to chat through your event! Contact Complete today!