Choosing the Best DJ in Lincoln, Nebraska for Your Wedding or Event
Delicious food, fun games, and goodie bags galore can make your event special, but when it comes to setting the mood, there's no alternative to a great DJ service. The top DJs in the Lincoln, NE area at Complete Weddings + Events are experts in getting the party started, maintaining an exciting rhythm throughout the evening, and knowing how to keep your guests dancing the night away.
Finding the best DJ in Lincoln, NE for your big event or wedding day is easy with our team on the job! We're committed to keeping you and your guests grooving – so leave the details to us when planning your wedding or event.
Planning a Night to Remember
Event planning comes with an array of important decisions to make. Selecting the right event DJ can make all the difference when planning a vibrant night to remember.
When clients come to us searching for the perfect special event DJ, we make it our mission to match you with a professional DJ who can both entertain guests and keep the energy levels of weddings and parties high. Finding a DJ who can read the room and make adjustments to their playlist based on the crowd can truly elevate a party from fun to incredible.
Questions to Ask a DJ Before Hiring Them
Every party is different – the soundtrack to a wedding reception will sound quite different than the tunes played at a Sweet 16 celebration! With that in mind, it's worth considering the kind of questions you'd ask an all-events DJ in Lincoln. Not sure where to start? Use these bullet points to guide your search:
How will you set the mood?
The mark of a great DJ is their ability to turn an awkward and shy crowd into a lively and excited room of dancers. Of course, not every event calls for this kind of evolution; a corporate event DJ might be excellent at setting the tone for a formal dinner while a wedding and event DJ might be better at curating a dance playlist. Regardless, in your hunt for the perfect DJ, it's worth asking how they get the crowd excited.
What is your background? & How much experience do you have?
Just as you wouldn't hire a pet sitter to babysit your toddler, you'll want to select a DJ who has experience with the specific kind of event you're hosting. Most DJs get into the field because of their love for music, but their personal preferences in the types of gigs they take and the tunes they play can seriously impact the mood of your event. Ask about their experience with your type of event and how they handle common challenges that may arise.
Do you take song requests?
Some DJs are eager to take song requests from event attendees, while others prefer to personally curate the night's playlist. If you feel strongly about song requests, it's worth asking a DJ about their policy before you hire them. It's also a good idea to outline any songs you don't want to be played or specific songs you know you'll want to hear at the event. Controlling for surprises is key for any successful party!
Who will DJ my event?
Many DJs work alone, but some bring along assistants to help set up and break down their equipment. In some cases, large DJ companies send out different employees to man the event than the person you spoke to about their services. When chatting about the options, make sure you're clear on exactly who will be manning your special event and what safety net is in place if they can't make it.
Will you bring your own equipment?
Some DJs have streamlined their equipment and won't take up a lot of space. Others will bring along lights and sound equipment and will need a certain amount of square footage for their setup.
Ask about their needs – how early do they need to access the space to begin setting up? How many electrical outlets will they need? Do they wear a uniform or will they dress to match the formality of your event?
These kinds of logistical questions are often forgotten amidst the excitement of planning!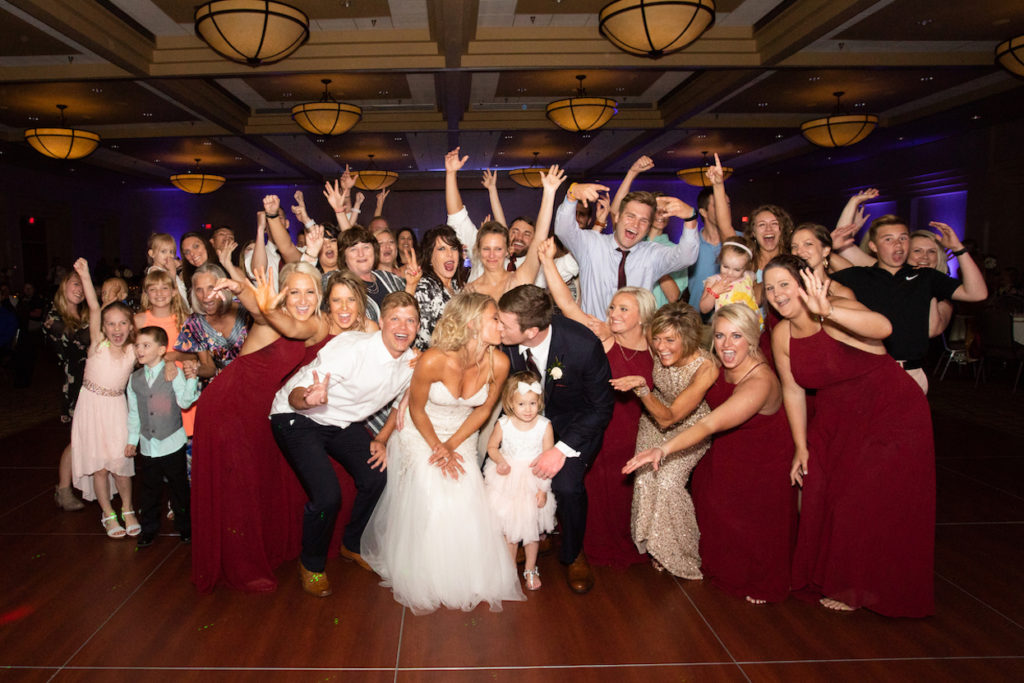 Experience the Complete Weddings + Events Difference
Our professional event and wedding DJs in Lincoln, NE have the experience, savvy, and instincts required to make your event memorable. Leave the details to our team to find the best DJ for your event.
Because our DJs bring their experience and their state-of-the-art equipment to each gig, you can relax knowing your party is in good hands. With a variety of set-up options, playlists, and plans to meet your needs, you'll be able to hand over the reins without worrying about delegating throughout the night.
Customized Playlists
Our experienced DJs will work closely with you to curate the ideal playlist that reflects your unique style and preferences. From romantic ballads to energetic dance hits, we've got the perfect blend of music for every moment of your wedding.
Unforgettable Experiences
We go beyond just playing music. Our team is dedicated to creating memorable experiences that reflect your love story. From coordinating special announcements and first dances to interactive games and surprises, we'll make sure your wedding is a truly remarkable event.
Stress-Free Planning
Planning a wedding can be overwhelming, but we're here to make it easy for you. Our dedicated team will work closely with you and your wedding coordinator to ensure every detail is taken care of. Sit back, relax, and let us handle the entertainment aspect.
Complete Interactive
Complete Weddings + Events offers Complete Interactive, fun, fresh activities to get all your wedding guests involved! For each custom interactive wedding experience, we use online platforms and digital interaction to level up your wedding reception with a couples questionnaire, trivia, a song selection poll, and a social media wall.
Learn more about Complete Interactive to see what sets Complete Weddings + Events DJs in Lincoln, NE apart!
Book Wedding DJs in Lincoln, NE with Complete Weddings + Events
At Complete Weddings + Events, we know that a party is only as good as the people behind the scenes. That's why we're committed to delivering the best DJ experience possible. No matter what kind of event you're planning, trust our team to connect you with the perfect DJ for the job.
Contact us for other great vendor services, too! We offer event planning services, photography, videography, and even photo booth rentals to make your night one for the history books.
Customer Reviews
"Ben was our DJ, he totally killed it! he did amazing at keeping everybody on schedule and was accommodating to the guests. He dealt with the hecklers fantastically and dint let them interfere with the night. Even after most of the guests left, he still kept it going, and I even got him to join in on a few dances. He has a great personality and was very attentive to the groom and myself all night." – Kelsie H. 

"Complete made things simple and easy for us. Our DJ, Logan, was fantastic! He listened to all of our concerns and needs while planning and he was very interactive and kept the events moving smoothly and on time. Our guests told us how fun our DJ was and that the music variety was awesome! Our videographer did amazing as well! Would definitely recommend for anyone needing services for their wedding!" – Quentin R. 

"The communication and planning was top notch. Our DJ had an unfortunate circumstance and was unable to attend our wedding, but I was contacted right away and the back up DJ was better than we could have hoped for. The music was great and the Photo Booth was a hit!" – Zach B. 
Areas We Serve – Find a DJ Near You
At Complete Weddings + Events, we are committed to providing exceptional event and wedding DJ services in:
Lincoln, NE
Fremont, NE
Seward, NE
Crete, NE
Beatrice, NE
Roca, NE
Milford, NE
York, NE
Greenwood, NE
Hickman, NE
Firth, NE
Nebraska City, NE
and surrounding areas