Writing your own wedding vows can be overwhelming and even scary sometimes, but with a positive outlook and good intentions, you can make your vows the most memorable part of your wedding! Here are a few tips and tricks on how you can make your wedding vows the best that they can be.
How to Write Your Own Wedding Vows
When To Start Writing
It is essential that you start writing your vows prior to your big day. It is better to start sooner rather than later as the wedding day itself can get a little hectic. There are so many things that need to be taken into account and you don't want your vows to take the backburner. So give yourself plenty of time. It is best to start four months in advance if you plan of sharing your vows with others for input and advice. Take time to practice and perfect your vows before you are standing at the alter.
Where to Begin?
When you begin writing your vows it is best to not rush your words. Start by jotting down your thoughts and ask yourself why do you love your partner? Why do you want to get married in the first place? What inspires you about your partner? What are you most looking forward to about being married? These small questions will be the foundation of your vows. If you are still at a loss for words, do some research for ideas. Be careful not to copy sentences and phrases as you still want your vows to be personal and unique to you and your partner.
Talk to your Partner
While writing your vows make sure to talk to your partner about what to include beforehand. Create a game plan so that both of you can share similar lengths for your vows. It is best to average around one to two minutes, but don't be alarmed as it can vary from couple to couple.  The tone of your vows is also very important. You don't want to make your vows full of jokes while your partner's vows are more heartfelt and emotional. However, you want them to be fit your personality and tell the story of your relationship. Make sure not to give everything away when you review with your partner as you still want to leave some parts as a surprise.
Cherish your vows
The purpose of wedding vows is that you are making promises to your soon-to-be spouse. Make sure you go into depth and make your words meaningful. The words you speak on your special day should be kept throughout the entirety of our marriage so put some production into your vows. Use sturdy cardstock and notecards instead of notebook paper or your phone. Have the officiant hold your cards during the ceremony so you don't forget them. Lastly and most importantly, remember to hold on to your vows. Have an extra physical copy so that you and your spouse can look back on them for anniversaries or special occasions to come.
Your vows might be spoken with friends and family present, but your main audience is your partner. Make sure that your words leave them feeling loved and appreciated. Creating personalized vows might sound daunting, but it is truly a great way to put a personal touch on your ceremony.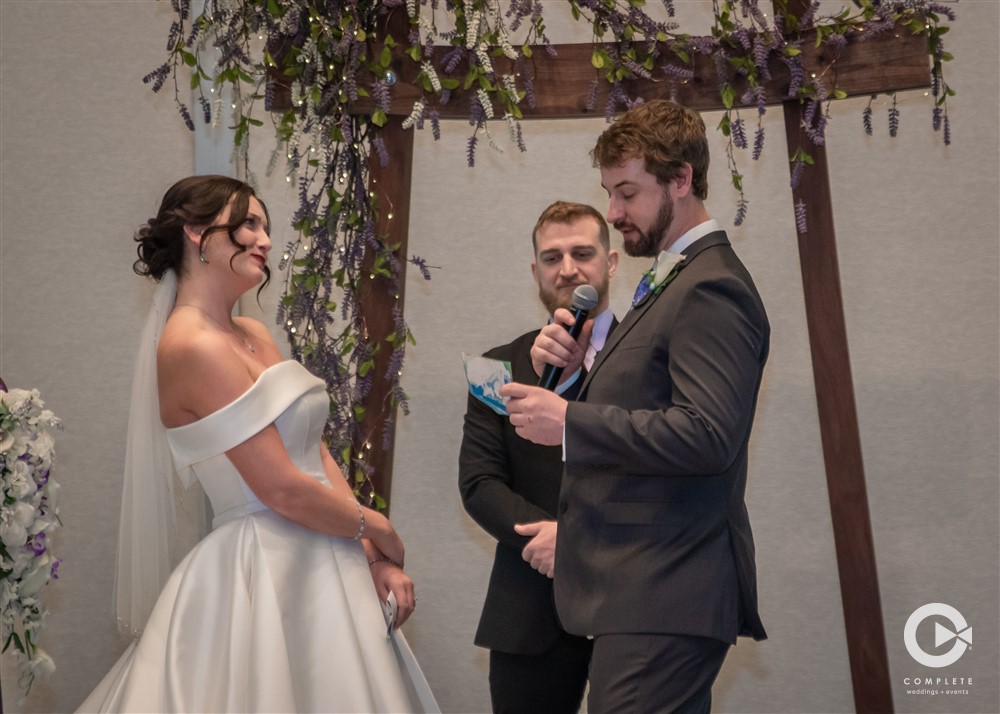 For more tips on writing your own vows, check out the Complete Wedding Planning Podcast episode 42!
Event Experts at Complete Weddings + Events Kansas
Whether you want one service or all six, we specialize in creating custom packages for our couples to meet their needs and budget. Tailoring each of our services to reflect your style and vision and allowing you to be a part of the planning process every step of the way. The best part is you get a team of professionals to help with all the details from our knowledgeable office staff, in-house full-time wedding planner, and experienced event staff, we have you covered and want your planning process to be a stress-free experience.
Check out our service pages to learn more about how we can COMPLETE your event!
Complete Weddings + Events, Kansas' leading provider of event and wedding photography, videography, day-of coordination, lighting, DJ services, & photo booth rental.