The wedding day is going smoothly. The couple looks amazing, the nuptials were sweet, cocktail hour was a blast, and the newlyweds have made their way into the reception. In a short period of time, the DJ will ask for everyone's attention and introduce that it's time for the highly anticipated wedding toasts! If you are one of the lucky ones to get to make the toast and have no idea where to start, then this blog is just for you!
Who Traditionally Gives Toasts?
A majority of toasts are given by the Best Man and the Maid and/or Matron of Honor. Parents are also welcome to speak, although traditionally the Father of the Bride is the one who talks. Other members of the wedding party, such as siblings, may also give toasts. You should limit the number of speakers to a select few as you don't want your toasts to take a long period of time. It's best to not offer the mic up to the crowd for it could take too long and the awkwardness that comes with impromptu speeches.
We encourage the couples to also speak and offer their thank-yous to guests as well as to make small compliments to their new spouses if they are comfortable doing so. Often we see this toast last and helps kick off the rest of the night.
When Is The Best Time For Toasts?
There is no strict order of events when it comes to giving toasts. Everyone can give their toasts at the beginning if time allows. However, normally the Father of the Bride gives a welcome speech and offers prayers before dinner. After dinner, other members of the wedding party can speak. Know who's giving speeches beforehand. Who's speech will make everyone cry, laugh, or will take the longest. The timing of your toasts really just depends on the timeline of your reception.
How Long Should Toasts Last?
Try to aim for 3 minutes or less for your wedding toasts. If you don't have very many people speaking then toasts as long as 5 minutes are okay. The most important thing to remember is to keep your speech interesting as you still need to keep the crowd's attention. The toast section as a whole should be limited to 10 minutes or less as you have other events during your reception, such as cake and dances to come.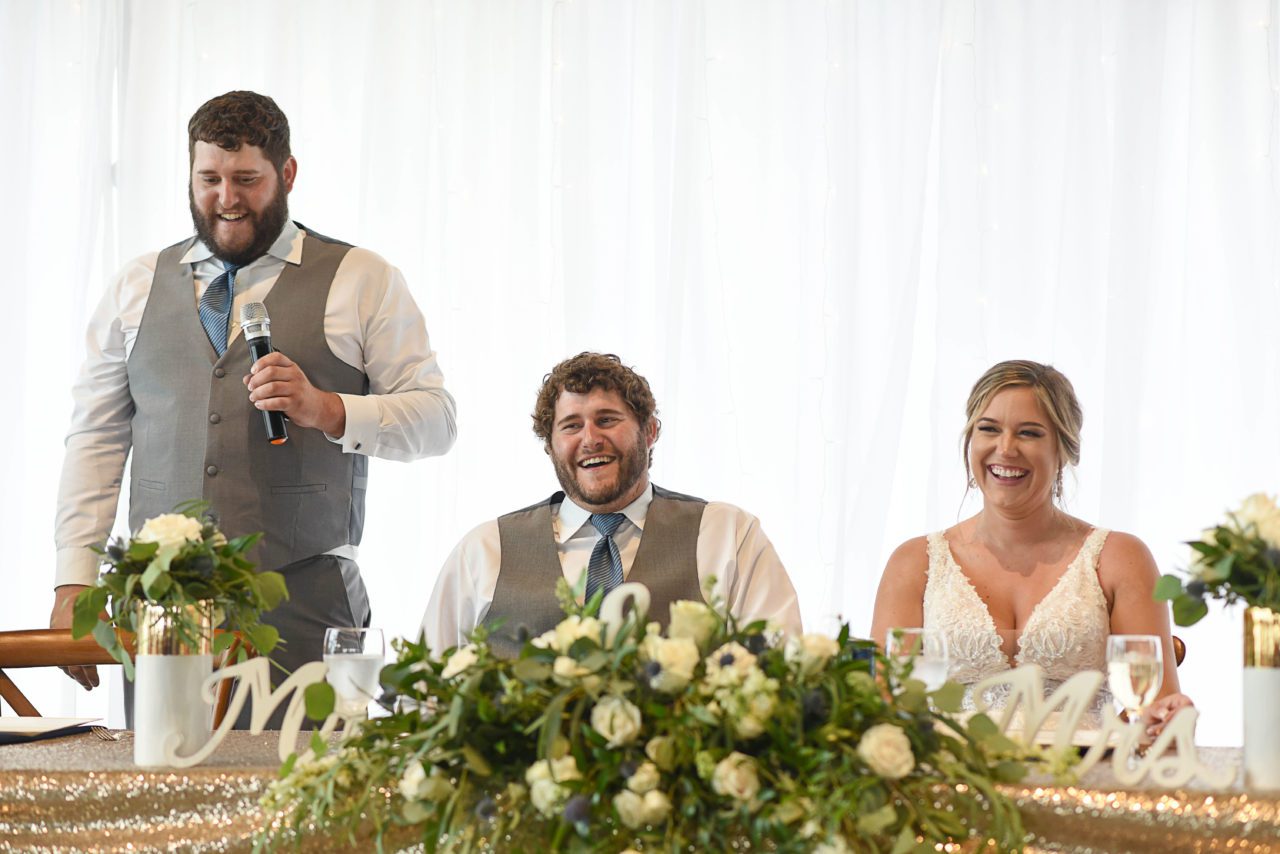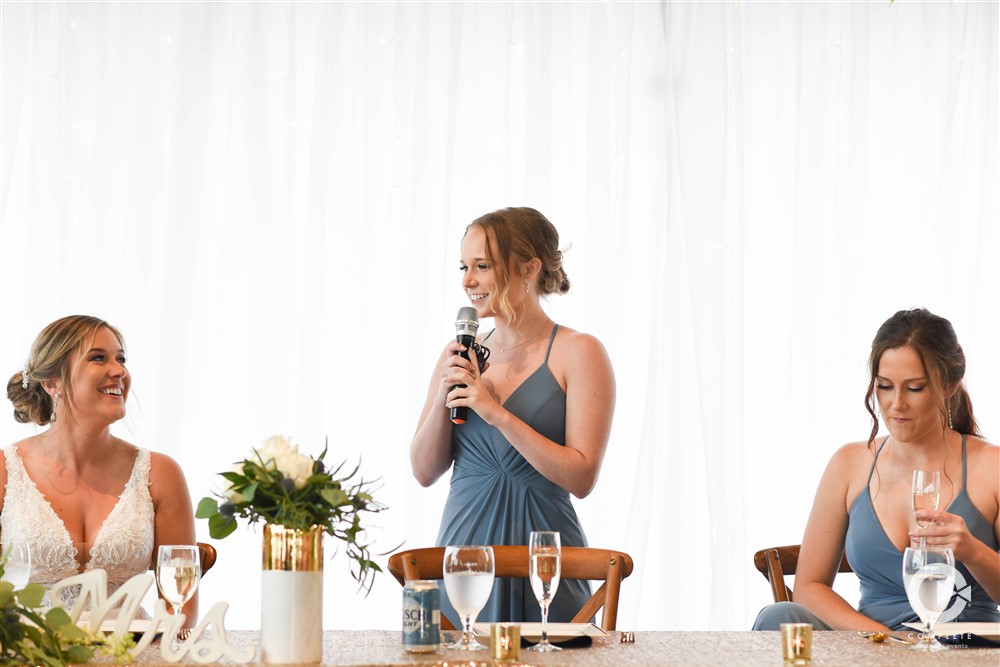 Tips to Constructing A Great Toast
You don't want to be writing a toast on the day of the wedding! Prepare early on what you are going to say and check in with the couple on what stories and jokes are appropriate.
Feel free to do some research (but try not to use every quote you read).
Be sure to introduce yourself and how you know the couple.
Get creative and include things like stories, quotes, poems, songs, and props!
Talk about what qualities you love about them as individuals and them as a couple (avoid talking about yourself).
Share some of your own marriage advice or well wishes to the happy couple.
End on a high note.
Don't forget to ask the crowd to raise a glass to the newlyweds! (You don't always have to use champagne).
Stand next to the couple when giving toasts for pictures and clink your glasses together.
Pro Tip: Hire a videographer to capture this special moment, you will want to remember what they said for years to come. If hiring a professional isn't in the budget have a guest record on their phone.
Things You Can Do As A Guest
Give the speaker your full attention.
Don't chug your drink after the first toast.
Have a napkin/hanky ready for emotional speeches.
Event Experts at Complete Weddings + Events Kansas
Whether you want one service or all six, we specialize in creating custom packages for our couples to meet their needs and budget. Tailoring each of our services to reflect your style and vision and allowing you to be a part of the planning process every step of the way. The best part is you get a team of professionals to help with all the details from our knowledgeable office staff, in-house full-time wedding planner, and experienced event staff, we have you covered and want your planning process to be a stress-free experience.
Check out our service pages to learn more about how we can COMPLETE your event!
Complete Weddings + Events, Kansas' leading provider of event and wedding photography, videography, day-of coordination, lighting, DJ services, & photo booth rental.