Today, more and more weddings are happening outside of the church. This means that finding an officiant is at the top of the to-do list! Want to know what else is typically on that list…securing your marriage license! What is often an afterthought is the process of changing your last name! Our wedding professionals as well as experienced wedding officiant, Trina Tyler, from A Heartfelt Ceremony, have all of the details covered when it comes to these important details of your big day.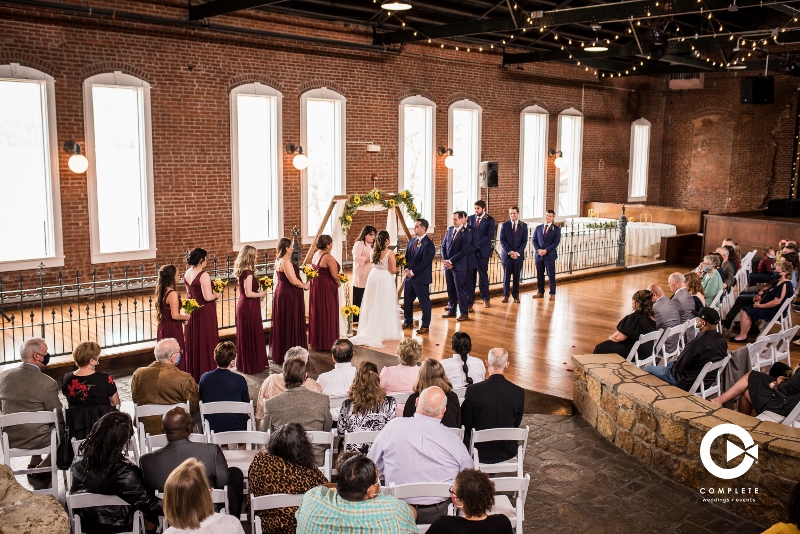 Who can officiate your Kansas Wedding?
According to K.S.A. 23-2504.  Solemnizing marriage; persons authorized to officiate/be an officiant:
(a) Marriage may be validly solemnized and contracted in this state, after a license has been issued for the marriage, in the following manner: By the mutual declarations of the two parties to be joined in marriage, made before an authorized officiating person and in the presence of at least two competent witnesses over 18 years of age, other than the officiating person, that they take each other as husband and wife.
(b) The following are authorized to be officiating persons:
(1) Any currently ordained clergyman or religious authority of any religious denomination or society;
(2) any licentiate of a denominational body or an appointee of any bishop serving as the regular clergyman of any church of the denomination to which the licentiate or appointee belongs, if not restrained from so doing by the discipline of that church or denomination;
(3) any judge or justice of a court of record;
(4) any municipal judge of a city of this state; and
(5) any retired judge or justice of a court of record.
(c) The two parties themselves, by mutual declarations that they take each other as husband and wife, in accordance with the customs, rules and regulations of any religious society, denomination or sect to which either of the parties belong, may be married without an authorized officiating person.
Get to Know Minister Trina Tyler & A Heartfelt Ceremony
Trina has been an officiant for
A Heartfelt Ceremony
for 9 years and currently has five additional officiants on her team. She has been partnering with Complete Weddings + Events for 7 years. A Heartfelt Ceremony is located in Topeka, KS. They do a variety of events including weddings, baby blessings, funerals, civil ceremonies, vow renewals, and more.
Choosing your officiate can help as soon as you get engaged. However, Trina often suggests hiring one at least a few months out so that you give yourself time to get to know them as well as time to go through your ceremony layout.
"As a wedding planner, I have worked with all types of officiants and even the friend who got ordained on the internet the night before. Working with a professional will help you make educated decisions and potentially prevent any mishaps. I have worked closely with Trina over the years and love the down-to-earth vibe she brings. She is truly about making her couples feel comfortable and help them have the best day. Trina can perform all types of ceremonies and provide as much religion or laughter that you want."  -Tara Grubb, Lead Coordinator for Complete.
The Ceremony
From the give-away, vows, and the couple pronouncement, Trina has a system when it comes to working with couples. She provides face-to-face consultations prior to the ceremony to review all options. During this time she encourages couples to add their own personal touches. She finds that meeting beforehand helps tremendously with planning and lowers stress from the big day. She offers to meet with couples as much as needed after the initial meeting. Trina can also attend rehearsals as one of her package options. There is no wrong way to have a ceremony. However, in the state of Kansas, your ceremony must include a verbal declaration from the couple.
The ideal length for a ceremony should be around 15-25 minutes, excluding the processional and recessional. All kinds of scenarios can occur on your wedding day. Take the time to lay out each part of your ceremony that could include a personal welcome, prayer, and readings along with the exchanging of your vows and rings and the ever-awaited kiss. This is a part of your day you can truly put some personal touches on. From having your officiant tell the story of how you met, to writing your own vows. O you can keep it traditional with picking out your favorite bible verse for your officiant to read.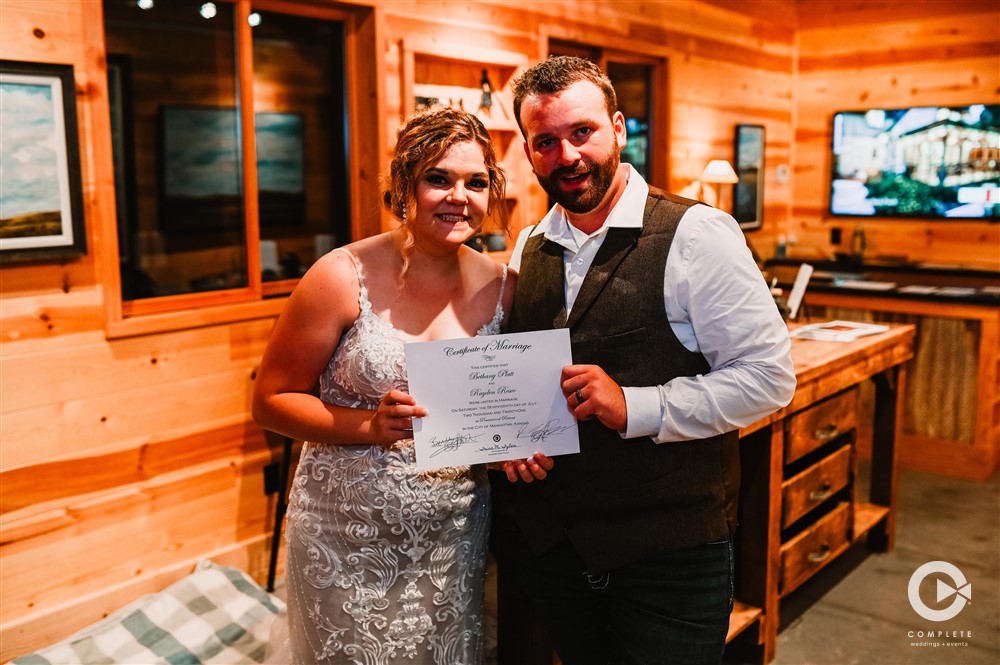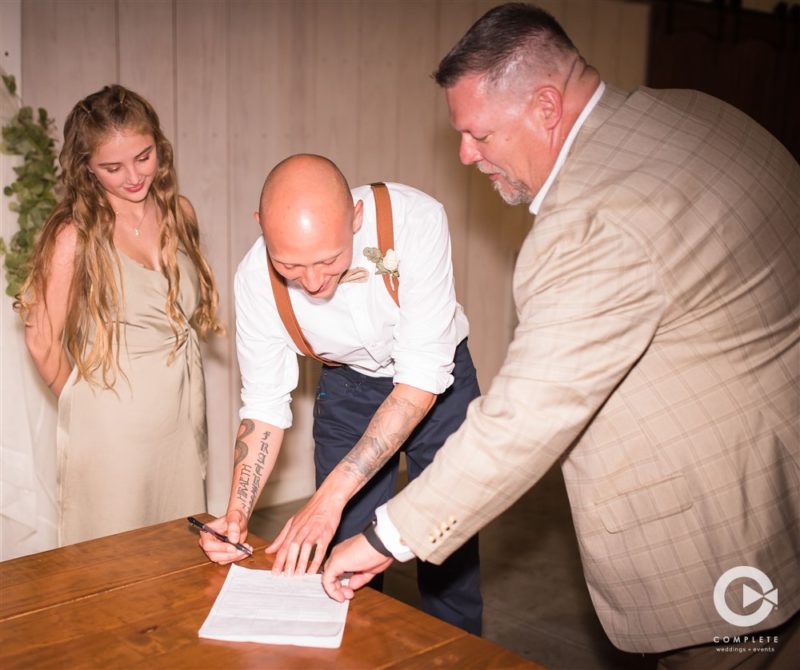 The Marriage License
Couples in the state of Kansas can apply for a marriage license at least 6 months prior to their set wedding date, and Trina recommends doing this at least 30 days in advance.  Each state is a little different, for example in Missouri you cannot apply any sooner than 30 days before, so definitely read up on your state rules. You can apply for your marriage license at any county courthouse, just be sure you are getting your license in the state you will be getting married in. Once you applied for a marriage license it is typically a two-week turnaround to receive your copies.  In the state of Kansas your witnesses do not actually sign the license, but merely print their name however, this is often a great photo opportunity.
At A Heartfelt Ceremony, all officiants submit a marriage license for the couple after the ceremony has been performed. If couples prefer to take care of their own license, they are more than welcome to do it themselves. If your officiant can submit the license for you then it is one less thing for a couple to worry about. Just make sure you put your license in a secure location as to not misplace it.
For more information on how to obtain a marriage license
click here
.
How to Change Your Name
A Heartfelt Ceremony can also help with the process of changing your last name. Take a full day to go through the whole process. One tip Trina can't stress enough is that couples who plan international honeymoons should wait until after their trip to change their name. If documentation such as your driver's license, airline ticket, and passport don't match, you won't be able to go on your trip.
Steps to complete this process:
Step 1: To start, couples must apply to get their certified marriage certificate through the vital statistics office. These certificates are usually available within 10 business days after your ceremony. This is the process in Kansas, but changes from state to state. Other states may allow you to go through the county clerk's office or online, but turnaround times vary.
Step 2: The next step is to visit the Social Security Administration office that's local to you. You should go in person or send your application in the mail. When you go, you will need to bring your certified marriage certificate (a photocopy will not do) and proof of your current identity like your driver's license.
Step 3: Now that your certificate is on record with the Social Security Administration you can go to your local DMV and change your name on your driver's license and state ID card. You will want to do this as soon as possible and in person. Take with you your previous identification as proof of your identity with your old name.
Step 5: Now you can use your new driver's license and or ID card to change your name with employers, insurance companies, banks, credit cards, etc.
If all of that sounds like too much for you then check out
Hitch Switch
, a company that can do it all for you.
Complete Weddings + Events in Manhattan
Planning a wedding is an exciting time in your life, but when it starts to become overwhelming, know there are experts who are happy to help! Contact Complete Weddings + Events for advice or to set up a consultation for your Manhattan event!