You've spent days, months, possibly years planning one of the biggest days of your life. Your wedding day! You will spend so much time and effort thinking about how everything will go and how at the end of what will for sure be an exceptionally long day you get to finally say you are MARRIED! I hate to break it to you if you have not already heard, it goes by so fast. I have lost count of the number of times at the end of that wonderful night I hear "I can't believe it's over!"
However, a sure way to help your day seem to last longer and be more enjoyable is to have a plan and better yet someone who can execute that plan for you. But this blog will not be about why a coordinator is important (check out this podcast for that), but instead, equip you with a few tools on how to make your plan flawless (or as close to it). So, what am I talking about…Creating Your Wedding Day Timeline!
Creating Your Wedding Day Timeline
Setting your ceremony time:
Once you know your ceremony time the rest can and will fall into place. There are many factors that can come into play when making this decision and if you are getting married in a church that time may be decided for you. If you have the luxury of picking your time, then choose the time that will complement the rest of your day's schedule. Or, if you are not an early riser do not choose an early ceremony time. If you want to party till midnight or later then you may also not want to start your day too early. Think about your guests and their travel plans and how your time could impact your guest count.
Maybe your time will be dependent on the sun and how shade trees look at your venue or the time of the sunset for the breathtaking photos to be captured. Once you have set your ceremony start time then communicate with your officiate on the length of your ceremony and be sure to add about 10-15 minutes after that for your guests to file out and move on to your onto reception details.
Setting your reception time:
Your ceremony time has been set, you have discussed with your officiate the length of your ceremony and now you make the decision as to if your reception will be immediately following or will there be a break before the reception begins. Choosing this often comes down to your venue location and any constraints you may have for travel or pictures after the ceremony.
For sake of this blog, we will assume your reception is immediately following which is a personal favorite of mine. If the ceremony is not in the same location be sure to account for some travel time. Once you have set your start time for the reception then you will need to think about how long you want this to last. Often, I see receptions last 5 hours which includes dinner and dancing. However, I have also been to the 8-hour receptions (whew what a day). This may also be decided for you by your venue if they have a hard end time.
When deciding the length of reception here are a few helpful tips:
Consider doing a cocktail half-hour or hour while you finish up pictures. Best to have drinks and snacks for your guests during this time.
Figure out the flow of your reception which we discuss in further detail on episode 33 of the Complete Wedding Planning Podcast.
Choose a flow of the night that gives you time to breathe and make changes that night if necessary.
Take into account how long you have your photographer & videographer there as well as other important vendors contracted times.
Keep dinner at a traditional time between 5-6:30 pm
Keep in mind when the lighting in your venue will be best for your dance party. You don't typically see a dance floor packed when the sunlight is still beaming through the windows.
Consider your guests that have to travel and will that impact how long they stay at your reception.
Will your budget allow for a lengthy open bar schedule?
Do you as a couple plan to stay till the end or sneak out before things wrap up?
Will you need transportation to run at the end of the night and is there a cut-off time for that service.
What will influence the rest of your Wedding Day Timeline?
Once you know the ceremony and reception times the next thing you will need to decide is when is your day starting. Typically the day starts with your hair & makeup appointments and guys have it easy and get to start their day with an activity or wait till later in the day to get ready. Be sure to speak with your hair and makeup artists to get an idea of how long those appointments will last and don't forget to calculate any travel time. Another friendly reminder, do not forget to eat breakfast, if that is also paired with a mimosa, great! 🙂
Next will be your picture Wedding Day Timeline
Work closely with your photographer and videographer to outline all the pictures you want and how long they expect the sessions to last. Take into account if you plan to do a first look and the majority of your pictures before the ceremony or if you will wait till after to do the formal pictures. Once again do not forget about any travel time. Your photographer should take the lead with the first half of your timeline and keep you on schedule so that your ceremony starts on time.
For your reception Wedding Day Timeline
You will work closely with your DJ to execute the best flow of the night and be sure that you are getting all the special moments done before your photographer and videographer leave. You will want to talk with them about how much of your evening you want to leave for dancing, so they know how quickly to move through your timeline. Be sure you also speak with your caterer so you are aware of how long the dinner portion of the evening will last. We typically allow for at least an hour for dinner but obviously, your guest count can impact that timing.  Also, keep in mind any flipping of rooms you will need to do after the ceremony and after dinner.
Be sure to include your vendor load-in times and communicate with them effectively to be sure if they need to match their time up with another vendor or your venue coordinator that all times are scheduled appropriately. For example, if your florist is putting the flowers on the cake you need to make sure those two arrive about the same time. Or if your caterer is presetting the silverware they need to arrive after your tablecloths have been placed.
Timeline Example:
Each timeline I help create is different, but all typically have a lot of the same basic details and flow. Below is an example of what your timeline may look like and what all should be included.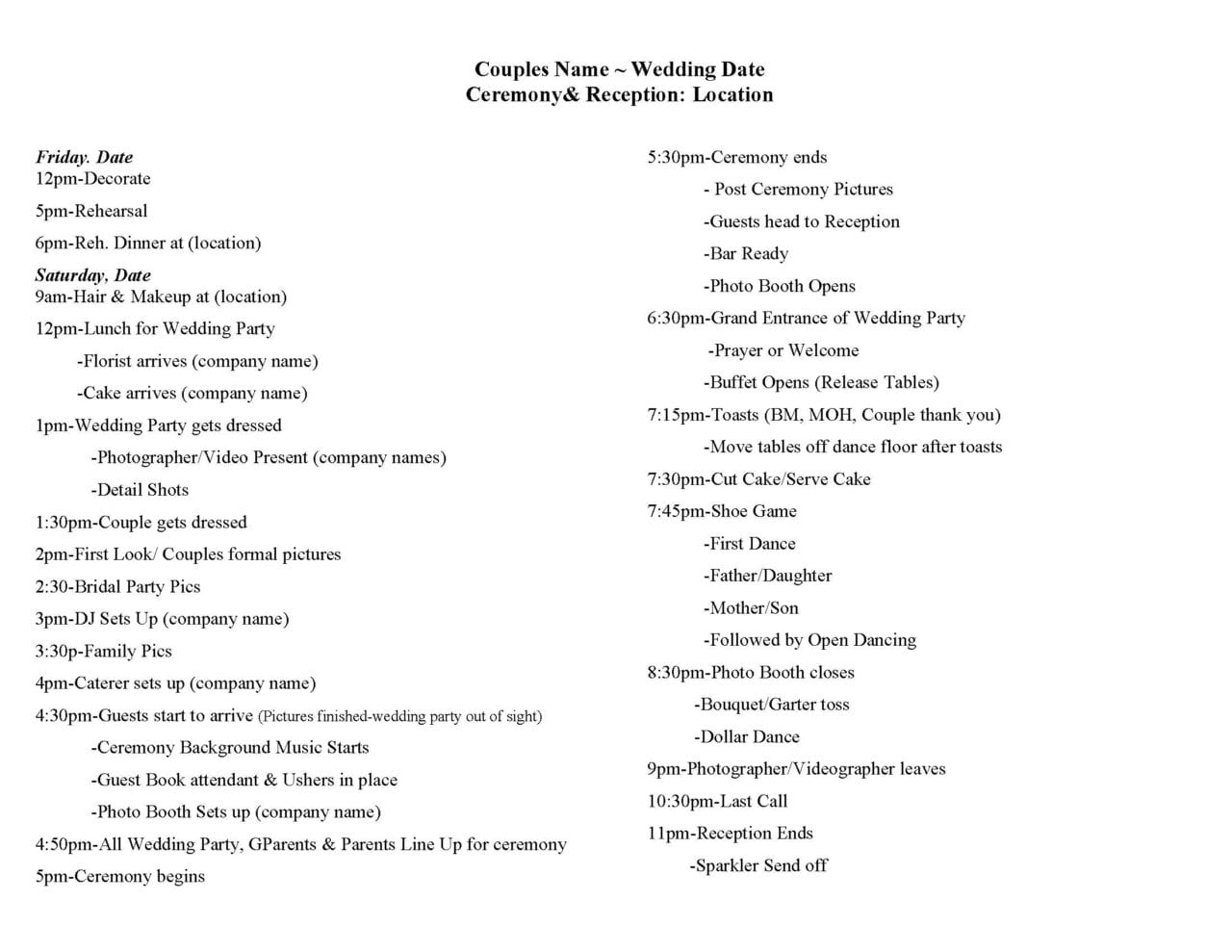 Share your timeline:
It is best that you distribute your timeline to all vendors, wedding parties, and immediate family. Some clients will make separate timelines that just include certain things those individuals might need to know but having one timeline that encompasses all the details and times is good to have for vendors like your photographer, videographer, DJ, and venue coordinator. When creating your timeline, it is also best to give out contact information for all vendors involved as well as include specific locations of where things are happening.
Last piece of advice:
Go with the flow and be prepared for the timeline to be altered the day of. I encourage you to delegate out who can help make changes and communicate them the day of. Again, this is where your Complete Weddings + Events Kansas coordinator can really come in handy. 😊 Remember in the end the two times that really matter are your ceremony time and dinner time, the rest can be moved around to best fit you and your fiancé.
Event Experts at Complete Weddings + Events Kansas
Whether you want one service or all six, we specialize in creating custom packages for our couples to meet their needs and budget. Tailoring each of our services to reflect your style and vision and allowing you to be a part of the planning process every step of the way. The best part is you get a team of professionals to help with all the details from our knowledgeable office staff, in-house full-time wedding planner, and experienced event staff, we have you covered and want your planning process to be a stress-free experience.
Check out our service pages to learn more about how we can COMPLETE your event!
Complete Weddings + Events, Kansas' leading provider of event and wedding photography, videography, day-of coordination, lighting, DJ services, & photo booth rental.