One of the most overlooked parts of the wedding planning process is the paperwork. Most people grow up thinking when the couple has their first kiss is the moment they are "one". The government would beg to differ! As with every big change in one's life, there is generally some form of paperwork involved. When it comes to getting married, this would be your marriage license. We at Complete Weddings + Events have a full guide to getting your marriage license. By using this, you won't get blindsided on your big day!
What are the rules?
First of all, there is a 72 hour waiting period after the purchase of the marriage license before you can actually perform the wedding ceremony! This is an often-overlooked rule that can catch anyone who is stressed out planning. It is very important that you get the marriage license at least 72 hours before your wedding ceremony. This can be waived for special circumstances. After purchasing the marriage license, you have 90 days to complete the ceremony before you would have to purchase a new one. The license must be signed and completed by the officiant. The marriage license must be returned for filing within 30 days of being completed.
If you have been previously married, the state requires at least a 30 day period between the finalization of the divorce and the issuing of a new marriage license.
Where do you need to go?
You need to purchase your marriage license at a county clerk's office. The form can be filled out online and then printed. However, you must go in person to obtain the license. You must also return the license to the clerk's office after the ceremony is performed. Although, it can be mailed and doesn't have to be in person! Here is a map and list of all of the Harris County Clerk Offices serving the Houston area. Be aware that different counties can have different rules and prices for obtaining a marriage license.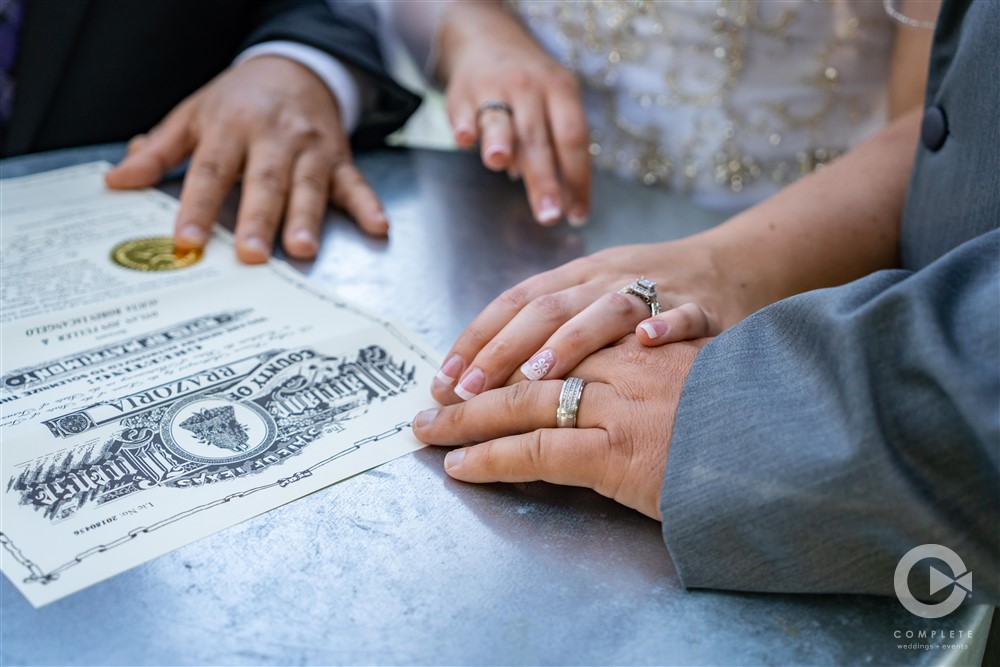 What do you need to do?
You will need to bring a valid proof of ID showing both people are of legal age. Both people do not have to be present to purchase the marriage license. However, you will need to fill out an Affidavit of Absent Application that will need to be signed and notarized for the party that is not able to be present. The fee is $74 for the marriage license but can end up costing more if you do not have all of the valid documents.
There are ways to lower this fee, such as the Texas Twogether in Texas program. This program helps promote healthy marriages in Texas. Upon completion, the couple may receive up to $60 off of their license fee and the 72 hour waiting period can be waived. The license will be returned to you after it is filed. You can also request copies in person at any of the county clerk offices or also through the mail!
Complete Weddings + Events in Houston
Hashtags are a fun way to unite all the content from your big day, but needing hashtag help (or any wedding planning help) is normal! Don't be afraid to reach out to Texas wedding professionals to help you or connect you to more wedding resources to make sure you're getting help where it's needed. Complete Weddings + Events in Houston is a text or phone call away (713.979.1794) for advice or to set up a consultation to chat through your event! Contact Complete today!