One of the best ways to add some personalization to your wedding day is through your guest book. If a traditional guest book seems too overdone for you, we have come up with some unique wedding guest book alternatives for you to consider.
Guest Book Globe
If you and your fiancé are known for traveling (or you plan on doing so in the future), consider having a globe as your guest book alternative. It's great for so many reasons. One, it can easily become an accent piece in your home. It will also be a constant reminder of one of the best days of your life. The other reason of course is that it will capture the signatures of all your favorite people.
Guest Book with Photos
What's better than all your guest's written messages? A photo to go along with it! Have each guest add a photo of themselves to a scrapbook with their signature and a personalized message. This will make for a great visual guest book of the night. You can use disposable cameras or Complete Weddings + Events offers photo booth rentals in Houston, TX to help make the process super easy.
The Houston photo booth attendant will assist guests with the whole process! Taking photos, adding them to the scrapbook, and giving each guest a copy of the photo strip to keep! It's a win-win party favor for them and a scrapbook of memories and cute messages for you!
Leave A Message
Sometimes written words don't quite capture the essence and sincerity of messages from your guests. Instead of having your guests write you and your partner a message, what if they left you a message on a phone? That's where FeteFone comes into play.
Fetefone is a unique way of having your guests remembered and is making its way into weddings. Simply place the phone for your guests to use at any point during your wedding. They'll pick up the phone, and their voice will be captured. The great thing about this is that you and your future spouse can listen to the messages each year on your anniversary.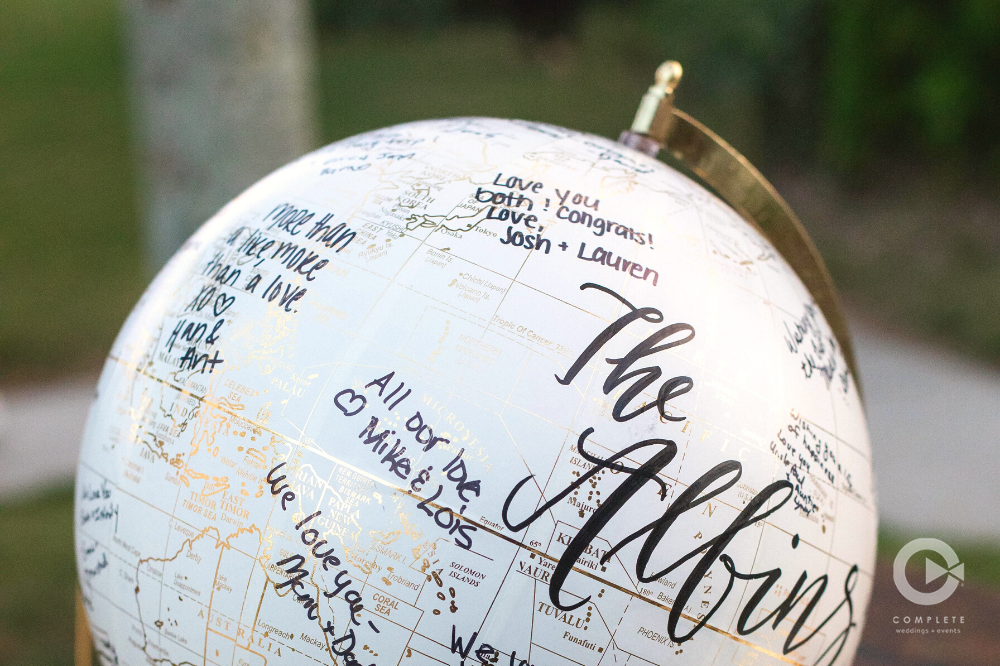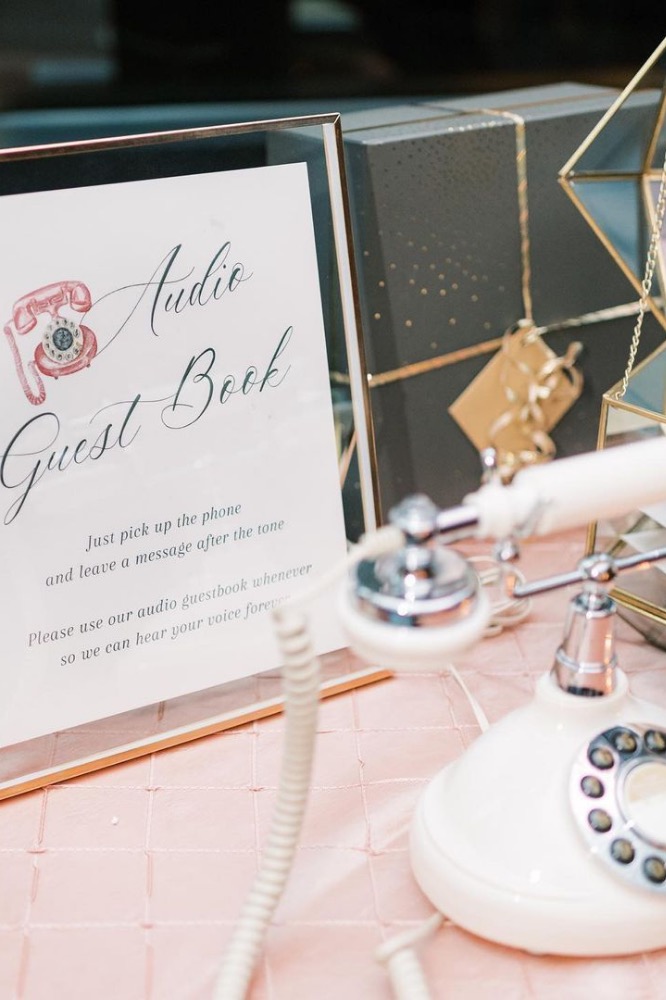 Date Night Ideas/Marriage Advice
Another fun idea that we have seen is getting guests to leave a little more than just their names. These can be written on popsicle sticks in a mason jar, short letters guests slip in a box, or even as simple as post-it notes or notecards. This is a fun way to get plenty of date ideas or even some gems of knowledge from your wedding guests. It is extremely fun to go back as a couple and see who suggested what activity or advice. Sometimes your guests will surprise you with their ideas!
Guest Book Jenga
Much like the date night ideas or marriage advice, this is a guest book idea that you can use later. Large Jenga blocks are inexpensive or can be made pretty easily. As guests enter your reception, they grab a block and sign. Now every time you have company over, or even just have a couples game night, you can be reminded of all the friends and family that came to show love and support.
Personal or Hobby Items
One great thing about markers is they write on a LOT of things. Not just wood or paper! Maybe the newlyweds are musicians and have a guitar or drumsticks to sign. We have seen major sports fans have jerseys of their favorite team for guests to sign upon entering. You can use anything from records, shoes, boat paddles, or anything else you can think of that you and your significant other enjoy. This is where you can really creative and personalize something for your wedding that can also be an extremely unique keepsake!
Thanks for the Memories
However you decide to remember the guests that attend your wedding, make sure it goes along with your and your fiance's taste. The biggest question to ask yourselves is, will you be able to put your guest book on display in your own home? Or, will it be something you set aside on a bookshelf collecting dust for years to come? Make a point to review your wedding guest book each year to be flooded with love and memories again and again.