Planning a Backyard Wedding in Florida, is not an uncommon thing, however, this past year, Covid-19 has been a factor for more couples to consider having a backyard wedding.  For couples looking into a backyard wedding, here are some things to help keep in mind.
Planning a Backyard Wedding in Florida
Consider the space that you will need to accommodate your guests and vendors.  The number of guests will help determine the number of tables, food, and overall space needed for your wedding.  You can also split your yard up.  Many ceremonies take place in a different area than the reception.  For example, your ceremony could take place in the front yard, with your cocktails and reception in the back yard.
Wedding Planner
Look into having a wedding planner.  Hosting a wedding in your backyard is a lot of work.  On the positive side, you can select every vendor needed for your day.  This also means that you need to manage every vendor as well.  Having a wedding planner or a day of coordinator allows you to enjoy your wedding day vs. having to manage all the details at the same time your focus is to enjoy and celebrate your day.
Ordinances
Check into ordinances and laws you need to comply with.  There may be sound ordinances, permits, and other local laws that you may need to consider when planning a backyard wedding.  Most wedding planners and other local wedding vendors and assist you with understanding any local laws and ordinances you need to be aware of.
Where to park vehicles.  If you do not have parking on your property, investigate if neighbors, or if a remote parking lot is available where you can have a shuttle or trolly service transport your guests to your wedding.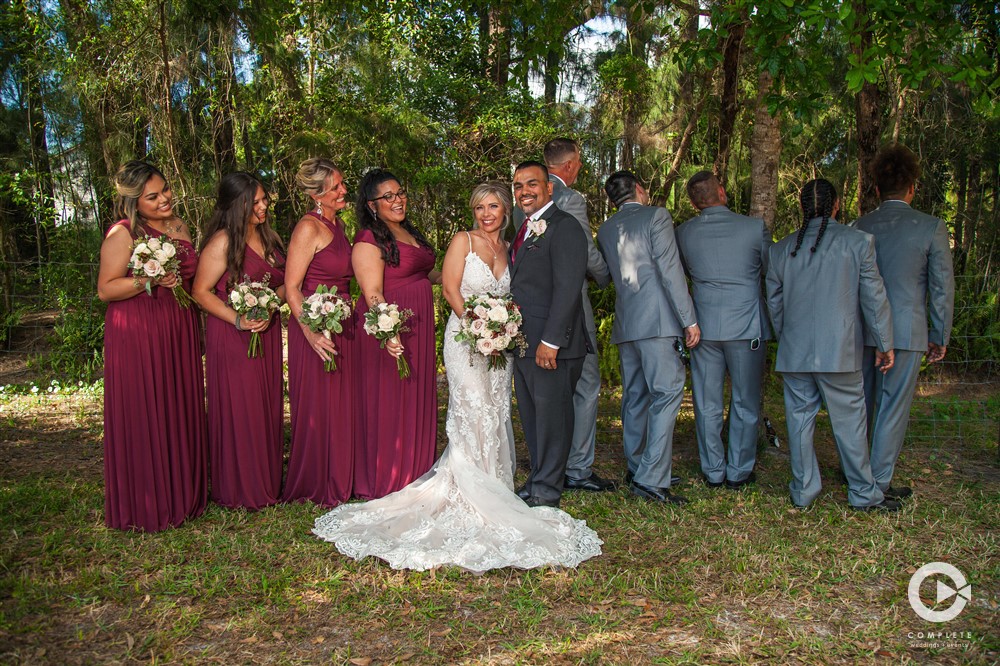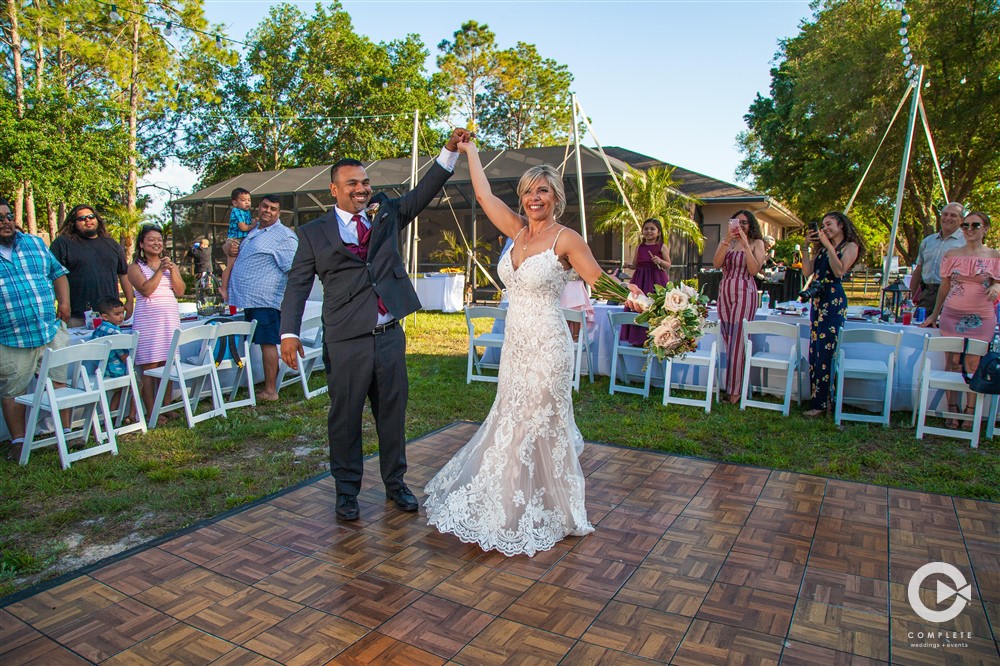 Uplighting
Light your location up.  Uplighting is not only used to add to your décor but also for safety.  Portable uplighting is popular for outdoor venues and both front and backyards to light the way to guests to see their way around.  Bistro lighting is also a popular option as well.
Backyard logistics
When it comes to planning a backyard wedding, you do not have some of the standard items you would have at a wedding venue.  This includes tables and chairs, bathrooms, dance floor, cover/tent, ceremony chairs, and other furniture.  Most rental companies have all of these items available for rental.
Power considerations
When you think about everything that needs power for your day: DJ or band, caterers heat lamps, coffee makers, Lighting, Portable Bathroom lights & air conditioning, bartenders ice machines, and photo booth to name some items that may require power for your wedding.  It is good to check with each of your vendors what their power requirements are and to see if you can provide enough power on separate circuits to accommodate the needs.  Portable generators are something to consider if more power is needed.  Check with your vendors.  Some of them may have generators.
Back up plans
One thing that is hard to predict is the weather.  For this reason, it is best to have a backup plan.  That includes considering a tent and talking with your wedding planner and vendors to create a rain plan.
About Complete Weddings + Events Fort Myers
Call Complete Weddings + Events to help.  Especially during the past year, we have been a part of more backyard weddings.  We are happy to help with ideas to complement your vision.
When you party with Complete Weddings + Events Fort Myers, it's completely about you! Naples, Cape Coral, Fort Myers leading provider of event and wedding photography, videography, lighting, DJ services & photo booth rental.
For more wedding tips, tricks, and inspiration you can follow us on Instagram and like us on Facebook!