Find the Perfect Wedding Photographer in Fort Myers, FL to Capture Your Special Day
To find the perfect Fort Myers wedding photographer for your special day, it's essential to consider both skill and style. You want a photographer who can effectively capture the essence of your wedding and create a visual story that matches your vision. It's crucial to find a professional who is not only talented but also easy to work with, as you will spend a lot of time together leading up to and during the event.
At Complete Weddings + Events, we understand the importance of finding a photographer who is both skilled and personable. Our Fort Myers wedding photographers are not only excellent at their craft but also excel at interacting with people. This enables them to capture the best shots while keeping everyone in the room happy and at ease. With Complete Weddings + Events, you can trust that you'll have a skilled and friendly photographer to capture your special day.
Event and Wedding Photography Fort Myers, FL
The professional photographers in Fort Myers, FL at Complete Weddings + Events are experts at event and wedding photography. We have been taking wedding photos for years because we believe well-done photographs take an event from good to spectacular. Our photography packages can benefit weddings along with lots of different events, including:
Weddings: 
We know that it is a privilege to photograph your wedding and we take that trust very seriously. Our Fort Myers, FL wedding photography experts have years of experience telling love stories and capturing moments of everyone celebrating with you on your big day.
Parties: 
Birthdays, graduations, holiday parties, barbeques — we do them all! Grab those candid shots and take photos for your distant loved ones with an event photographer
Corporate Events: 
Did you know that hiring a photographer for your next corporate event can actually be a valuable marketing tool? Not only will event photography showcase the best side of your business, but photos can also be used for marketing collateral.
Bar and Bat Mitzvahs:
Mark this important spiritual milestone with event photography. A special event photographer can take care of everything so you can be fully present.
We know that there are dozens of other events that you will celebrate, so contact us and we'll help you make the perfect plan for unforgettable event photography!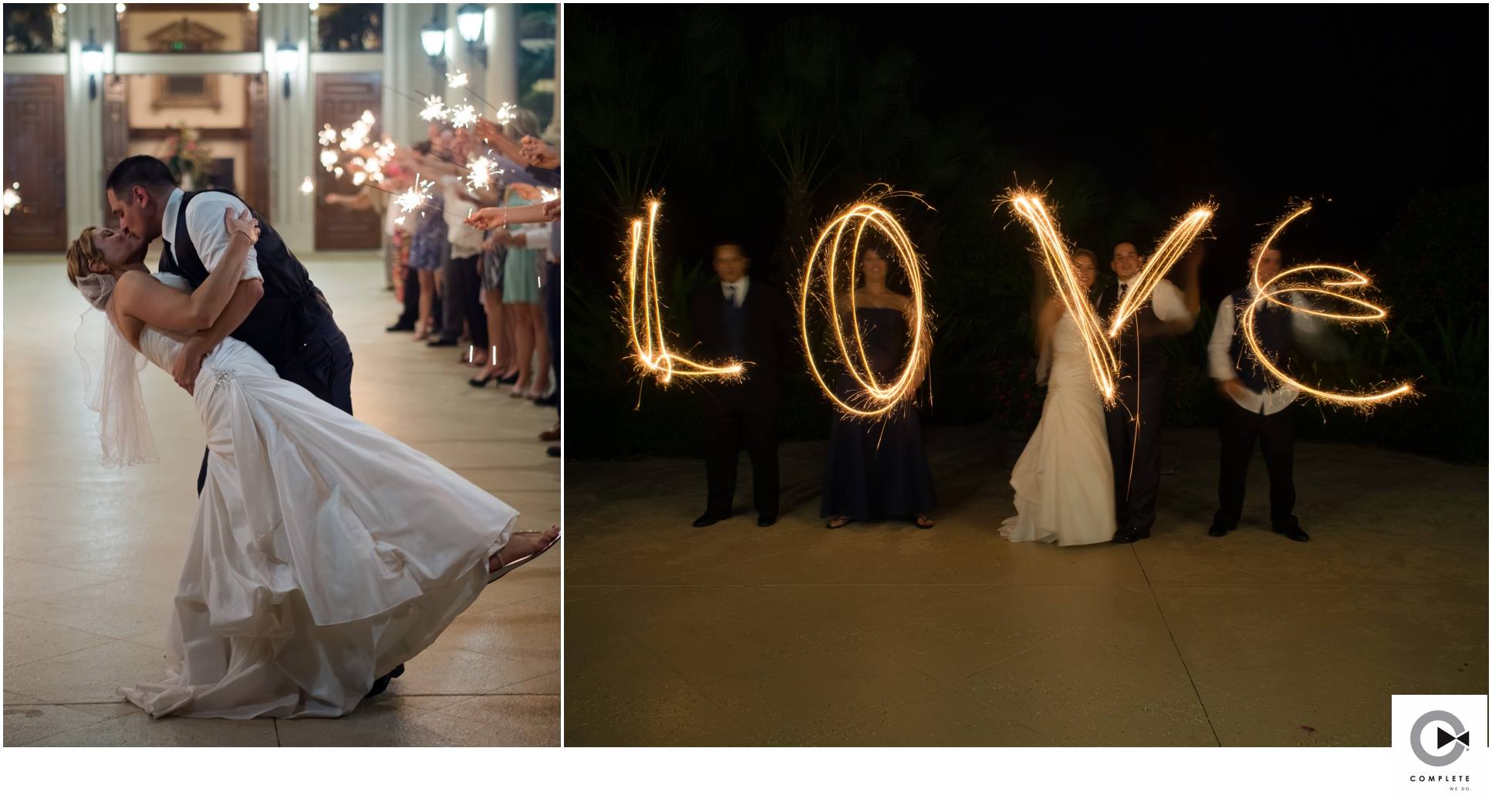 Best Places for Wedding Photos in Fort Myers, FL
We can help you locate the best places to take wedding photos or engagement photos in Fort Myers Beach, Cape Coral, Naples, and surrounding areas. Some engagement photo session locations in and near Fort Myers we suggest include:
8th Ave Beach
The Heitman House
The Burroughs Home
Post Card Inn
The Power Crosley Estate
The Grand Plaza
We are happy to travel to the place that is special to you!
Why Choose Complete Weddings + Events?
When you find someone you can trust to help you plan the perfect event, then you have found something special. At Complete Weddings + Events, we're here to be that person for you. We excel at delivering the best quality and the best service available for your event. In addition to that, we offer many different packages to meet your wedding photography needs:
Online photo gallery with a full print release so you can share and print your images.
Color and exposure-corrected images that are professional every time.
Optional second photographer to cover your event so that nothing gets missed.
Various photo print and album options to make sure you can enjoy your photos daily.
Fort Myers Wedding Photography and Videography Packages
It is essential to hire a professional photographer and videographer when organizing a wedding or event, to capture all the unique moments. At Complete Weddings + Events located in Fort Myers, FL, we recognize the significance of these memories and aim to deliver top-quality photos and videos that you will cherish for a lifetime. With Complete Weddings + Events, you can relax, knowing that your precious memories are in capable hands.
Consistency, Coordination, Communication
At Complete Weddings + Events, we believe that consistency is crucial when it comes to wedding and event photography and videography. This is why we have a team of professionals who are dedicated to ensuring that your photographs and videos are consistent in terms of style and approach, resulting in a polished and cohesive look.
Choosing us for both services simplifies coordination and communication, making the entire process much smoother. With Complete Weddings + Events, you can trust that your special moments will be captured consistently and professionally.
Bundled Packages – Lower Prices
Another advantage of choosing a Complete Weddings + Events Fort Myers videographer and photographer is that we offer bundled packages. This can help you save money while still getting the high-quality photography and videography services that you need!
Our team of experienced photographers and videographers are experts in capturing all the special moments and details of weddings and events. We will work with you to ensure that every angle is covered, leaving no special moment unrecorded.
Wedding Photographers Fort Myers Beach, FL – Complete Weddings + Events
At Complete Weddings + Events, our photographers are highly skilled in collaborating with other event vendors. Our videographers, DJs, and photo booth attendants are all trained to provide you with the best possible event or wedding experience. We take pride in our ability to work seamlessly with other vendors, ensuring that your event runs smoothly and without any hiccups.
With Complete Weddings + Events, you can rest assured that your event will be in good hands and that all of your vendors will work together to create a memorable and flawless experience.
Ask us about our videography, DJ, and photo booth rental services. We look forward to connecting with you! Our Fort Myers wedding photography services won't disappoint – we're sure of it!
Related Articles: