Although Tess and Chris's bling-worthy Hilton Marco Island wedding wasn't a destination wedding for them, it certainly was for the majority of their 120 wedding guests! Enjoy every special and sparkly detail below, including a family-studded wedding beach ceremony, toasts on the beach, cold sparks to light up their reception, and a tasty cupcake-cake dessert table!
Bling Pre-Ceremony Wedding Details
Tess and her bridal party stunned from the very beginning in silver-hued silk robes, even the flower girl joined in on the fun! There were silver and sparkly details for Tess and the wedding in general throughout the day. Tess's shimmering lace overlay wedding dress was paired perfectly with a silver tiara. Additionally, Tess created a glistening silver jeweled bouquet from different brooches and jewelry pieces! Bling-worthy wedding details characterized this wedding from start to finish!
Chris wore a silver vest and bow tie under a striking blue suit. In contrast, Chris's groomsmen wore gray suits with blue bow ties and vests. Tess's bridesmaids stunned in beaded silver full-length gowns. Sentimental details also blinged throughout the day, as the bottom of the couple's shoes had special messages spelled out on them (refer to photos).
A Bling Beach Wedding Ceremony
The couple's bling-worthy Hilton Marco Island wedding's beach ceremony shined with Gulf ocean views as far as the eye could see. Moreover, there were all white flowers, white linens, and a white pergola arch with the sun slowly setting in the background. The best glow, was the smiles from the crowd when the flower girl and ring bearer walked down the aisle! The entire wedding party wore matching flip-flops for the sandy beach ceremony. After announcing Tess and Chris as husband and wife, blue beach balls were released creating an epic wedding memory!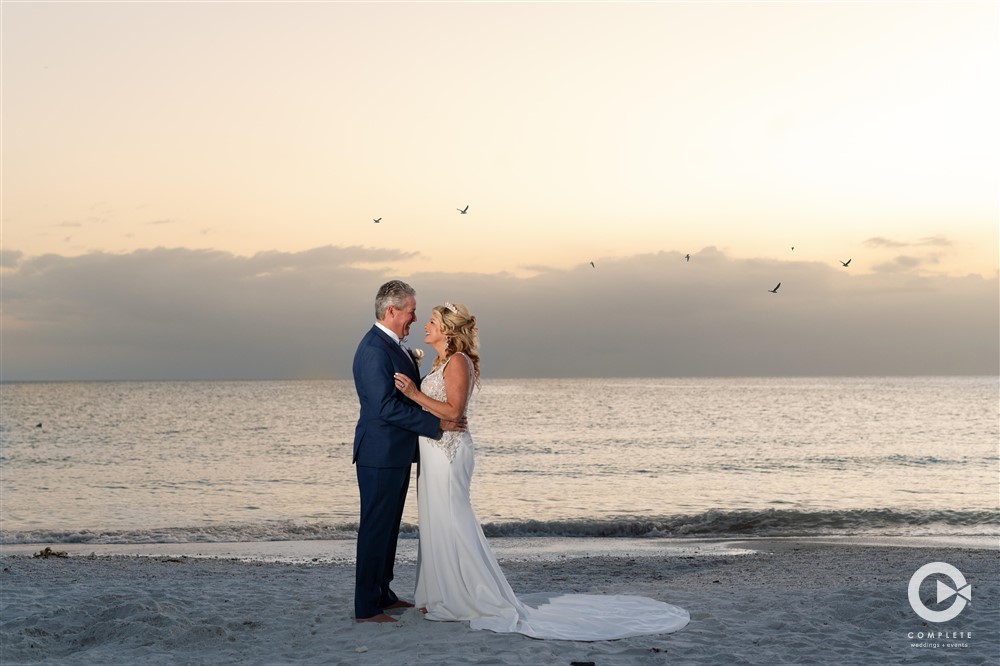 Hilton Marco Island Bling Wedding Reception
The silver celebration continued for their bling-worthy Hilton Marco Island wedding reception. The newlyweds reception was held in one of the ballrooms on the resort. Impressively, all the wedding decor and flowers were provided by the bride! Tess and Chris's sweetheart table even spelled out the word "love" in glittering jewels! Complete Weddings + Events Fort Myers provided wedding coordination, entertainment, photography, and videography.
The newlyweds made their entrance with Complete Fort Myers cold sparks creating the ultimate wedding bling on the dance floor! In between dinner, toasts, and lots of dancing, Tess and Chris indulged in their wedding cake and delicious cupcakes! The night wouldn't be complete without epic wedding guest photos with the bride and groom who shined bright all day and night!