The question pops, you say yes, and now you're looking forward to your wedding. It's the best day of your life, but which day will it be? Deciding on a wedding date in South Florida is one of the first things on your big day to-do list and it is a daunting task to check off. Here are some helpful tips to consider when you're deciding when to get hitched.
Is the Wedding Date in South Florida Truly Important to You?
The date of your wedding is on the invitations and is featured on all sorts of wedding items. To some wedding planners, the date is incredibly important, but just know that if you are inflexible on the date you will have to be flexible regarding the other aspects of the day. The perfect venue might already be booked that weekend.  The flowers you want may not be in season. If a specific date isn't incredibly important to you it makes it easier to plan for everything else.
Consider Your Existing Anniversary
You and your loved one already have a special day, consider planning the wedding for your existing anniversary. It lends more meaning to the day as you remember both your wedding and the day you decided to get together. If you prefer to celebrate your wedding on a weekend but want to keep this anniversary the same, consider a private marriage at the courthouse before the ceremony with your friends and family.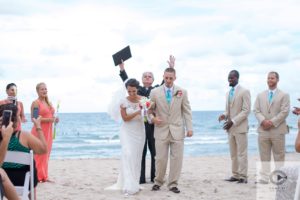 Pick The Perfect Season
Of course, food and decorations are a huge part of the wedding planning process. The season you choose will help to set the overall mood and determine which foods are going to be best for the event. If you want an outdoor summer wedding, plan for parts of the summer that aren't sweltering. If you want a beautiful winter wedding you'll keep your guests warm and cozy by offering hand warmers or investing in heaters. Everything in your wedding is shaped by the season so choose wisely.
Plan Around Existing Events
You may have a friend who is getting married soon, or maybe there are a lot of family birthdays in any given month. Depending on which holidays are close to your date, some decorations might be easier to obtain. A Valentine's wedding is much easier to buy for during the season. It's wise to consider everything else going on around the time that you are planning to have your wedding so you know all your friends and family are going to be able to attend. Take advantage of national holidays that many people will already have off from work, such as Independence Day and Labor Day, as it will make it easier for your guests to attend.
Plan Frugally (Or Not)
According to The Knot, the cheapest months for weddings nationally are March, April, and November. Renaissance Miami says that December is one of the best months to plan for in Miami, with May and March being the busiest. If you are working with a smaller budget, choose a date in the offseason. If your budget is larger and you have your heart set on a high-demand month or a popular holiday, just know that a higher price tag comes with better timing.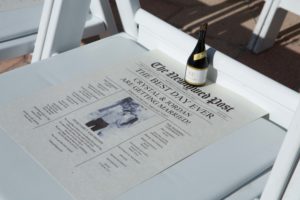 Decide On Your Length Of Engagement
When choosing the date  you should consider the length of your engagement. According to Brides.com, the average engagement is around 12-18 months. Your wedding will fall about a year to a year and a half from your engagement, on average.
Deciding when you're going to get married sets the stage for everything else to come on your wedding day. It's the date you always remember and when you pick your wedding day, you're also choosing your anniversary for all the years to come. From length of engagement to the season you choose, there are many things to consider that help you find the perfect date for your big day.
Complete Weddings + Events in South Florida & Fort Lauderdale Areas
Now that I gave you the requisite tips to keep your future wedding reception flowing and Nsync (see what I did there 😉), you're ready to chat with the leading provider of all the things you haven't checked off your planning list yet.  COMPLETE weddings + events in the Fort Lauderdale, FL area is at your service for all your wedding photography, videography, lighting, DJ services & photo booth rental.