Nothing is worse than an awkward silence…except awkward silence at your wedding reception. Your guest list might be long and include people you've never met or even some relatives who don't particularly get along, BUT no-one invited crickets.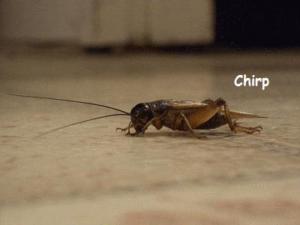 If you need help with your wedding day soundtrack, check out our Spotify Playlists.  To ensure the vibe of your special day flows, I'm going to prep you with the top 10 moments you want to make sure your DJ is ready to drop a beat for.
Wedding Reception Moments the DJ Should Present Music for
1. Arrivals
There's no question that you and hubby/wifey are the stars of the show, and I know you've already picked out your show-stopping entrance song, but don't forget about the idling guests trickling their way into your venue. Two families joining together as one for the first time is awkward enough, so you want to make it a little easier on them and pick a playlist that gets everyone in the mood to celebrate. Some easy listening instrumentals could be just the key to setting the tone for the party that's about to start and keep the crowd relaxed and mingling while they await your grand entrance.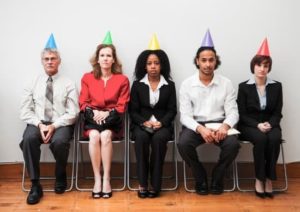 2. Introducing the Parents
Once your guests settle in and are chatting it up, it's time for the official wedding party to bring things to life. Take advantage of this opportunity to shine the spotlight on some special people. Your parents deserve a song to dance their way into the party as they celebrate the new addition to their family.  Give a moment and a song for the parents (and grandparents if possible!) to enter.  That is a great way to pay homage to the ones who put up with you before you found your happily-ever-after!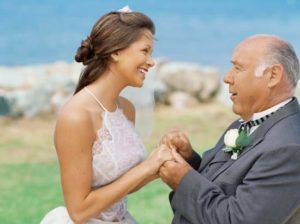 3. Introducing the Wedding Party
After you introduce the people who gave you life, make sure there's a song to present your second support system: your bridesmaids and groomsmen. These people have done a lot to ensure your day is special so far, so there's no doubt they qualify for an anthem to make their debut memorable. Involve your Maid of Honor/Best Man in picking the songs. This gives them a little way to express themselves after all the hard work they put in to emotionally supporting you (and your dress and bouquet) throughout the process.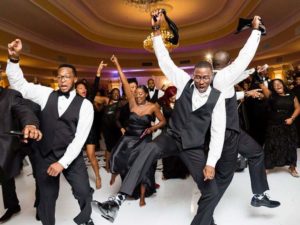 4. Introducing the Newlyweds
Okay, NOW it's your turn! Making your grand entrance into a room overflowing with family and friends, for the first time as a married couple, is a beautiful image you always want to remember. Use this point to transition the music to a song that makes this a picture worth keeping in your mind's eye forever. Choosing the perfect song makes the most important entrance of the night all the more special. Every time you hear it you are brought back to that unparalleled memory of all the love that was there to greet you.

5. While dinner is being served
This is one point of the night where you don't want your DJ to forget to set up a playlist. Dinner hour is a valuable opportunity of the evening for both sides of the family to share some quality time getting to know each other, and you and your spouse get a (brief) intermission from making all the rounds. The music vibe for dinner should give a casual ambiance made for drinking and socializing before feet find their way to the dancefloor. (And since you're putting him or her to work, don't forget to bring a plate over to your DJ!)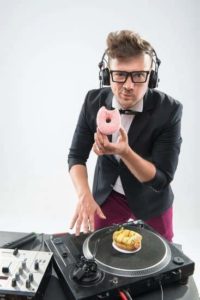 6. First song to invite everyone on the dance floor
Once you and your sweetheart dance your first dance as a married couple, you want to get everyone comfortable enough to shake it. For all your shy guests, choose that one song that gets (almost) everyone on their feet and guarantees they let loose for the night. Whether it's a dance-along song (macarena anyone?) or a classic jam that even the most introverted party-goer can't help but tap their foot to, make sure your DJ uses his musical powers to help everyone get down (no matter how cringe-worthy their moves are).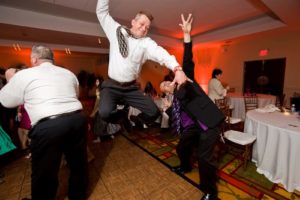 7. Cake Presentation/Cutting of the Cake
I know how much time and money goes into procuring the perfect wedding cake, so give it a moment to shine. Maybe it's my sweet tooth talking, but it's worth it to have the DJ bring some attention to your tower of sweetness.  A song like "Sugar" by Maroon 5 or "Cake" by Flo Rida adds a little humor and zest to this delicious right of passage. The right music to accompany the impending sugar rush will revive your guests for at least a couple more hours.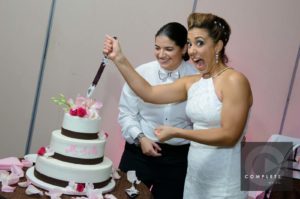 8. Photo Op
Your camera-shy family members are shouting "No more pictures!" I know, I know! BUT if you dance all your guests into the frame for a major photo-op, maybe they won't notice (or argue).  It's a great visual way to remember everybody who shows up for you in one shot. You might need your photographer to get up really high, (aerial shot?) but this is a cute way to give everyone the chance to make it into the wedding album. The perfect score playing while the DJ is rounding up the crowd keeps the energy alive and produces that half-candid gem everyone wants a copy of.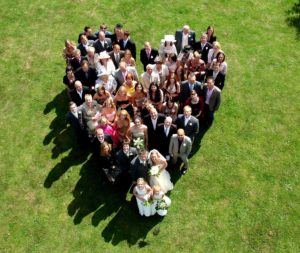 9. Bride's Bouquet Toss
Every girl's favorite part of the night needs that hit bop playing as the bride throws a bundle of daisies behind her head. Don't round up all the single ladies without giving them a theme song. "One Way or Another" by Blondie or "Only Girl (In The World)" by Rhianna adds zing to this floral tradition. Pick a song that elevates the "girl-power" vibes in the room, regardless of who catches the bouquet!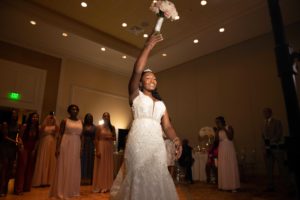 10. Exit Music
The party's not over yet! Grandma and Grandpa might already be in bed but the true partygoers are still hanging in there. I know you're ready to finish the night 😉, but keep the music playing as your last guests meander out. Have a song like "Blame It [On The Alcohol]" by Jamie Foxx, ready for the DJ's "last-call" announcement. Give your guests the outro that they deserve and try not to push them out the door!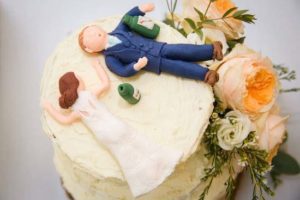 Now that I gave you the requisite tips to keep your future wedding reception flowing and Nsync (see what I did there 😉), you're ready to chat with the leading provider of all the things you haven't checked off your planning list yet.  COMPLETE weddings + events in the Fort Lauderdale, FL area is at your service for all your wedding photography, videography, lighting, DJ services & photo booth rental.