Wedding themes and decor ideas are constantly evolving, and with each passing year, new and exciting trends emerge. Couples planning to tie the knot can expect to see various unique and trending wedding themes and decor ideas for 2023. From sustainable decor to bold color palettes, the options are endless. This article will provide couples with the trending wedding themes and decor for their special day.
Back to Nature: Sustainable Wedding Decor
This is a trending theme for 2023 that supports sustainable wedding ideas. This theme is all about creating a rustic ambiance that is eco-friendly. The idea behind this trend is to be more conscious of the environment and make more responsible choices in wedding planning.
Couples can incorporate sustainable practices by using potted plants, wooden furniture, and natural elements like leaves and flowers in the wedding decor. Choosing local and seasonal food options can also add to the sustainability of the theme—for example, using seasonal fruits and vegetables for the menu or serving organic wine.
Moody Romance: Dark and Dramatic Color Palettes
This theme is all about creating a sultry and romantic ambiance. This trend aims to create a mysterious and dramatic atmosphere that will make the wedding day unforgettable. Couples can incorporate this theme into their wedding decor using soft lighting, velvet fabrics, and metallic accents.
Unique floral arrangements with oversized flowers or non-floral elements like feathers can add to the elegance of the theme. Rich and dark colors like burgundy, navy, and emerald green can create a striking contrast against the white or neutral backdrop.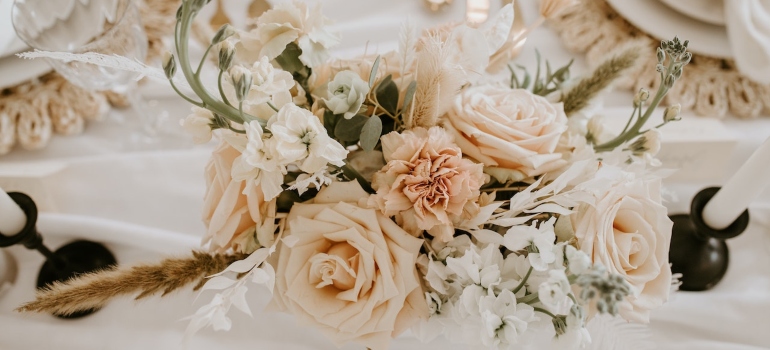 Bold and Beautiful: Statement Flower Arrangements
One of the boldest trending wedding themes and decor ideas for 2023 is about creating wedding decor that showcases stunning floral arrangements in bold and eye-catching ways. Some decor ideas for this theme include using floral installations like hanging arrangements or floral walls. These types of floral arrangements can create a stunning backdrop for wedding photos or a statement piece for the wedding ceremony.
Couples can opt for bright and bold colors, incorporating non-floral elements and using unique vessels to hold the flowers. The floral decor is very welcome on romantic wedding cakes as well. Incorporating personalized items like photos or monograms can also add to the overall beauty of the theme.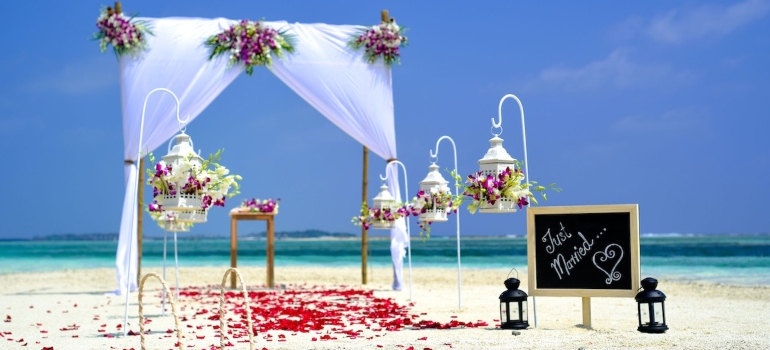 Beachy Vibes: Coastal Wedding Themes
A coastal theme is another trending idea for weddings in 2023. This theme is about incorporating the ocean and beach elements into the wedding decor, creating a relaxed and serene ambiance.
One way to incorporate this theme is to choose a seaside venue or decorate it with beach-inspired sets such as seashells, driftwood, or sand. Soft, airy color palettes like pale blue, white, and sandy beige can also add to the coastal vibe of the wedding decor.
When it comes to the wedding ceremony, consider incorporating elements of the ocean, such as sea grass, driftwood, or seashells. Couples can use these elements to create a unique and beautiful arch or arbor for the wedding ceremony. When it comes to food and drinks, serving seafood and tropical drinks can create an authentic coastal vibe. Additionally, incorporating coastal elements into the cake design, such as seashells or coral-shaped decorations, can add a beautiful and unique touch to the wedding dessert.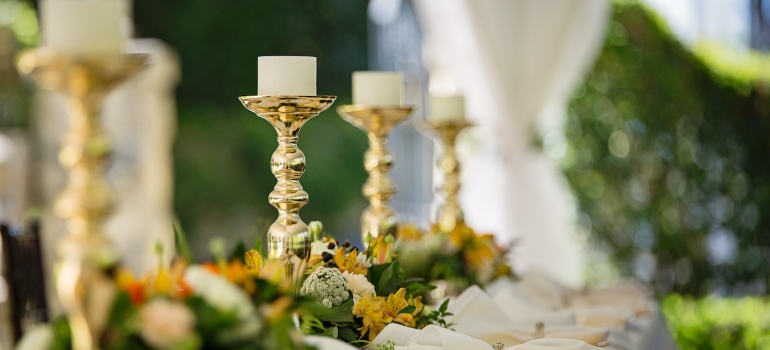 Timeless Elegance: Vintage-Inspired Wedding Decor
This is a classic trend for 2023 that uses vintage-inspired wedding decor. It is a way to create a timeless and sophisticated wedding. This theme is all about creating a romantic and elegant ambiance. Couples can incorporate it into their wedding decor by using vintage furniture and decor items, pearls and crystals in the wedding jewelry, and muted colors in the flower arrangements.
Using a chandelier or candles for lighting can add to the overall sophistication of the theme. Think of adding vintage elements like lace tablecloths or tableware to add to the overall vintage feel of the wedding.
Bohemian Bliss: Whimsical and Free-Spirited Wedding Themes
Whimsical and free-spirited wedding décor is a trending wedding theme that bohemian types will love. It is all about creating a laid-back and unconventional ambiance. This trend aims to create a unique and memorable wedding experience for guests by using natural and earthy color palettes, incorporating dreamcatchers, macrame, and wildflowers, and choosing a rustic outdoor venue.
Using greenery and flowers in unexpected places, like hanging arrangements or floral crowns for the bride and bridesmaids, can add to the overall bohemian feel of the theme. Unconventional seating, like picnic blankets or bohemian floor pillows, can also add to the laid-back atmosphere. This theme is perfect for couples who want a wedding that reflects their free-spirited and unconventional style.
Glamorous Gold: Luxurious Wedding Themes
This luxurious wedding theme trending is about creating a sense of opulence and grandeur through gold accents and elegant details. Incorporating lush floral arrangements in colors like white, cream, and blush can add a touch of elegance to the gold theme.
The "Glamorous Gold" theme is perfect for couples who want a luxurious and upscale wedding that exudes sophistication and elegance. However, it can be overwhelming to think about all the wedding decor items that need to be purchased or rented for this theme. As experts at Zippy Shell Northern Virginia advise using a storage service, couples can safely store their gold tableware, glassware, and metallic fabrics before and after the wedding, freeing up space in their home and planning the wedding more manageable.
Lighting is also crucial in creating the glamorous atmosphere of this theme. The use of chandeliers, candlesticks, and sparkling light fixtures can add to the luxurious ambiance of the wedding.
Choosing A Theme and Decor That Reflects Your Personality
In conclusion, the trending wedding themes and decor ideas for 2023 are diverse and unique, allowing couples to choose a style that reflects their personalities and preferences. From sustainable wedding decor to luxurious gold accents, there is a theme to suit every couple's style and budget. Couples can create a memorable wedding experience that reflects their unique love story by incorporating these trending themes and decor ideas.
So, whether you're planning a rustic and eco-friendly wedding, a beachy and relaxed wedding, or a glamorous and luxurious wedding, there is a theme for you to consider. Take inspiration from these trends and create the wedding of your dreams that you and your guests will remember for a lifetime.
Complete Weddings + Events Dallas, TX
If you're ready to bring your event to life, you need a team of wedding vendors to help! Contact Complete Weddings + Events for details on our multiple services you can mix and match to build an event package filled with all your needs to make your day a success! We offer photographers, videographers, DJs, and photo booth rental services to make your big day unforgettable.