Once the wedding is complete, photos and videos of all the tiny elements of the big become more and more valuable to many couples as the smallest memories of the day begin to fade. These photos showcase many of the little elements and decor items that so much thought and effort have gone into. Anything from an old family heirloom to something small that means a whole lot to you and your fiancé, these items are extremely important to capture. See some of our best ideas when it comes to capturing your own Colorado Springs detail shots!
Wedding Details Colorado Springs Photography Inspiration
Venue Photos
When couples think of detail photos, they often think of photos of small, little things. However, detail photography can be shots of the biggest thing at your wedding, the venue! Think about how much endless time and effort goes into not just finding your wedding venue but decorating it, envisioning it, and planning out your entire wedding around the floorplan and style. The wedding venue may be the most thought out (and perhaps costly) wedding element there is, so remember to capture it just like we did with the beautiful Flying Horse Ranch below!
Personalized and Meaningful Items
Items that have been personalized and done up right can offer so much meaning to each couple! Take these simple sunglasses for example that we see below. This bride has put so much time and effort into crafting the perfect wedding gift for her new husband and it will hopefully be something they cherish and hold on to forever. However, there is always the chance that these small items go missing or are broken, in which case it's well worth it to have the photo to hold on to!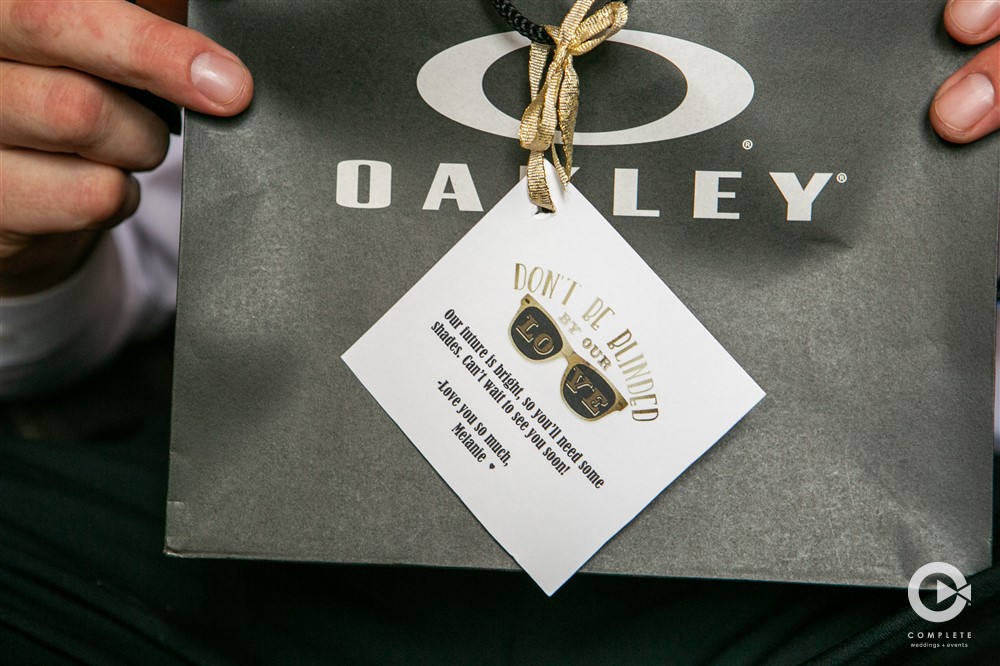 Ring Shot
The most obvious close-up photo to capture is of course the wedding ring shot! Pretty much every wedding in the past 10 years will likely have a photo of both rings in the gallery. However, it's an essential shot that needs to be captured!! With that being said, there are plenty of ways to make the ring shot unique anyway. For example, below we see two rings in a book that's carved out and unique to this specific bride and groom! The ring shot is here to stay and there are plenty of ways to personalize this amazing photo.
Wedding Cake
For most couples, a wedding cake happens to be one of those elements that may take time to decide on! Since this dessert is eaten by the end of the night, you'll want to make sure you remember what that cake, along with the table and topper, looked like. This is the thing that WON'T last beyond the wedding day, but the photos will!
Complete Weddings + Events Colorado Springs
Complete in Colorado Springs offers DJ, photography, videography, photo booth, and uplighting for weddings and events! We're happy to put the perfect package together for you to fit the wedding you want to have. Contact us today to learn more about our services!