What is your ideal playlist and how do you make it personal? Maybe you aren't quite sure yet what that consists of, or how to figure that out on your own. We will help you along in the journey of creating your wedding playlist, and with our tips, you will be able to answer your own question "How do I make my Wedding Playlist personal to us?". You've said "I Do", and now it's time to throw a party!
How to Personalize Your Wedding Playlist
Where Do We Start?
With Complete Weddings and Events, we have a planning tool once you book, Event Manager Tool. This is a tool that lets you build out your playlist any monumental songs (First Dance, Entrance Song, Cake Cutting, etc.) But what do you put on this that screams this is us as a couple? Let's start with the tips that help with the personal side of things:
Something Meaningful as a Couple: Select Music that as a couple together has a meaning to you. Maybe it was the song from the first concert you went to together or the song that was playing on an amazing night together. It could be a song that reminds you of the other person. As a couple, you might have a few songs that really pull at your heartstrings, or just gets the both of you dancing!
A Do Not Playlist: There could be songs that you know you don't want to hear. Even types of music that you know maybe your guests wouldn't dance to, or you yourselves don't like as much. This helps your DJ a lot when what songs won't be a hit at your wedding for you and your crowd!
Ask your Guests for Requests: This is a fun way to get your guests involved in the day. You could ask them before the wedding (sometimes as an RSVP idea), or have the DJ open for requests on the night of.
Good Filler Songs
Obviously, you will have songs you can fill out with the top tips, maybe even enough to fill an entire playlist! But if you don't have quite enough, here are a few more tips to fill a few more songs to keep the party going!
Incorporate DJ's most requested song list: There are various playlists on Spotify or online that can help you with typical wedding songs that are a hit! Your Complete DJ will have a list of great wedding songs that are a hit on the dance floor at any wedding!
Consult the charts: Don't feel like you can't add in today's top hits. Honestly, this will get the crowd going because people know the words, they are hearing it all over, and it can really get the whole crowd going. It's a pop hit for a reason.
Embrace the cross-over of music: This helps broaden your list as well as appeal to all crowds! Also, this can give some variety to your playlist so that it keeps it fresh the whole night through.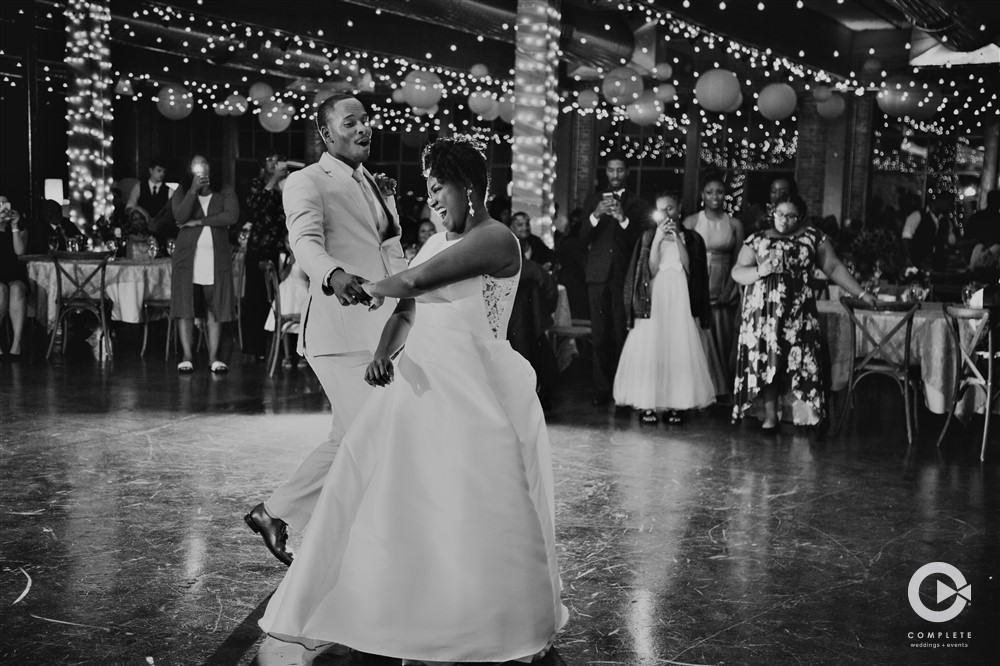 Complete Wedding Experts in Central Illinois
If you're planning a wedding, you've come to the right place. At Complete Weddings + Events, our team of photographers, videographers, DJs, and event consultants specialize in wedding services to make your day a success and make sure you're just worried about enjoying it. Contact us today to learn more about our wedding packages best for your special day!
Central Illinois' leading provider of event and wedding photography, videography, lighting, DJ services & photo booth rental.