Ice breakers and games aren't just for corporate meetings and birthday parties! Couples these days are looking for interactive, fun elements to incorporate into their wedding receptions to keep guests entertained. Established in 1974 Complete Weddings + Events takes pride in innovating and incorporating games to make each event memorable! Trends change throughout the years and games like the Conga Line and Rope a Dope is in the past. Check out our top wedding reception games most requested by couples today!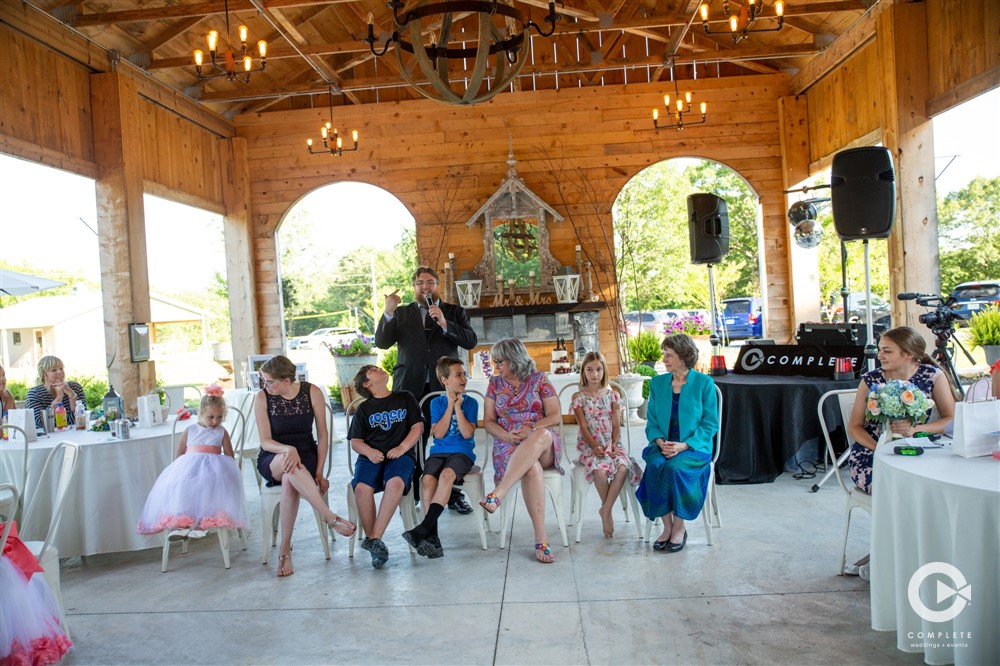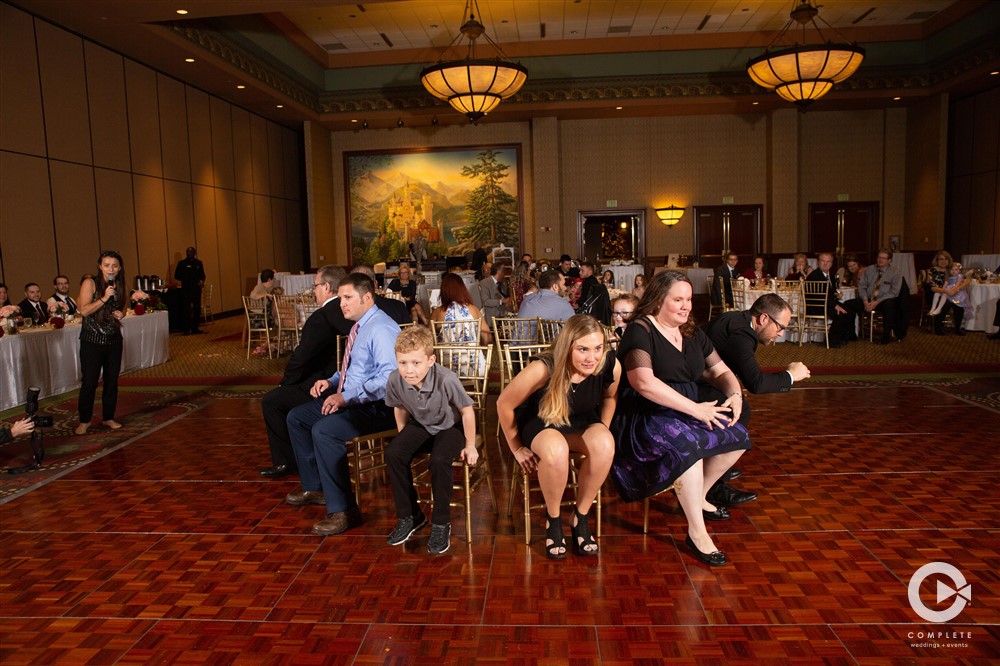 Top Wedding Reception Games
Survivor
Survivor was created in 1999 by Jeff Steinert a former DJ with Complete Weddings + Events. What is Survivor you ask? If music chairs and a scavenger hunt had a baby it would be Survivor! It is a fun, interactive, and competitive game that is always a huge hit! Your DJ will gather a volunteer from each table and have them take a seat on the dance floor. Then they will then ask for them to go into the crowd and bring back an item. The catch is that when they get back one chair will be missing and that table will be eliminated.
Here is why Survivor is DJ Kellis's favorite top wedding reception games! "Survivor is my favorite because I've seen the weirdest things happen. Once had a guy rip a hole in his sock to win. I also saw an elderly lady run her butt off just to secure a third-place spot. It's crazy fun and it's always a memory that everyone will talk about."
The Circle Salute
Out of all the innovative icebreakers Complete has come up with the Circle Salute has the sweetest backstory! Complete DJ, and now owner, Marc McDonald told me, "Back in 2000, I had a client that told me after the wedding they were going to be stationed in Alaska for five years. I decided to create a special ice breaker just for them! On their wedding day at the very end of the night, I brought everybody around the couple and had the guests repeat after me a special message I had written up. After that, I played friends by Michael W. Smith and the bride lost it!"
The Circle Salute is the perfect way to end your event. It brings everyone together and makes you take a moment to soak up the last precious memory of your wedding while literally being surrounded by your family and friends.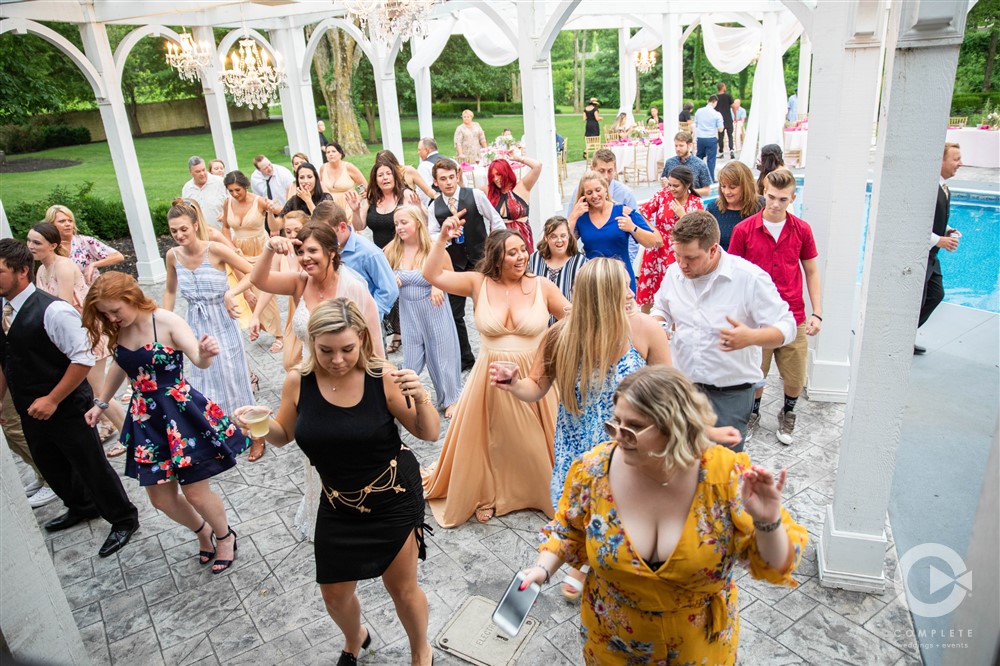 Snowball
Created by Complete's founder Jerry Maas in 1980 the Snowball is Complete's oldest and one of the top requested ice breakers! The concept is simple, every time the DJ announces "Snowball" the dancers on the floor will go into the crowd and bring someone new to the dance floor. The DJ will typically announce "Snowball" until the dancefloor is packed and very few guests are left in their seats. This top wedding reception game is the perfect way to kick off opening the dancefloor up!
The Brown Bag Dance
Created by Complete DJ Jeff Brown in 1997 the Brown Bag Dance is perfect for any wedding with an outgoing bridal party! I don't want to give too much away but we will gather either your bridesmaids or groomsmen for a dance-off. The catch is that we want those dance moves to be original, so we place paper bags over their head! This wedding reception game is always a huge hit and very entertaining to watch.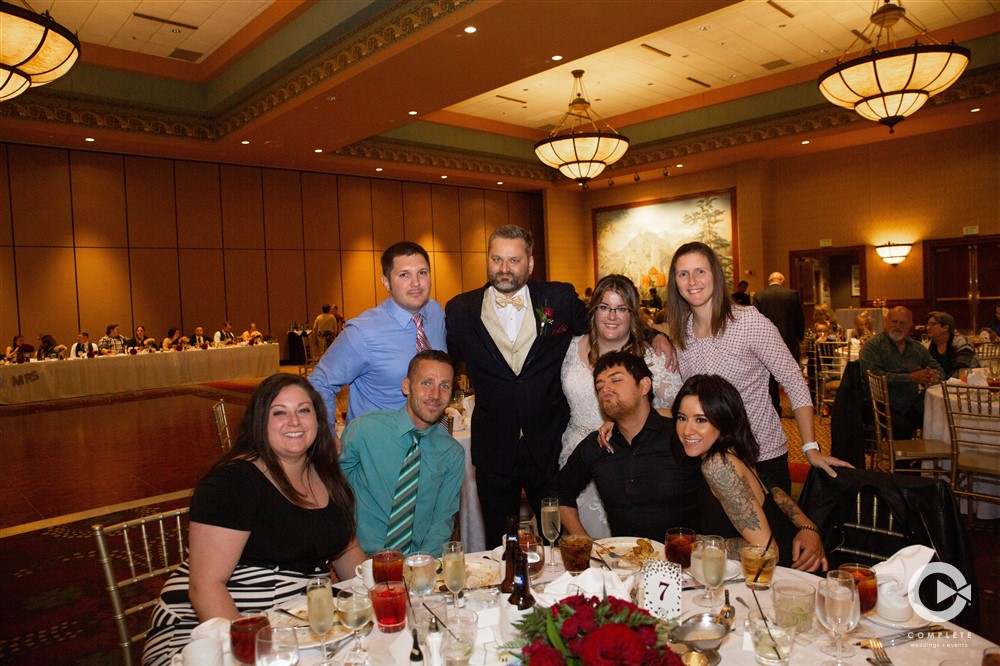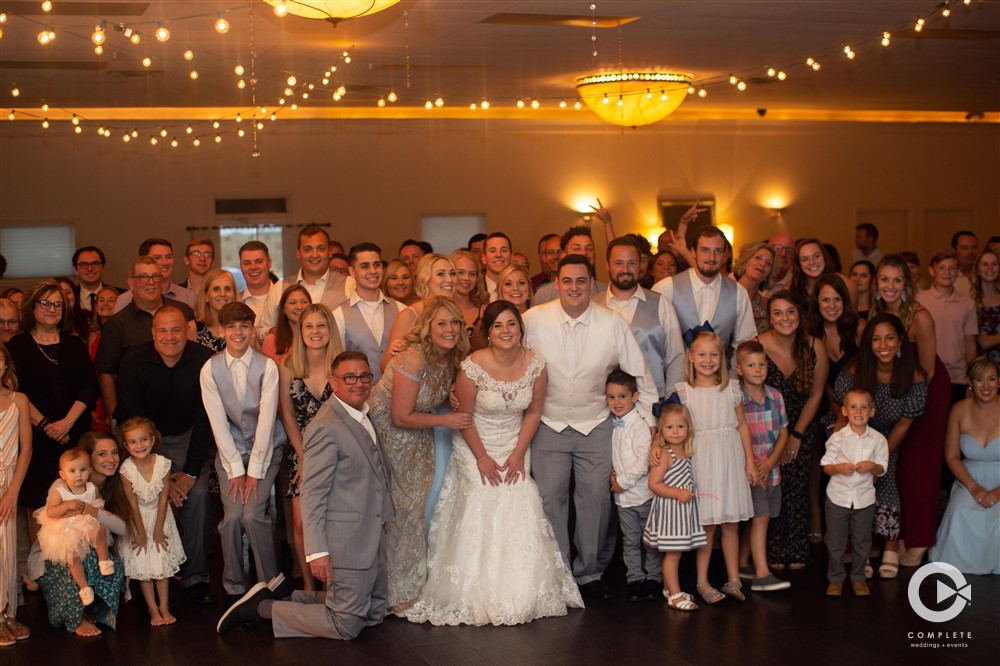 5 Minute Photo
The 5 Minute Photo is the newest creation in the arsenal of Complete Weddings + Events ice breakers. Created by DJ, Jeff Umberger in 2018 this wedding reception game is a must! The concept of this game is for the newlyweds to grab a picture with as many tables or groups as they can within a 5-minute timeframe. This allows the couple to grab pictures with guests quickly while creating a fun atmosphere.
Note: You MUST communicate this ice breaker and the setup with the photographer or it will be a mess!
Complete Weddings + Events Is Here to Help You!
Complete Weddings + Events has been a key contributor to the special event industry across Southwest Missouri and Northwest Arkansas for 24 years. We provide couples and families with Photography, Videography, DJ, Photo Booth, and Lighting services. Our team of event professionals provides exceptional special event services and delivers memories for you to enjoy for generations. Complete Weddings + Events Springfield is 100% engaged in assisting you and being a resource as you plan your wedding or event! Contact our full-time office staff at [email protected] or calling/texting us at 417.227.9445 for any of your wedding needs!