This year's couples are planning amazing affairs to bring their friends and families together again at last! If you've had time to research wedding inspiration on Pinterest, Tik Tok, or Instagram, then now is the time to select your favorite theme, get crafty, and knock out your wedding color palette.
Your wedding color palette can help you navigate through many future choices for the big day. Sharing your wedding colors with your cake caterer, florist, coordinator, or Springfield wedding party attire provider will help make their jobs easier to ensure they have the correct swatch or shade of colors you intended for!
New Wedding Colors to Consider
These wedding colors are some of the most popular (and easy to find matches for) or these palettes are trending up and are great wedding colors to consider for your upcoming day!
Pantone Colors of the Year
You heard it first from the color experts! Illuminating, a bright yellow, and Ultimate Gray are the Pantone Colors of 2021. Pantone describes these two shades as "a marriage of color conveying a message of strength and hopefulness that is both enduring and uplifting". We can't disagree; these are great colors to use for an uplifting event and an inspiring wedding day.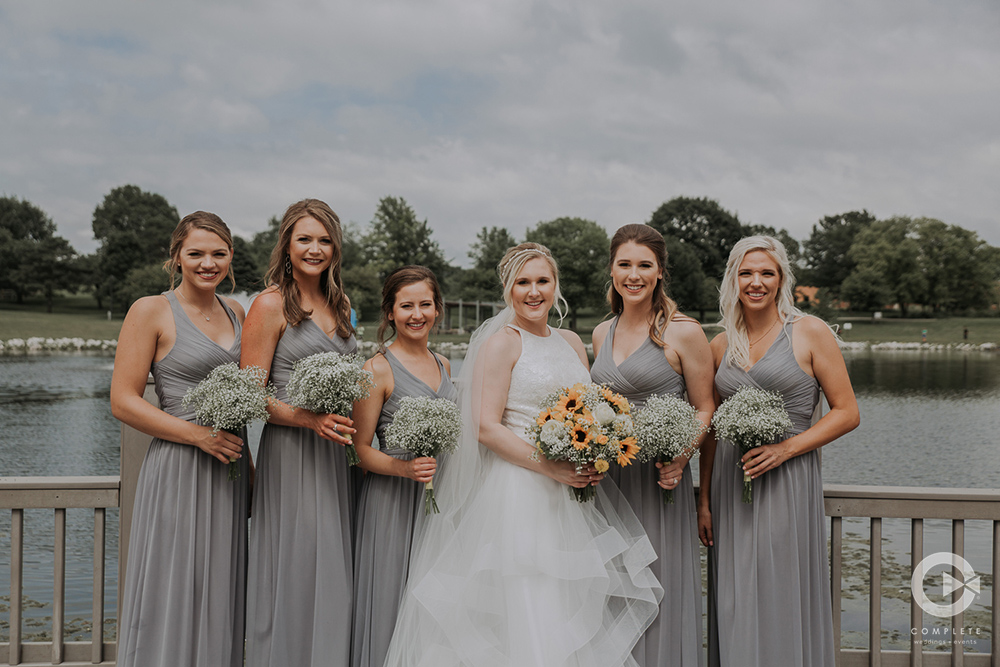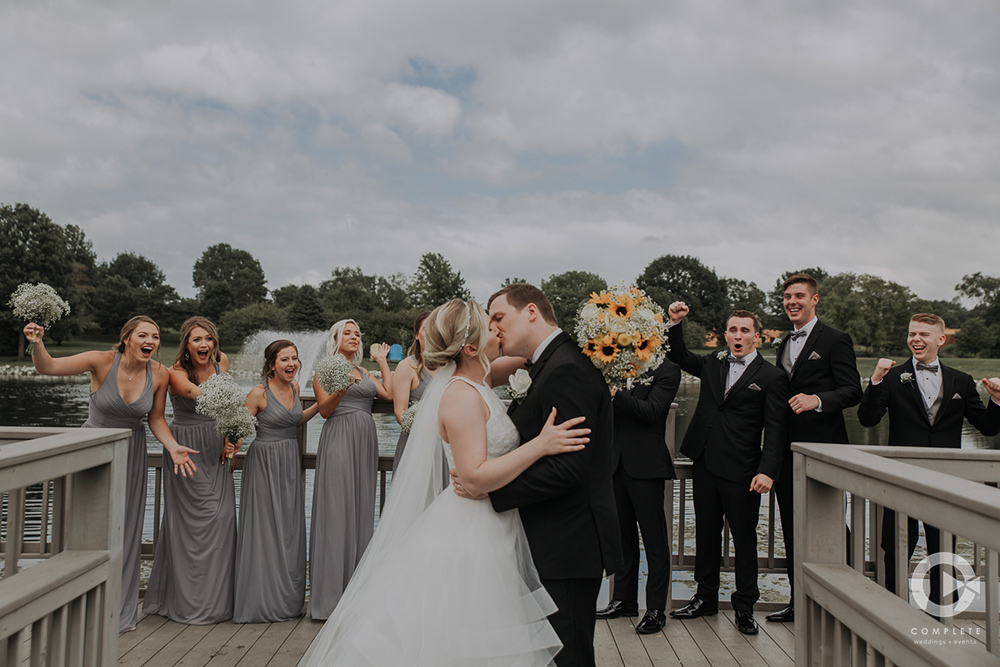 Sunrise Shades
Vibrant may be a great theme for 2021 invoking energy and happiness into everyone at events! A color scheme of colors you'd see in a grand sunrise fits this description well. Since they're all warm tones, reds, yellows, and oranges all work well together in tablescapes and bouquets. This color scheme reminds us of summertime and sunshine, and can help bring energy into an indoor space and complement the evening's sunset.
Shades of Blue
What's a wedding without something blue? We have plenty of blue hues to consider as a staple color for your day and to use a subtle accent throughout your wedding day elements. If you're going blue, blue uplighting is a must for simple wedding reception decor.
Fun Fact: The 2020 Pantone Color of the Year was Classic Blue. We think it deserves another chance in 2021.
Cobalt
If you're looking for the truest, bright blue, choose cobalt. This shade of blue pops in bridesmaid dresses and in decor, and would look great paired with other bold colors like indigo, purple or perhaps turquoise for a peacock-inspired look.
Turquoise
Turquoise has more green in it, making it a unique blue shade, but it sure is a popular one, especially among those getting married by the beach, or wanting that beachy vibe on their big day. Another option is to pair baby pink with turquoise to bring a whimsical wedding look to life.
Gray Blue
This muted shade of blue has heavy doses of gray in it resulting in a dusty slate tone that looks great in bridal party dresses, linens, and in the men's accessories. Gray-blue fits great for those looking for a neutral wedding look and pairs well with other subtle colors.
Metallics
Gold
The gold color can be an elegant element among a colorful wedding scheme, or it can help elevate the glamour on your day!
Rose Gold
Combine pale pink and gold, and you have the most on-trend metallic right now, rose gold.
Silver
Add radiance to your day with silvery bling to match that platinum ring! (Platinum is a great metal for your ring that's super strong and low maintenance. We're filled with fun facts today!) From your jewelry to centerpieces, or a glittery silver photo booth backdrop, there are many ways to incorporate this common metallic!
Where to Include Your Wedding Colors
After nailing down your wedding colors, where should you incorporate them? The standard spots to bring your theme to life are in your wedding invitations, bouquets and floral arrangements, centerpieces, cake, linens, and perhaps your own bridal accessories like your shoes, nail color, or jewelry. The bridesmaid dresses and men's tie, bow tie, or pocket square also help to add color to the day, if you so choose. Keep your colors in mind when considering any other decor elements at the ceremony or reception, from your card box, guest book, and gift or cake table.
Complete Weddings + Events in Springfield
Creating your wedding color palette is the fun part, so don't sweat it! Go with what speaks to you, or keep it simple with perhaps no color at all! When you're ready to select a photographer and videographer to capture whatever wedding colors you decide on, contact Complete Weddings + Event in Springfield!