Rus Ruckus
Southern born, USA…Southern raised, New Zealand. Bringing the ruckus since '97.
Rus Ruckus has been DJing professionally since 2015, holding residencies at multiple nightclubs in his hometown of Dunedin, New Zealand.
Bursting into the scene Rus Ruckus quickly grew a strong local level following. Musical choices are all inclusive. You can have disco; you can have rock n roll. 80s classics are a notable specialty. Do not forget about a world of club bangers perfect for dancing far into the early hours.
Rus Ruckus owned and operated his businesses Mas Entertainment and Carruthers Multimedia between 2019 and 2022 offering a range of DJ, photography and live band services for nightclubs and private events ranging from birthday parties, corporate workfunctions to weddings.
Rus Ruckus has been drumming for 20 years and playing guitar for 15 years,among a world of other instruments and a lifelong passion for music.
Rus Ruckus notes his favorite place in the world is The Craic Irish Tavern in Dunedin, New Zealand where he worked as a DJ for 7 years and in house drummer for 3 years.
Early 2022 Rus Ruckus made the huge decision to return to his birth land and expand his horizons in music, performance, art, hospitality and event management. Rus Ruckus is now happily located in Chattanooga, Tennessee. From here he works as one of Connects latest additions to their line up, as a stagehand worker for Local 140 I.A.T.S.E and as a music producer from his home studio.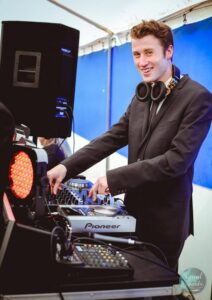 Rus Ruckus is a great choice for your Complete Wedding or Event!!
#theruckusishere