The most important thing about your wedding is saying "I Do" to your significant other and you will never forget how you feel at that moment. The second moment you will never forget is how you feel when you try on the PERFECT wedding dress! Wedding dresses are one of the most exciting things to look for during the wedding planning process. To help out, we collaborated with Norman's Bridal to bring you the hottest NWA fall 2020 wedding dress trends to be on the lookout for when shopping for your wedding dress for your 2020 Fall wedding!
NWA Fall 2020 Wedding Dress Trends
Sleeves
Wedding dresses with sleeves are a hot trend for 2020 here in Northwest Arkansas! You will see a ton of bell and boho sleeves during the fall 2020 wedding season. A bell sleeve is fitted from the shoulder to the elbow or mid-forearm area and flairs out to the wrist. Sleeves do not have to be created out of the same fabric as the wedding dress. They often are designed with a lighter material like tulle, lace, or netting. From a full lace sleeve to balloon sleeve you will find a variety of choices in an endless sea of different shaped dresses.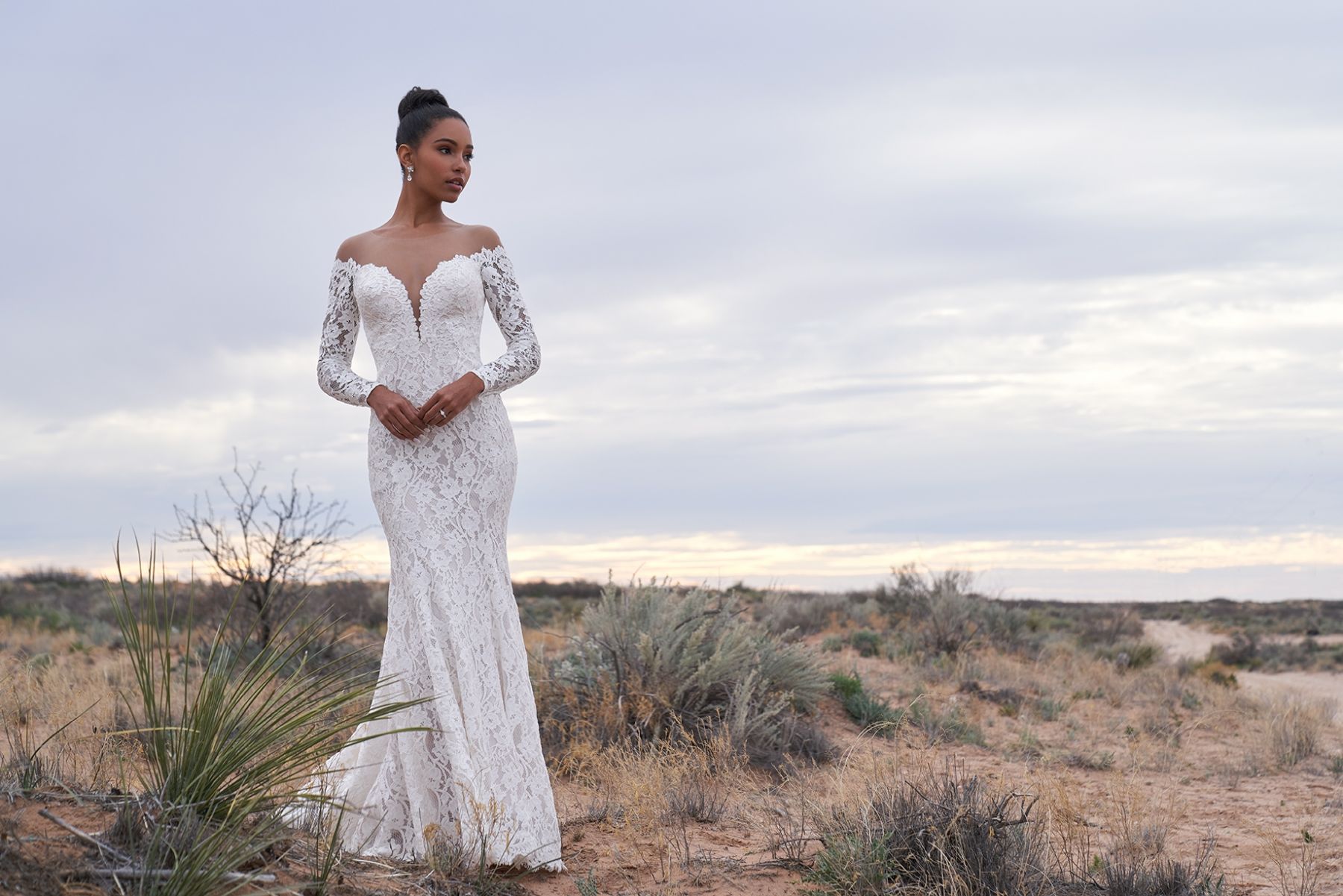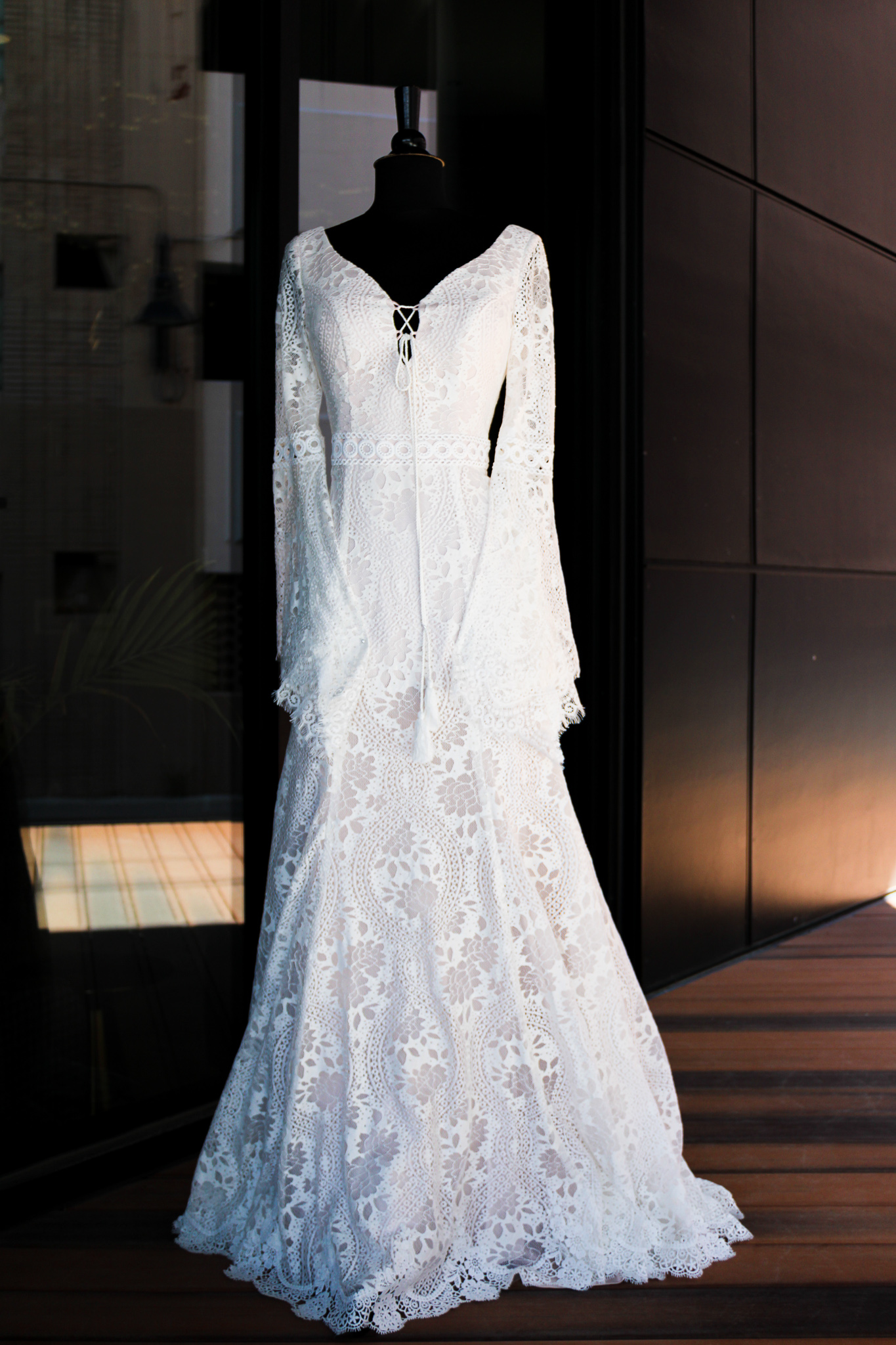 Floral Designs
From colorful floral prints to hand-sewn flowers, the floral designs are extremely trendy for both the 2020 and 2021 wedding season! You will typically see the bigger floral patterns on A-line dresses but dresses with fitted crape and big florals on the train with ornate scalloped edging are also huge right now!
Sparkle
Let yourself SHINE as you bring on the bling! Glitter, beading, and iridescent sequences are a hot wedding dress trend for the fall 2020 wedding season and are expected to stay for 2021! Bling on wedding dresses is nothing new to the dress industry. You will see chunky beading take a backseat in the fashion world and all over sparkle take center stage. There are A LOT of options coming out right now. If you do choose something with a little bling just be sure you don't overdo it with accessories!
Plunging Necklines
Plunging necklines are all the rage in fall 2020 wedding dresses. You will see plunging necklines in every style, shape, and material. To prevent wardrobe malfunctions the deep plunge may feature an illusion neckline (a sheer fabric that offers support and structure).
Ruffles
Ruffles have been heavily featured in many gowns and are definitely in style. They are the perfect addition to give a little extra texture and volume to a dress. Ruffles also fit the trend of light and airy looking for dresses that are extremely popular right now. They can also make the dress have a more fairytale or fanciful look while still keeping it very fashion-forward. Ruffles are being seen in the skirt of a lot of ball gown and mermaid style dresses.
Helpful Tips
You should order your dress 7 to 9 months before your wedding because most couture dresses take at least 5 months to create.
You should touch base with your seamstress before your dress arrives to see what their schedule looks like. Typically you should start your dress fitting 8 weeks prior to your wedding.
Think about who you are bringing with you! We recommend bringing no more than 4 guests with you to try on dresses.
Note: Due to Covid-19 know that veils are running behind! Also, check-in with the dress shop to see how many guests you are allowed to bring with you.
Complete Weddings + Events in Northwest Arkansas
If you're looking to tie the knot or throw an epic event, you have come to the right place. Complete Weddings + Events Northwest Arkansas will help you find the right event or wedding photographer, videographer, and DJ to throw an AMAZING party, plus we have a fun photo booth and lighting rentals to take your event to the next level!  We are Northwest Arkansas leading provider of event and wedding photography, videography, lighting, DJ services & photo booth rental. Our fulltime office staff are standing by to answer all these questions and more as you choose the NWA DJ that is perfect for you. Call or text us at 479-430-2122 or shoot us an email at [email protected]!