There is something magical about having your wedding outdoors. From sunset beach ceremonies to a reception in a wide-open field, hosting an outdoor event can be quite the undertaking! Weather, rentals, insurance, and permits are just a few things you have to think about. Don't fret though, Complete NWA has compiled a list of 10 things to consider when planning an outdoor wedding!
10 Things to Consider When Planning an Outdoor Wedding in Arkansas
1. Time of Year
Most brides have a specific vision of what season they seem themselves getting married in. Each season comes with its pros/ cons and should be extensively weighed if you are planning an outdoor wedding. First and foremost you will want everyone to be comfortable during your outdoor wedding ceremony and or reception! So if the temperature is too hot or cold then you should probably reconsider hosting your wedding outside or picking another month.
2. Time of Day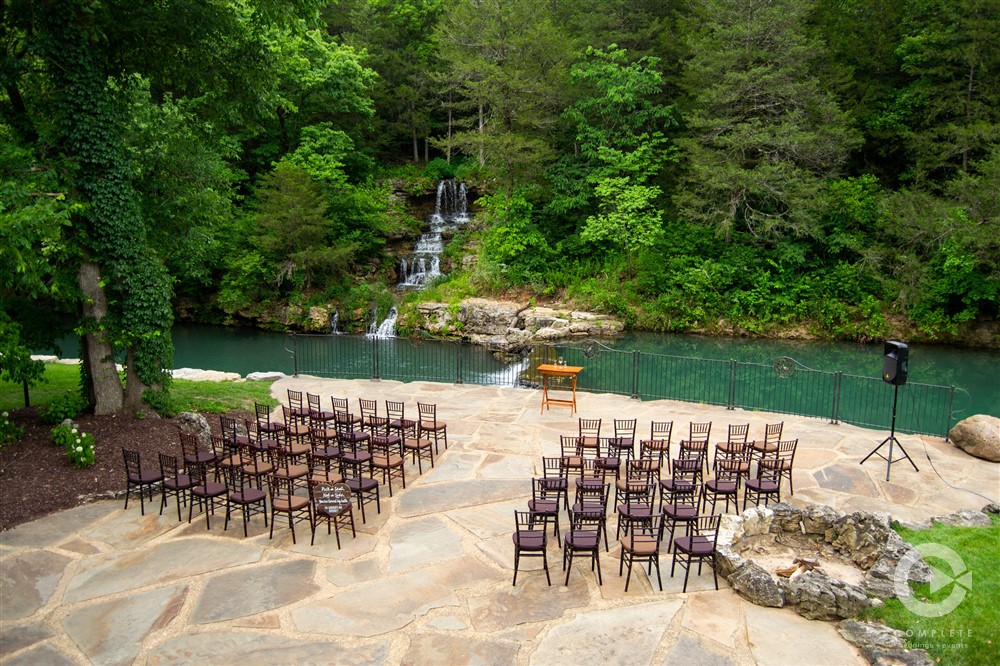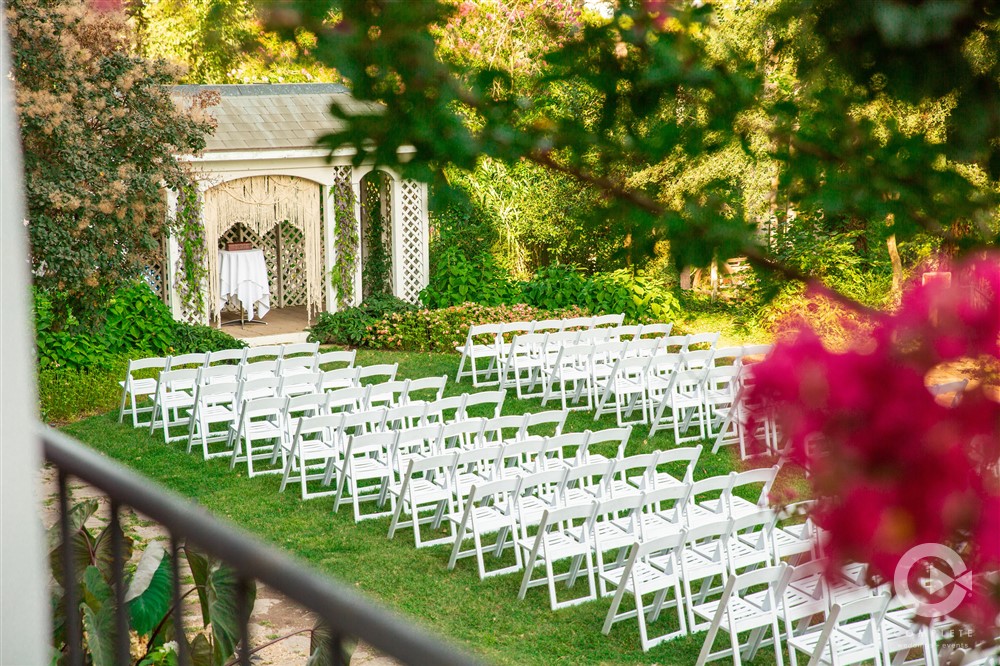 There are a couple of things you want to think about when considering what time of day you are wanting to walk down the aisle. First off, you want to pay attention to the lighting during that time. You typically want to avoid a time of day where the sun is at its highest because of the harsh shadows. Here in Northwest Arkansas, it is popular to choose a ceremony time where the sun is starting to set behind the trees. Not only does it provide ideal lighting for your photographs but it will give you and your guests an escape from the hot sun! You will also want to think about the temperature to ensure everyone will be comfortable.
Here is a thought! If you are planning an outdoor wedding in Arkansas during the warmer months provide fans and a water station to keep guests cool. If you choose to host a wedding during a cooler season have a basket of blankets or rent some patio heater to keep guests from getting chilly.
3. Wind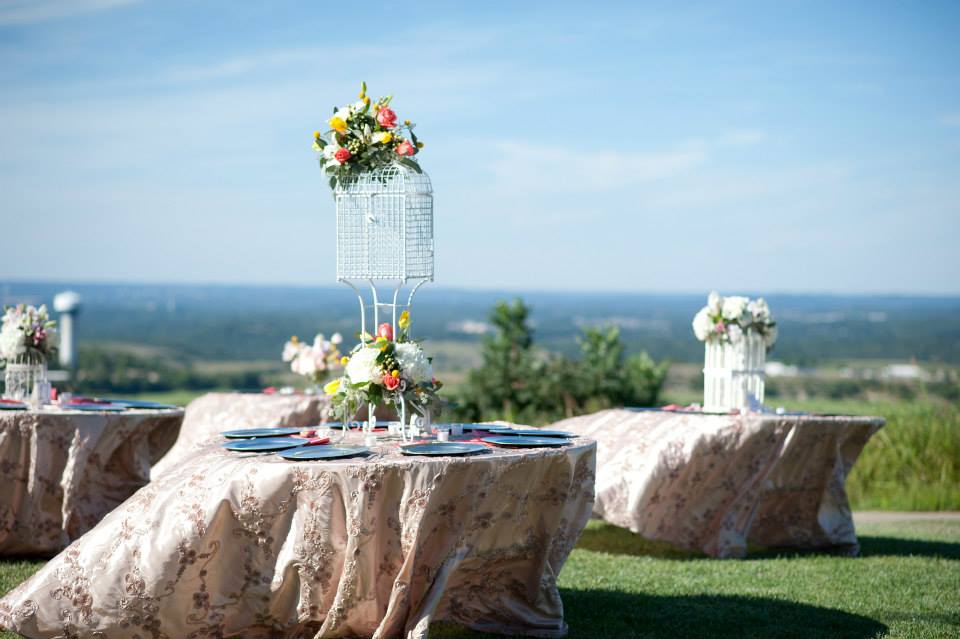 Both I and my brother chose to plan an outdoor wedding and you would think I would have learned from my mistakes with underestimating Mother Nature after the first wedding (but I didn't). I was smart though and thought about how my hair would be subjected to both wind and humidity and chose to do an updo that would hold up! You will want you and your bridesmaids to be picture perfect all day so talk with your hairstylist about different options that fit your vision and will hold up to the elements! Now let's talk about all the things I never thought the wind would cause havoc on!
Runaway Napkins!
I can't tell you how many times I had to go running after all napkins that blew into the field at my brother's wedding! I 100% recommend either doing a napkin ring to weigh them down or a placement where the napkins will be weighed down by the charger. Keep in mind, every napkin you lose you will get charged for by the rental company!
Programs & Menus
Are you thinking about placing a menu on top of each charger? It may look cute but unfortunately, they will blow away before anyone can enjoy them or at least mine did! Programs are also something you have to watch but they can easily be contained by putting them in a cute box or placing a paperweight on top.
Signs
Signs are a great way to communicate with your guests! When hosting an outdoor wedding you will want to think about the weight of the sign. Foamboard signs blow away easily but if you place your signs placed in frames it will add some weight and help it stay in place. Placement will also be a factor because the higher the sign is the more likely it will blow away it if it does not have something to help block the wind.
4. What's Included?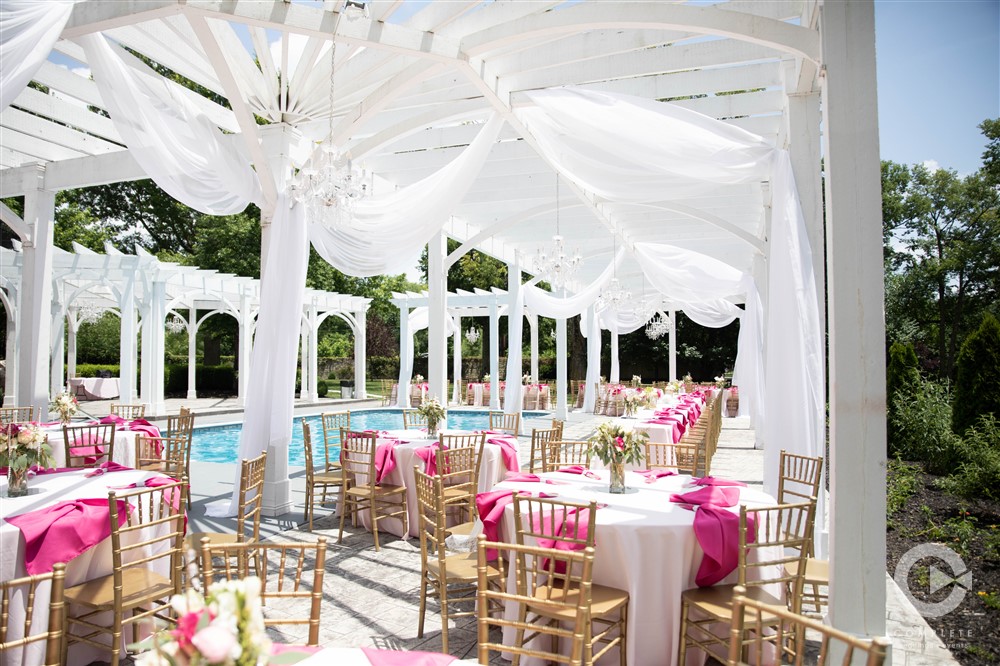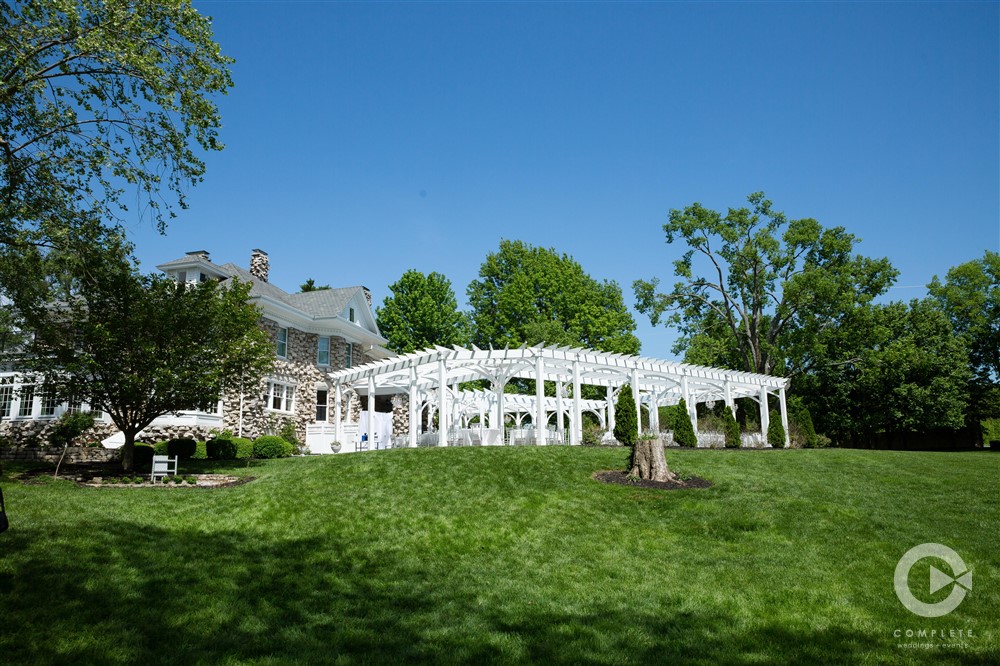 Most outdoor wedding venues will have tables, chairs, restrooms, and electricity that are needed to host your outdoor wedding reception but it is still important to double-check! Now if you plan to have your wedding in a family member's field, your backyard, or a nature park that will probably not be the case. You will want to make a list of everything that you have access to at your wedding location and a list of things you need. Then you will want to research the cost of renting things like tables, chairs, linens, generators, dinnerware, or bathrooms from local wedding vendors here in Northwest Arkansas.
5. Decorations
When you decided to have an outdoor wedding it is probably because of the beautiful surroundings. Am I right? The backdrop of the views, landscape, or lawn is the main focus so there is no need to go overboard on decor. Choose a wedding theme or colors that highlight your surroundings.
Tip- Don't forget about lighting! Chandeliers, twinkle lights, candles, or uplights will help set the mood and allow guests to see once the sun goes down!
Needing help with vendor recommendations for florals and rentals? Check out Rose of Sharon, NWA Florist Diamond Event Rentals, and Eventures!
6. Dress Code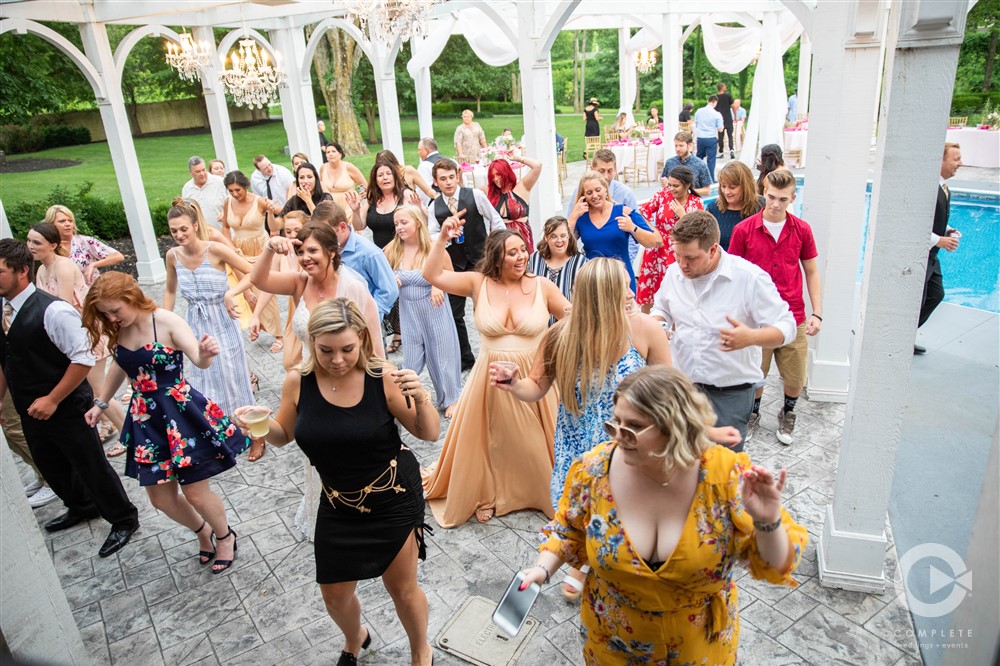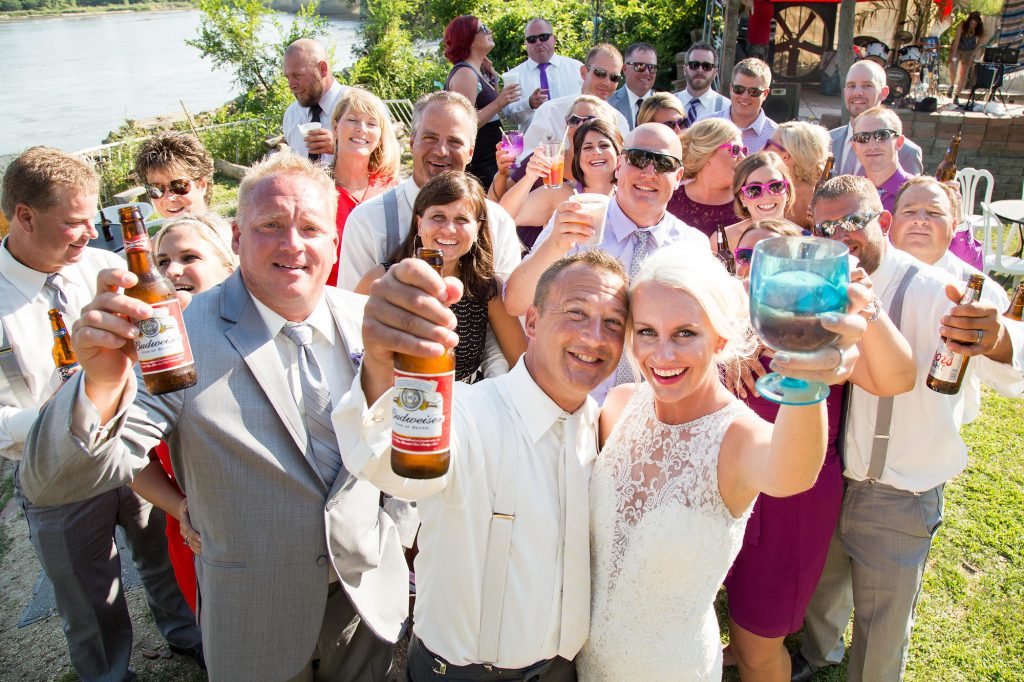 Educating your guests on the formality of dress you expect of them and the details of the type of event you are hosting is important. During the warmer months, you might choose to do a garden or cocktail attire. I also recommend putting a details section on your wedding website with tips and tricks. This way no one regrets wearing stilettos at a beach wedding or forgetting to bring a shawl for after the sun goes down!
7. Wedding Cake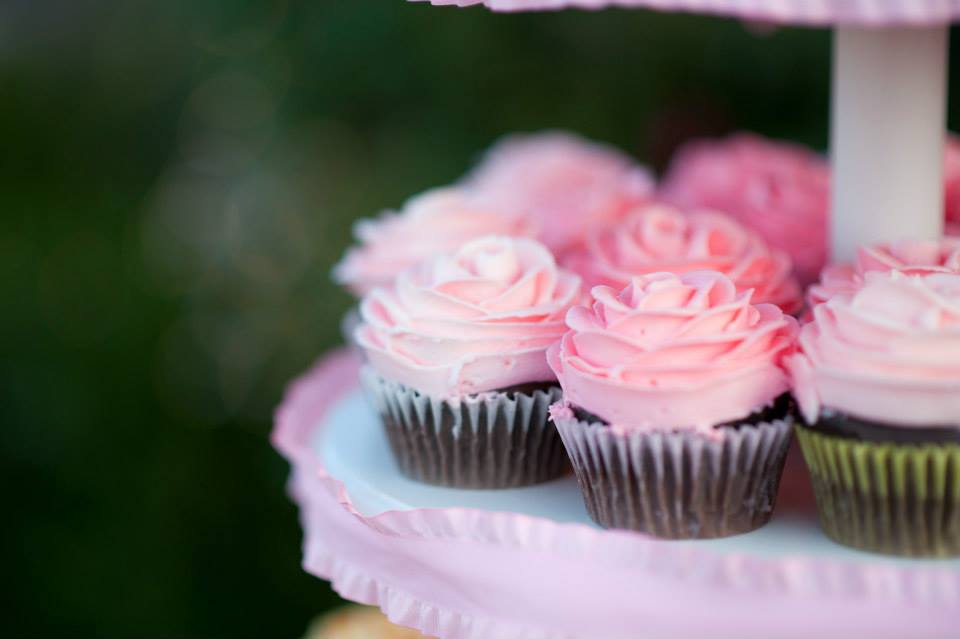 No bride wants a wedding cake meltdown her hands and that is a real concern when you plan an outdoor wedding! You will want to keep the wedding cake as cold as possible until right before the reception starts and preferably place it in a shaded location so it does not melt as quickly. Bugs will also be attracted to such a sweet treat so you might consider going with fondant icing.
Not only does fondant hold up better in the heat but it will also not attract bugs as easily and they won't get stuck in the icing! Naked cakes are also a huge trend right now and are another great option for outdoor weddings!
8. Bugs!
We all accept that bugs are just a part of Mother Nature but that doesn't mean we want to be eaten up by them! If you can I would recommend treating the lawn for insects the week prior to the wedding to help cut down on the pesky critters. Tiki torches and Citronella Candles will also help keep the bugs at bay.
Tip- provide a bug spray station or place bug spray in the restrooms for guests to use!
9. Have a Backup Plan
Unfortunately, things don't always go as planned so you will want to make sure you have a backup plan. Some outdoor venues already have a plan in place for inclement weather. If you don't have a "plan B" at your disposal then you will want to look up options like renting a tent.
10. Permits and Insurance
From noise ordinances to permits to insurance coverage, these are important but easily forgotten details when planning an outdoor wedding or event! You will need to call the city or county to see if you have to obtain any permits to host an outdoor wedding. Be sure to ask about the rules and restrictions on things like trash removal, parking, open flames, DJs, and live entertainment. Don't forget to get ahold of your insurance company to see what is covered and if you need to obtain additional liability insurance to cover any accidents or damages.
Complete Weddings + Events in Northwest Arkansas Is Here to Help You!
For over 20 years Complete Weddings + Events NWA has been serving couples and families with professional event services such as Photography, Videography, DJ, Photo Booth, and Lighting. Our team provides extraordinary special event services that deliver joy for generations. We are 100% engaged in assisting you and being a resource as you plan your next event! Give us a call today 479.430.2122 so we can customize the perfect package for your wedding or event!