How do you get the most out of your engagement photoshoot? We want to help give you some ideas to get you ready to go into your engagement photography session with full confidence! Run them by your Milwaukee photographer beforehand, or throw it out there the day of. Here are five different Engagement Photo Ideas for your engagement session:
Engagement Photo Ideas
Flash the Bling
After getting the engagement ring, who doesn't want to show it off a little!? Go ahead and flash that bling to the camera! These are adorable pictures to showcase at the wedding, in your home, or even on your save-the-dates. Here's a quick tip: make sure to get it cleaned before taking the photos! You want your Milwaukee engagement ring looking shiny and new for your photo shoot. It may have been a while since the actual engagement, so it doesn't hurt to be safe!
Classic Portraits
Clear eyes, full hearts, can't lose! A great portrait is timeless. These photos show the true you and age well, so you can be sure to cherish these photos for years to come. They can be considered a little "basic", but at the end of the day you will want some more easy-going, conventional photos to add to your engagement photo collection. Put them in an album, or print them for your family; especially grandparents! You know how much they love the more traditional photos, and you can count on it being framed and hung in their house the next time you visit.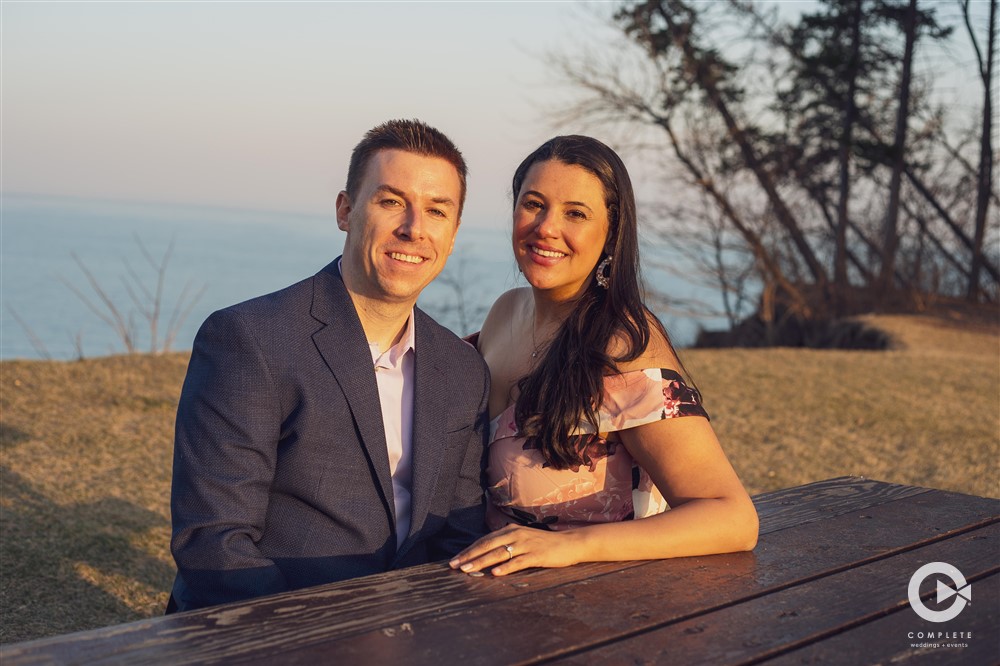 Playful
Go ahead and have some fun during your engagement photo shoot, you deserve it! Plus, your Milwaukee, WI engagement photographer will probably capture some unique photographs that show you and your partner's fun personality! Photographers have the most fun when they are able to capture the candid moments. Just relax! Chat with your partner, dance a little, and make sure to laugh! Really, all you need to do is be your lovely selves, and your photographer will take care of the rest. These photos will be the sweetest ones that you end up cherishing the most when you look back on them. Not super posed, just fun and just YOU!
Take it Outside 
Consider the time of year you are getting your engagement photos taken. We recommend a spring, summer, or fall for some very sweet outdoor photos! If you can schedule them outside of winter, you will be able to have an enjoyable time in the sun at your engagement shoot. Your photographer will love all the natural light they can use, and the scenery in Milwaukee allows for breath-taking photos. A few that we outdoor locations suggest are The Milwaukee River Walk, Lake Michigan, The Deer District, and Mitchell Park Domes. All of these will make for amazing shots and a great backdrop for all your photos! Don't be shy about asking your photographer for their own suggestions of outdoor locations as well.
Bring the Pup
What better way to create unique engagement photos than to bring your best friend! That is, other than the best friend that is your fiance. bring your pup with you! It can be your first "family photos" you all take together. They are playful and fun, and if you are a dog person, the pictures you take will last a life time! Again, great photos for your save-the-dates, or even sweet pictures for a Christmas card!
The Proposal
Of course, you'd need to be sure to hire a photographer for the ACTUAL proposal to capture these in-action photos. If you or future fiancé can get a photographer booked for the moment you say "yes," you won't regret it! Contact Complete Weddings + Events in Milwaukee to get a photographer booked for this extremely important question being popped! Instagram will thank you for the pictures making you and/or your fiances page look extra cute.
Complete Weddings + Event is Milwaukee's leading provider of event and wedding photography, video, DJ, photo booth, coordination, and lighting rental in the area. All services under one roof allows for an easy and seamless planning process. From capturing your engagement, to engagement shoots, to the actual wedding, we have you covered! Request pricing on all our services to see if we are available for your date!