The key to looking your best on your wedding day is not to wear the perfect dress, but to fuel yourself up on the best food. Nobody wants to be hangry, especially at their wedding. Scroll down as we take you through all the stops of your wedding day and all the wedding food trends you could serve and enjoy.
Wedding Food Trends
Breakfast & Lunch:
Despite common fears that eating before your wedding causes bloating, you should eat a healthy and hardy breakfast the morning of your wedding. The last thing you need is to pass out at the altar. Meals that are full of fiber and protein are good meals to start off your day.
Examples of quick breakfast foods that will keep you focused and satisfied include:
Toast and scrambled eggs.
Greek yogurt, fruit, and granola.
Bagels & Pastries
Oatmeal
Examples of quick lunch foods to tie you over till reception include:
Sandwich Platters
Meat & Cheese Pinwheels
Vegetable Trays
Most couples opt to have small snacks throughout the day or brunch instead of lunch so that is also an option..
Pro Tip:  Have fruit and pastry platters at the location you plan to do hair and makeup for your bridal party to enjoy. Bonus if it also includes mimosas! Avoid condiments if you can as those can lead to messes you don't want on your lovely attire.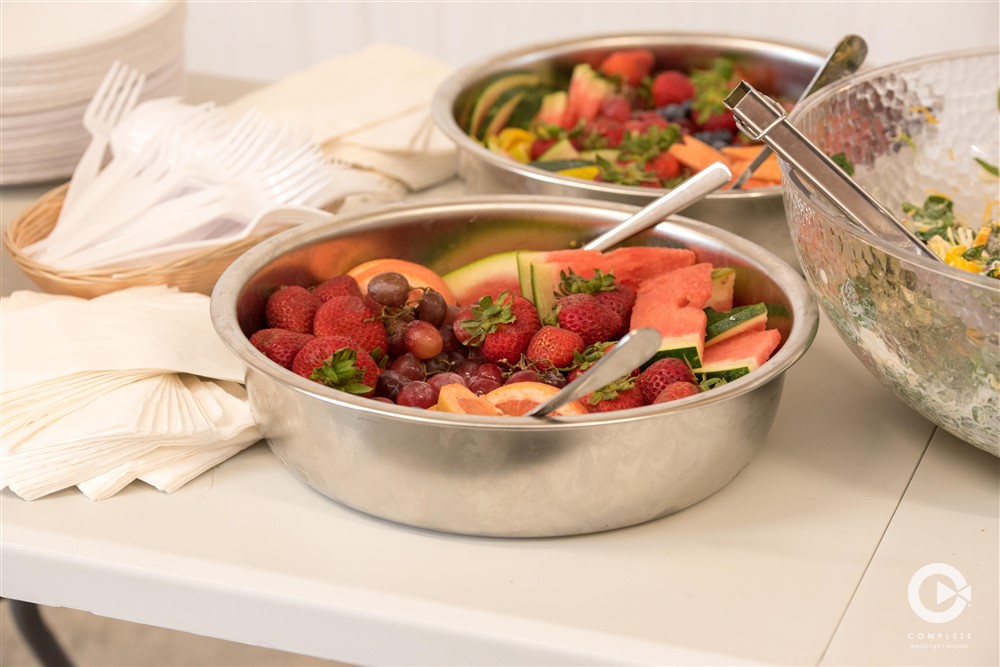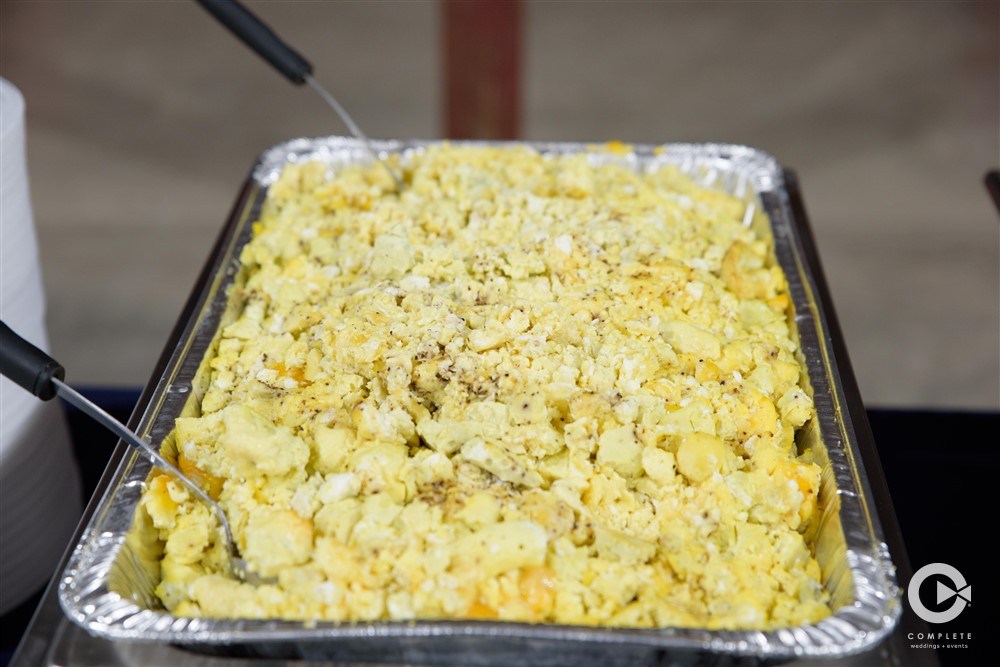 Appetizers & Cocktail Hour:
If you have an early ceremony or if your guests have time to kill before the reception, we suggest your guests be granted appetizers during cocktail hour. Serving small portions before your reception is perfect for your guests to explore your venue, and sign the guestbook. This offers a good distraction for when you and your wedding party are off taking pictures.
If you plan on serving hors d'oeuvres, select two to five options for your guests to choose from. Budget out about two bites per guest.
If you need some inspiration about what to serve before your reception here are some of our favorites!
Charcuterie Board – these savory snacks of meat, cheese, and crackers aren't going away anytime soon.
Mini Meatballs – these saucy snacks are sure to be a crowd favorite.
Seafood Bites – seafood cuisine is becoming showstoppers, especially at beachside weddings.
Fruit or Veggie Skewers – plant-based food options are becoming a new trend among couples. Serving these healthy foods is never a bad choice for your big day.
Chex Mix Table – this comfort food is equally as satisfying and salty.
Pro Tip: If the choices you made for appetizers are things you hope to taste as well, be sure to ask the caterer to set some back for you and your fiance or your entire wedding party to enjoy once you arrive.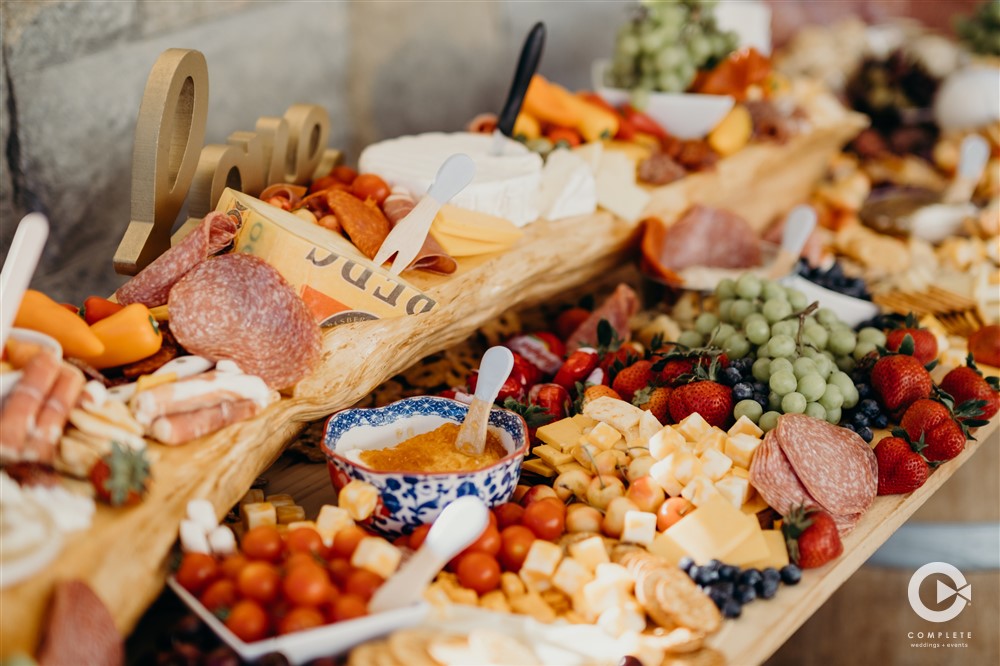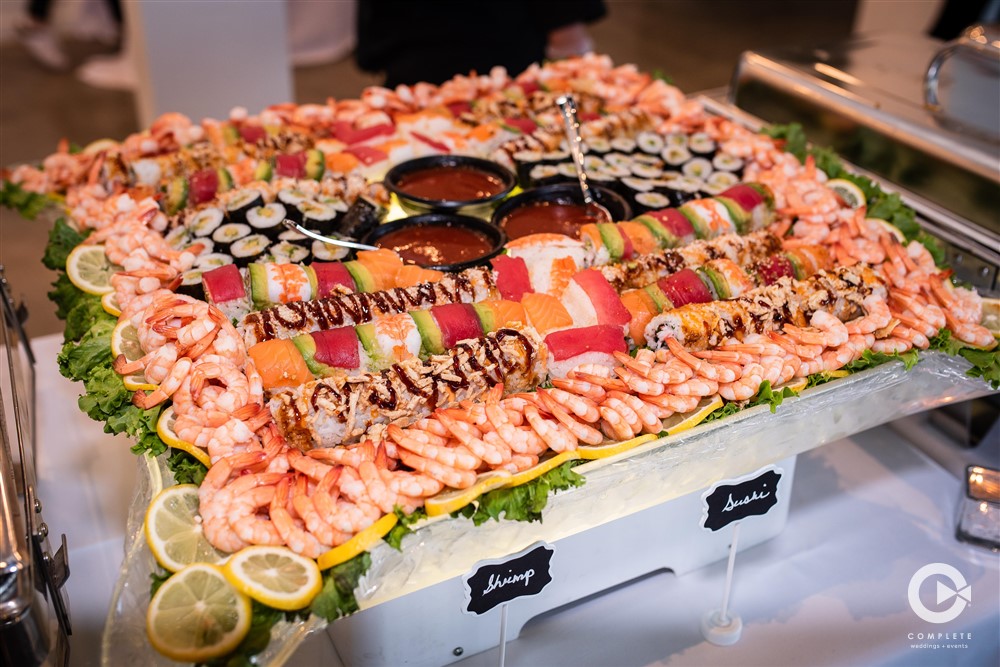 Dinner
It's time for the biggest meal on your wedding day. Traditionally your guests would expect some form of meal or food to eat. Lucky for you, there are a variety of different ways to serve your dinner. Be sure you build time into your schedule that allows you and your fiance at least 20 minutes to enjoy your food and truly just have a minute to sit down. In the event you get done with time to spare this is a great time to go table to table and greet your guests.
Plated Meal
One option would be to serve a plated meal. This is the most formal and aesthetically pleasing option but tends to be more expensive. According to The Knot, the average plated meal costs up to $25-40 a plate per guest, depends as more upscale food is served. Guests won't have to wait in a long line and will be served around the same time. You can also have guests select a plate that works with their dietary restrictions. Make sure that your or your wedding coordinator double-checks with all of your guests to make sure that everyone gets a plate.
Buffet Style Meals
Buffet-styled meals are another option for your reception. They are more casual, less expensive ($27 a plate per guest), require fewer servers and staff, and offer a wider variety of choices for your guests. Buffets do lead to long lines and leave a greater chance for leftover food.
Food Truck
If a plated or buffet meal doesn't fit you and your partner's style, try a food truck or ordering in from your favorite restaurant or fast food place. Whatever you decide, make sure that it reflects you and your partner as a couple. If you are in need of a second opinion, ask your caterer what style they prefer.
Pro Tip: Don't be afraid to ask your caterer about menu items that may not be on their standard catering menu, if you want something unique just ask! Absolutely do not skip dinner. It is often at this time of the day that alcohol consumption increases, trust us you want to remember your wedding day. Be sure you are eating and drinking plenty of water throughout your day!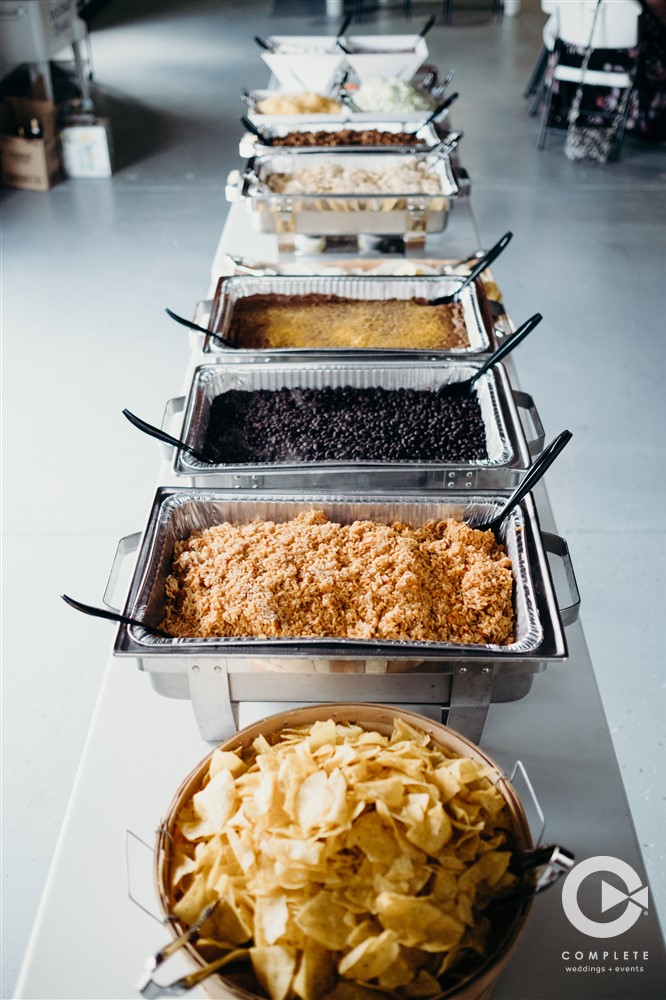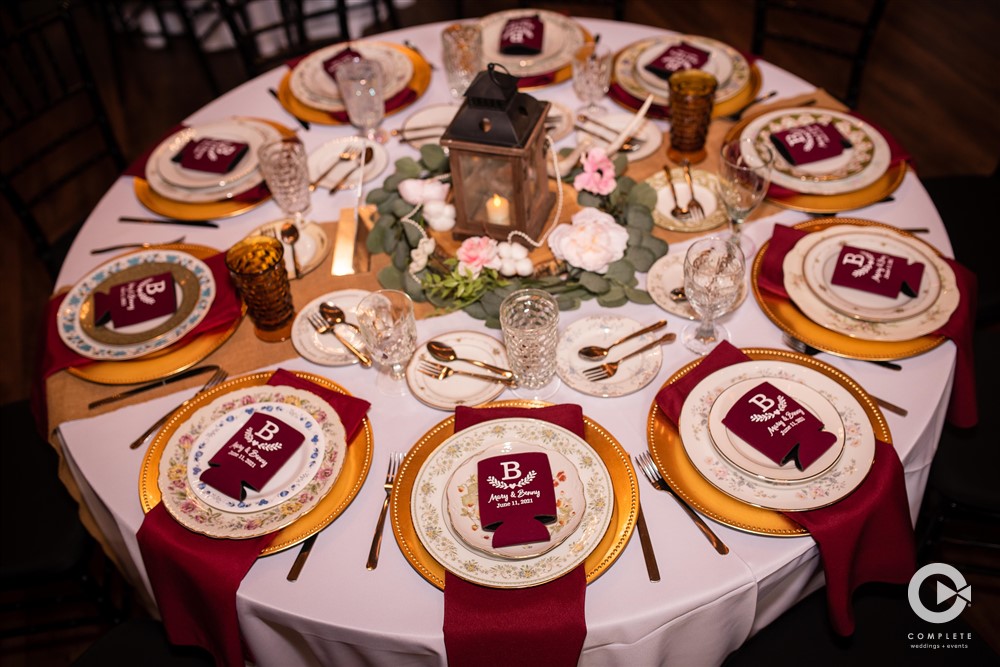 Desserts
It's a long-standing tradition that cake is served as the main wedding dessert. However, couples have been foregoing this tradition to include some of their own favorite desserts and tasty treats.
Cupcakes – A little twist on the traditional cake. Provides the same taste, only in smaller portions.
Donuts – One of the most popular dessert alternatives. They are affordable, come in a variety of flavors, and look pretty good on display.
Cookies/Brownies – Perfect handheld chocolate desserts. These bite-sized treats can be served with mini forks or toothpicks.
Candy – A great snack that guests can come back to throughout the night.
Pie – This popular southern dish can be served in a variety of unique ways. Mason jar cobblers are a fun way to make pie a desirable dessert.
If all of these sweet treats sound appealing, consider setting up a dessert table with interactive food stations to include all of your favorites.
Pro Tip: Take a piece of cake/dessert to enjoy after you have fed the small pieces to each other in case there isn't any leftover after the event. The piece you save for your one year is most likely not going to taste as good! When saving your top tier it is best you wrap it in saran wrap then put it in a freezer-safe Tupperware and wrap the Tupperware in saran wrap as well.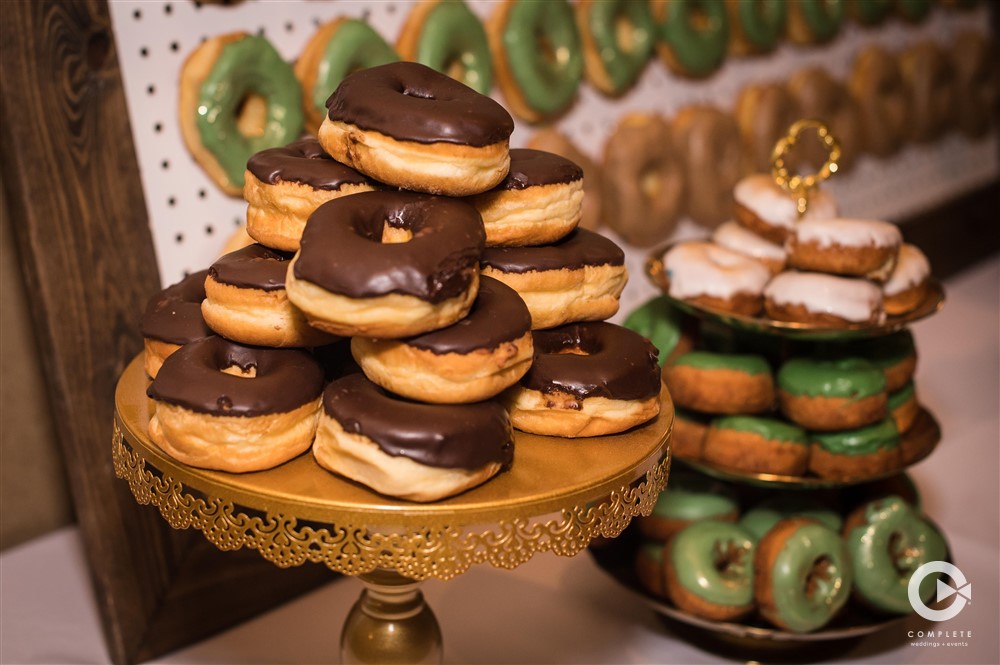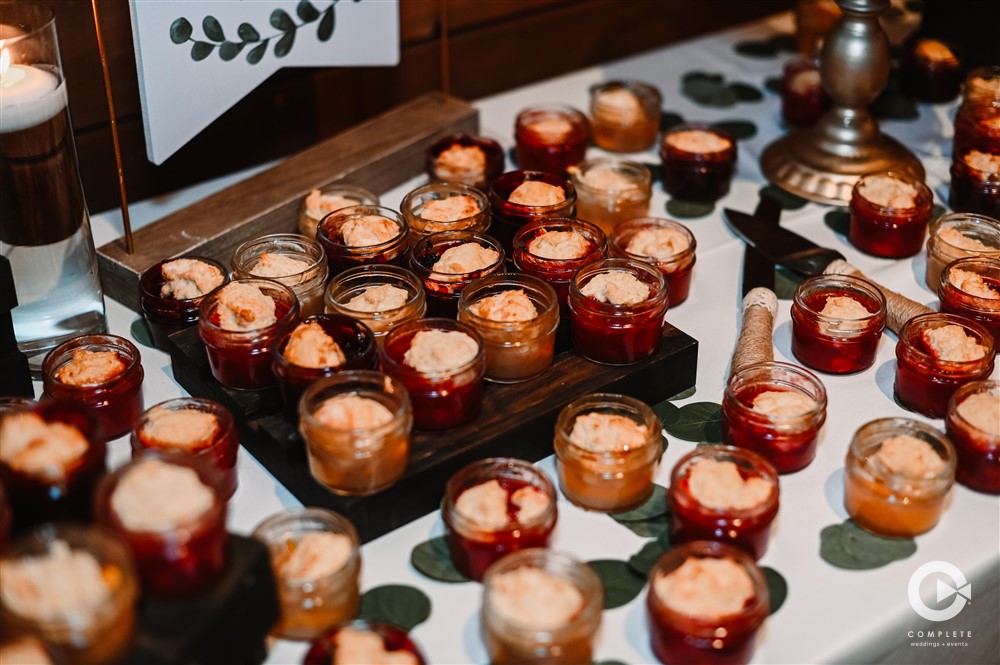 Late-night Snacks
All the dancing and reception activities can leave your guests feeling exhausted and in need of a late-night snack. Similar to appetizers, you can provide some small foods that your guests can enjoy before getting back on the dance floor. Here are a few of our favorite midnight snacks.
Pizza – Order in from your favorite local delivery place!
Fast Food Bites – Fast-food places such as McDonald's are perfect for the midnight munchies.
Sliders – These bite-sized burgers are tasty snacks and are perfect for outdoor occasions.
Popcorn – Serve up this buttery and salty snack in monogrammed to-go boxes. Eat and party it up on the dance floor!
Pro Tip: If you are serving these items close to the end of your reception it is great to have to-go sacks/boxes for them to take with them. Having bottled water they can take with them as they leave is also a great idea. Don't forget to pack some for you and your fiance to take back to the hotel for any late-night cravings.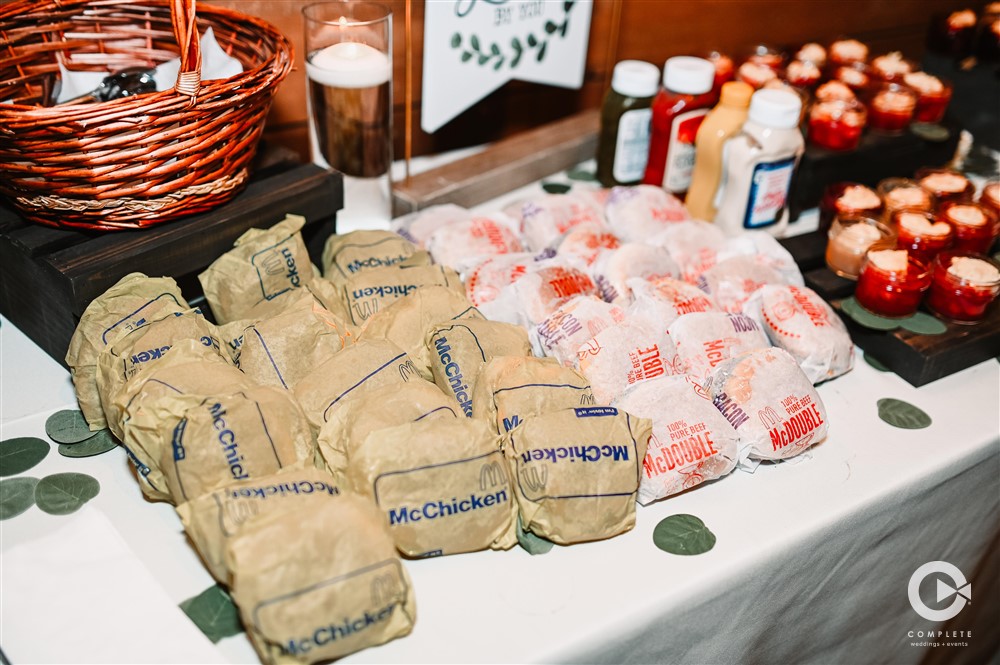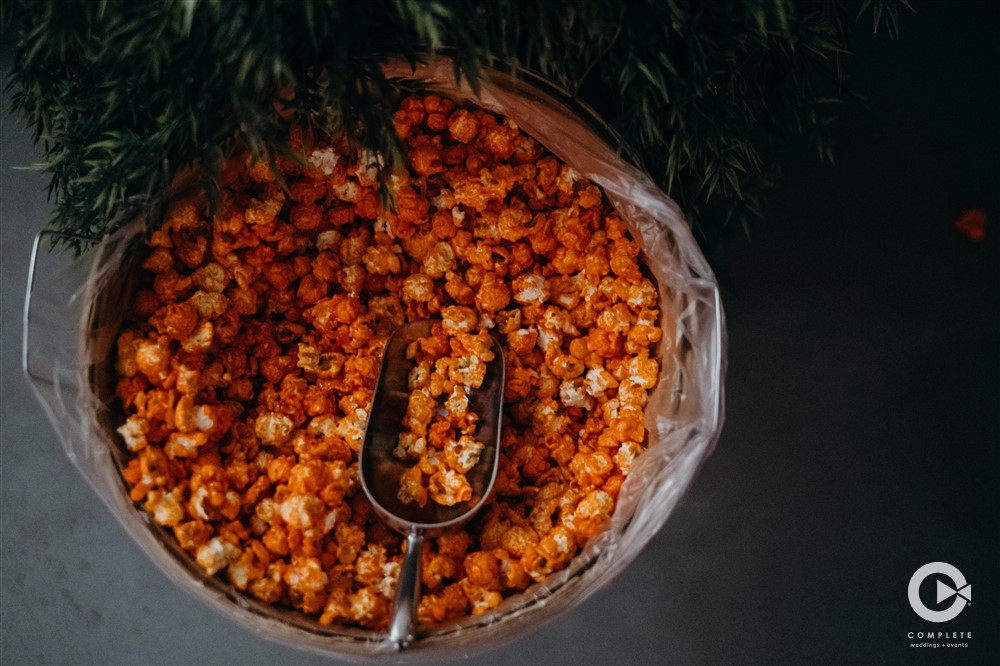 Final Thoughts on Wedding Food Trends
It's simple: don't forget to eat during your wedding. When your guests are eating, you should eat as well. Don't forget to also drink water throughout the day. It is good to enjoy alcoholic drinks with guests, but it can also easily lead to dehydration. An even balance of food and drinks should keep you steady and energized to celebrate!
Event Experts at Complete Weddings + Events Manhattan, Kansas
Whether you want one service or all six, we specialize in creating custom packages for our couples to meet their needs and budget. Tailoring each of our services to reflect your style and vision and allowing you to be a part of the planning process every step of the way. The best part is you get a team of professionals to help with all the details from our knowledgeable office staff, in-house full-time wedding planner, and experienced event staff, we have you covered and want your planning process to be a stress-free experience.
Check out our service pages to learn more about how we can COMPLETE your event!
Complete Weddings + Events, Kansas' leading provider of event and wedding photography, videography, day-of coordination, lighting, DJ services, & photo booth rental.