Everyone knows the saying "April showers bring May flowers," but what happens when those showers unexpectedly arrive on your wedding day? While rain may not be what you envisioned for your special day, with some thoughtful preparation, you can still have a beautiful and memorable wedding, rain or shine. Here are some tips on how to prepare for a rainy wedding day and how to turn those raindrops into a beautiful part of your love story.
Embrace the Possibility of Rain
Rain on your wedding day can be a topic of much debate. Some believe that rain brings good luck, fertility, and cleansing, while others see it as bad luck and symbolize a sad union. Regardless, the reality is that weather, especially Kansas weather, is unpredictable. Rather than fretting over the possibility of rain, why not embrace it and prepare?
Discuss the potential for rain with your partner and guests ahead of time. Also, consider hiring a wedding coordinator. Our Kansas day of wedding coordinators have seen their fair share of rainy wedding days and are well-equipped to tackle a storm.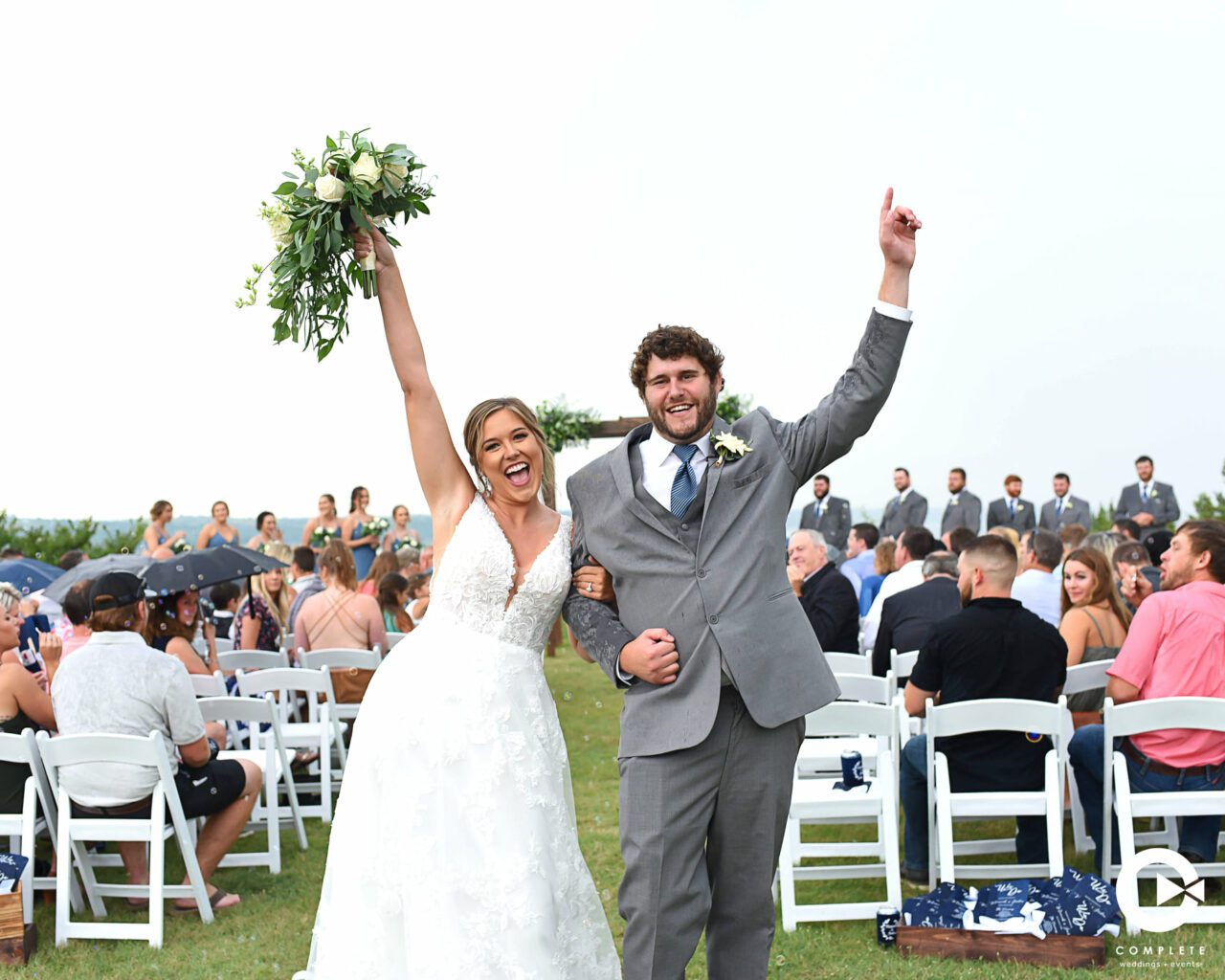 Have a Backup Plan
A backup plan is crucial when it comes to dealing with a rainy wedding day. If you're planning an outdoor wedding, make sure you have a backup indoor venue or a tent option reserved in case of rain. If you're having a ceremony and reception at separate locations, ensure that at least one if not both venues have indoor options available.
Create a detailed rain plan, including logistics such as rearranging seating, moving decorations, and adjusting your timeline. Having a well-thought-out backup plan will give you peace of mind and help you stay organized on the day of the wedding.
Invest in Rainy Day Essentials
It's important to invest in rainy-day essentials to keep you and your guests comfortable. Consider purchasing stylish clear umbrellas that can be readily available at ceremony and reception areas.
These extra umbrellas can double as protection from the rain as well as props for stunning photo opportunities. You can also provide cozy blankets or shawls for guests to stay warm and dry.
Having these items on hand will show your thoughtfulness as a host and keep your guests comfortable despite the rain.
Communicate with Vendors 
Rain on your wedding day can indeed impact the logistics of your big day, including transportation, photography, and entertainment. It's important to stay proactive and communicate with your vendors about the weather forecast and any changes to the timeline or venue due to rain.
Your vendors are experienced professionals and will be prepared to adapt their plans accordingly. They may have suggestions or backup plans in place to ensure that your wedding day runs smoothly.
By keeping the lines of communication open and working together with your vendors, you can navigate any weather challenges and ensure that your special day is still everything you envisioned, even with a little rain.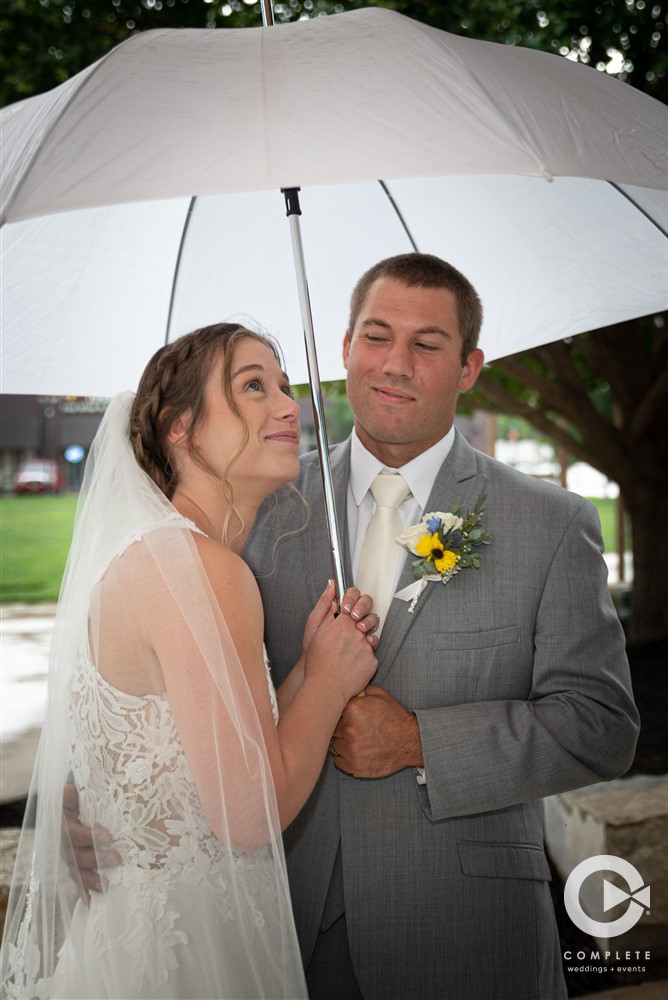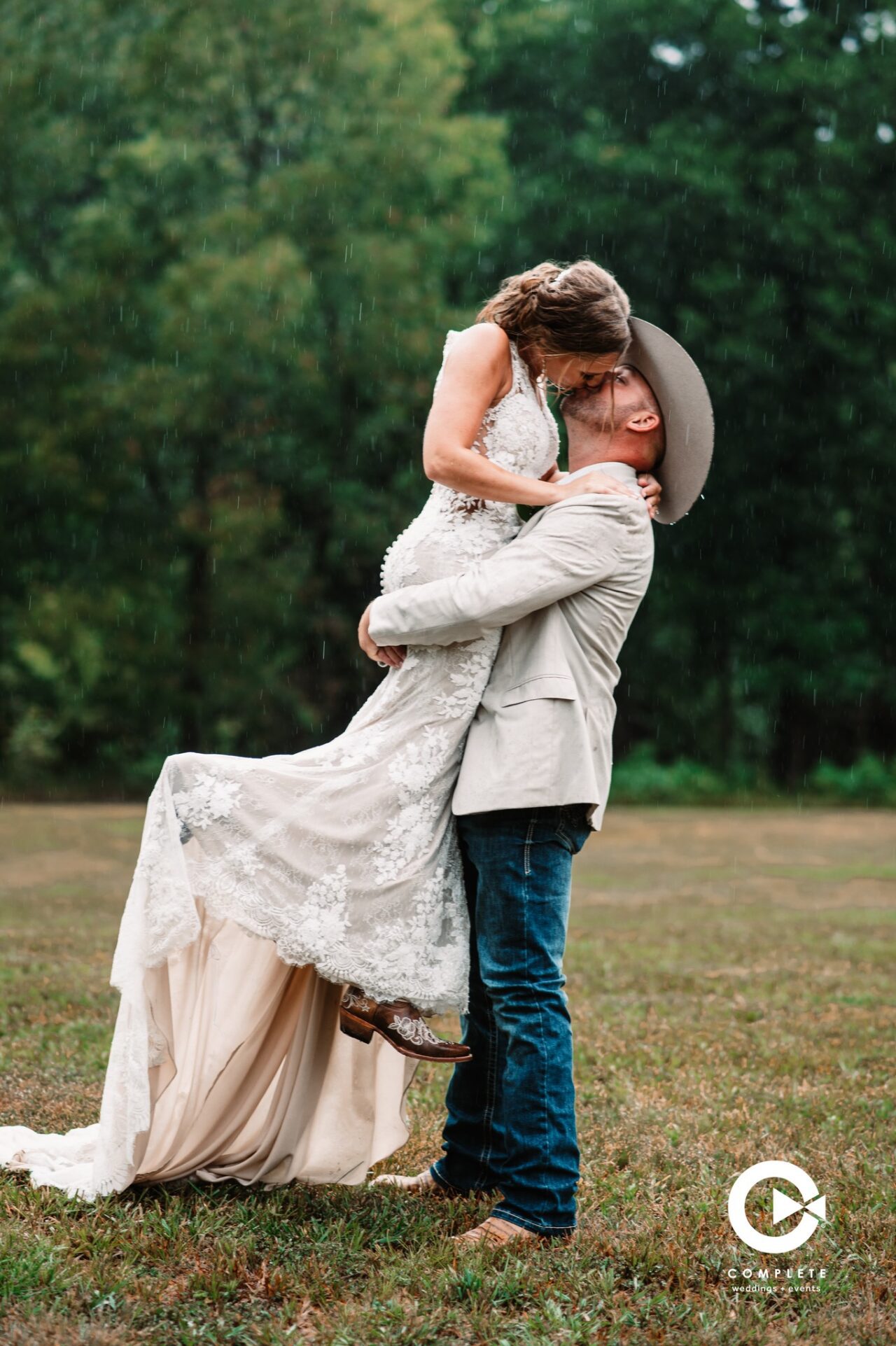 Complete Weddings + Events Manhattan, KS | Photographers | Videographers | DJs | Photo Booth Rental | Coordination
Let Complete Weddings + Events Manhattan, KS help you bring your favorite wedding ideas to life! Whether you want one service or all six, we specialize in creating custom wedding packages for our couples to meet their needs and budget. Tailoring each of our services to reflect your style and vision and allowing you to be a part of the planning process every step of the way.
The best part is you get a team of wedding professionals to help with all the details from our knowledgeable office staff, in-house full-time wedding planners, and experienced event staff. We have you covered and want your planning process to be a stress-free experience!
Check out our service pages to learn more about how we can COMPLETE your event!
At Complete Weddings + Events, we are the leading provider of event and wedding photography, videography, day-of coordination, lighting, DJ services, & photo booth rental in Manhattan, Lawrence, and Topeka, KS.