Your wedding reception is a fun time to celebrate! It's a great way for your guests to get to know each other and celebrate your love, but how do you keep your guests from getting bored and leaving early? We have put together a list of the most fun and interactive activities to play during your reception that will keep your wedding guests entertained!
Shoe Game:
The Shoe Game is a wedding classic! This massively popular wedding reception activity is sure to make the guests laugh and also give your reception a lively start. Similar to the Newlywed game, the shoe game tests the couple's knowledge of each other. From who is the funniest to who is the best cook, the newlyweds will have to answer a variety of questions without seeing one another's answers. The shoe game only requires three participants: the couple, a host, and the audience.
How to Play:
Have the couple sit back to back in front of the guests.
The bride and groom will take off their shoes and hold one of their own shoes, and one of their partner's shoes.
The host will then ask the couple questions such as "who is most likely to…". The couple will lift up the shoe belonging to the one that they think is the most likely to… (For a fun twist, have your wedding party prepare some fun questions or have guests submit questions prior to the start of the game).
Example Shoe Game Questions:
Who made the first move?
Who wears the pants in the relationship?
Who is more likely to talk their way out of a speeding ticket?
Who is the better dancer/singer?
Who plans the most elaborate date nights?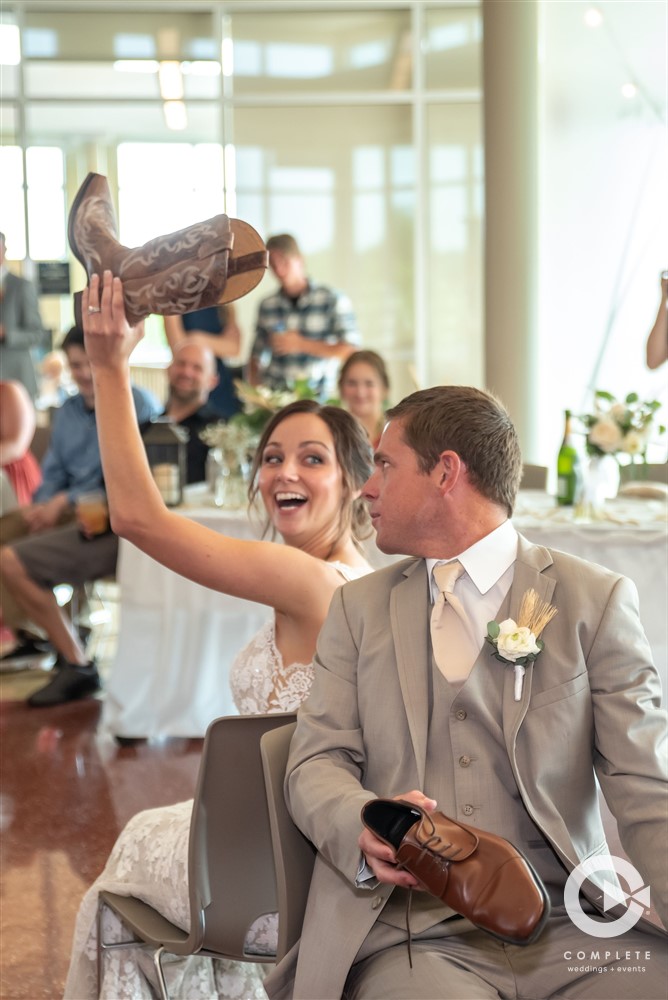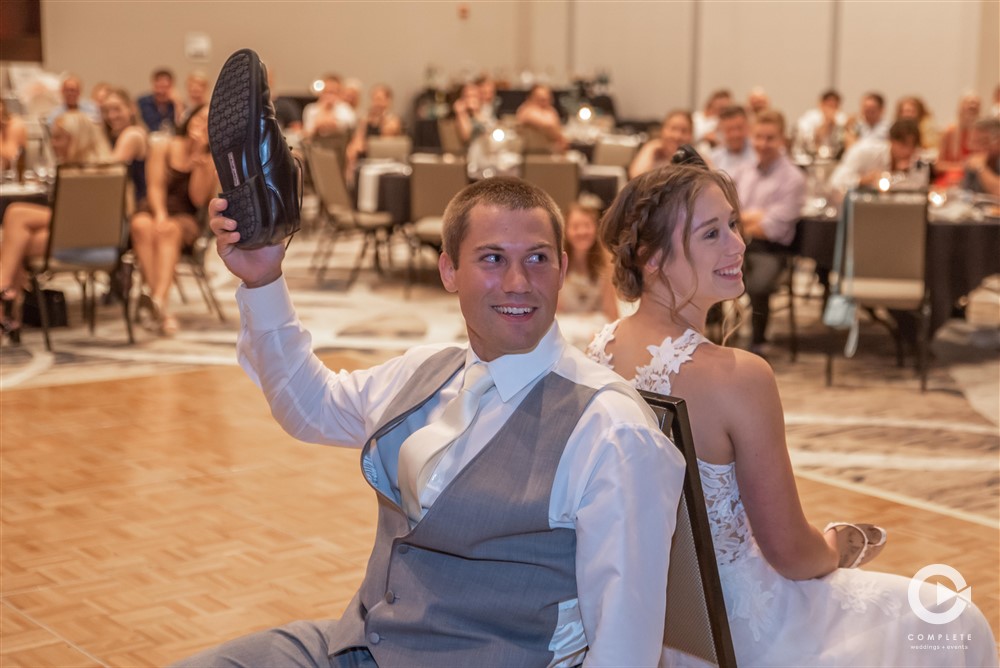 Wedding Party Survivor: 
Wedding Party Survivor is a combination of music chairs and a scavenger hunt. This lesser-known wedding game gets your whole wedding party involved in the fun. This game can become very competitive and provides entertainment for your guests too as they can be involved by helping everyone search for different items.
How to Play:
Line up chairs in the front of the dance floor for each member of the wedding party.
The DJ will ask the group to find an item out in the crowd and bring it back to their seat. While everyone is off searching for their item, the DJ removes a chair from the line.
The last member of the wedding party to return to their seat is eliminated.
Continue this pattern of asking questions until one wedding party member remains. Then, you will have your winner!
Survivor Item Ideas:
Something that had the bride and groom's name on it.
Something that had the wedding colors on it.
Something old, something new, something borrowed, or something blue!
Something the couple can't leave home without.
Money! Have the last two remaining members collect cash from the crowd for a honeymoon fund.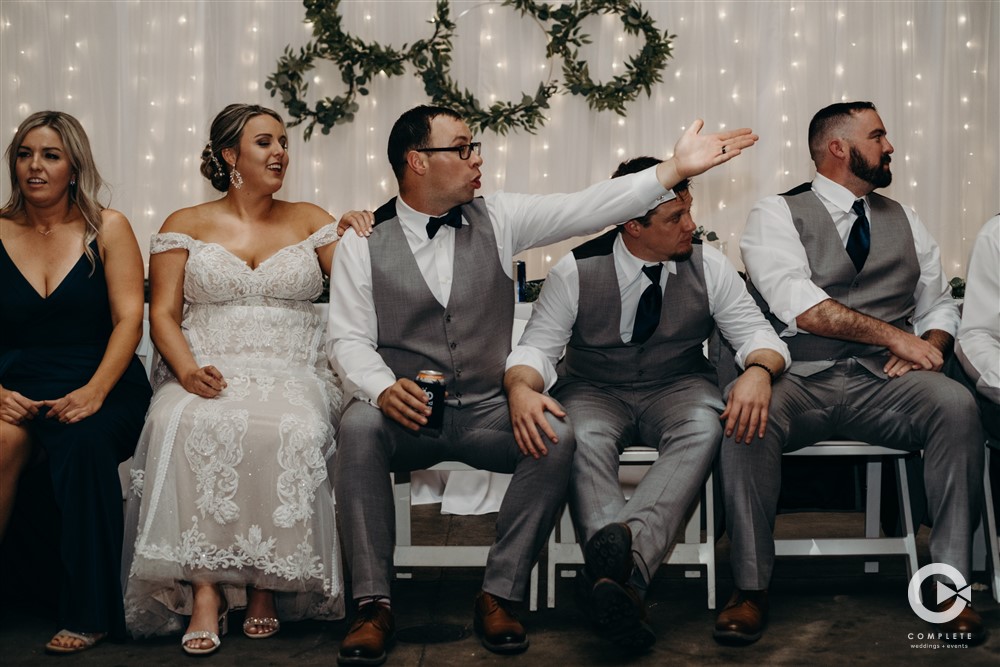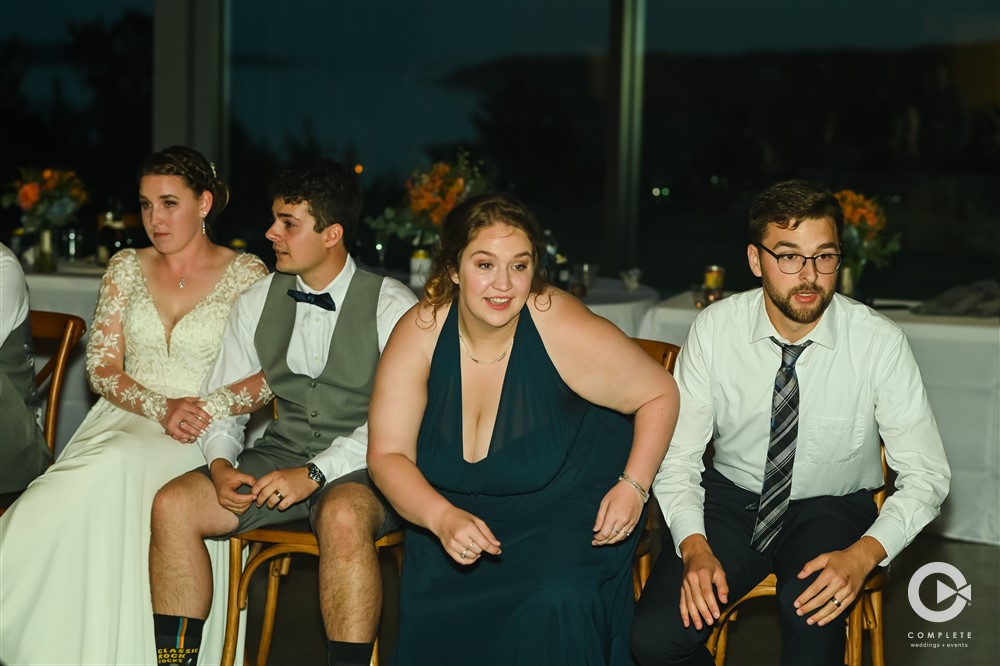 Photo Booth
Whether you're the creative type or not, photo booths are a fun activity with many benefits. Photo booth rentals from Complete Weddings + Events Kansas give all of your guests a photo strip that documents all the fun they had at your wedding. We even offer photo booth rentals that send digital prints straight to your phone. Photo booth designs can also be customized to include your name, personal wedding colors, hashtags, date, and more. Overall, providing a photo booth at your wedding will be a fun time for all.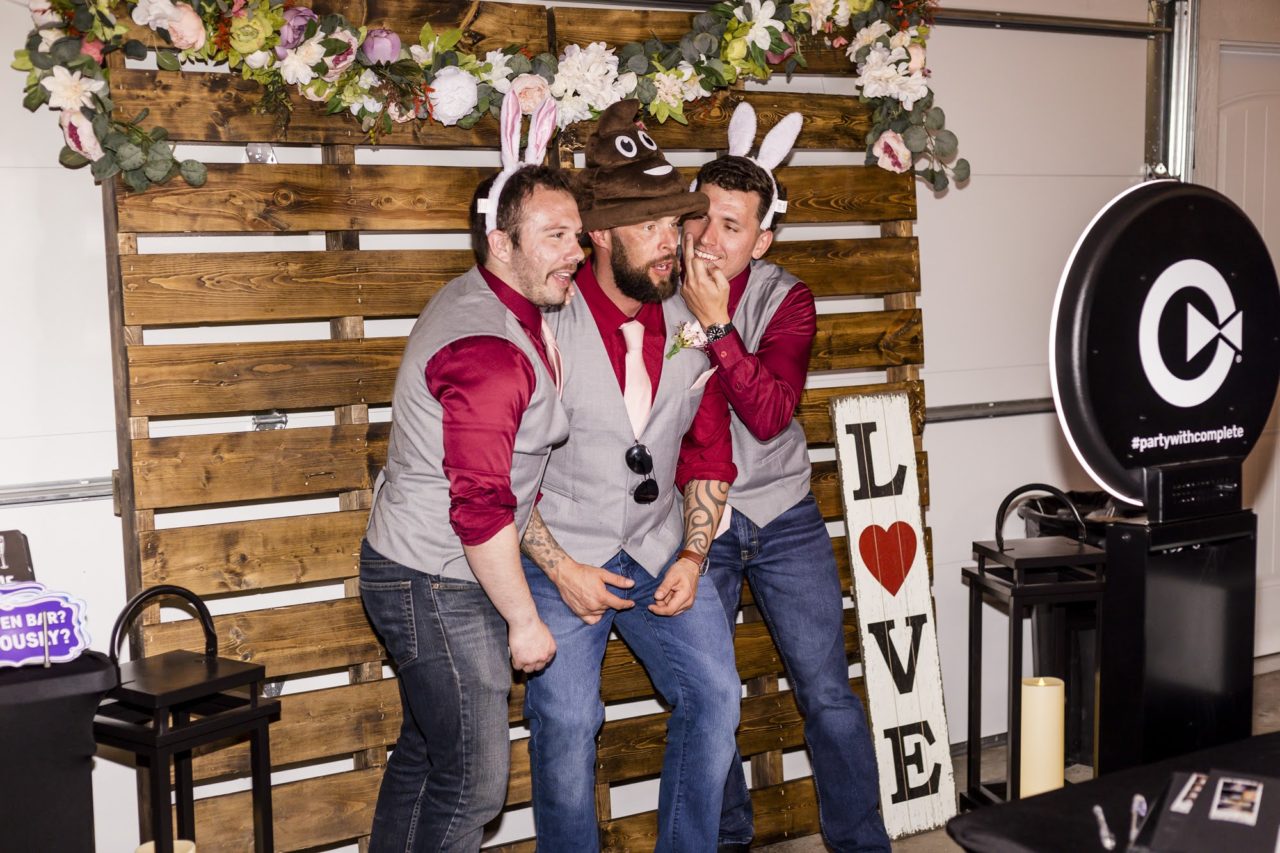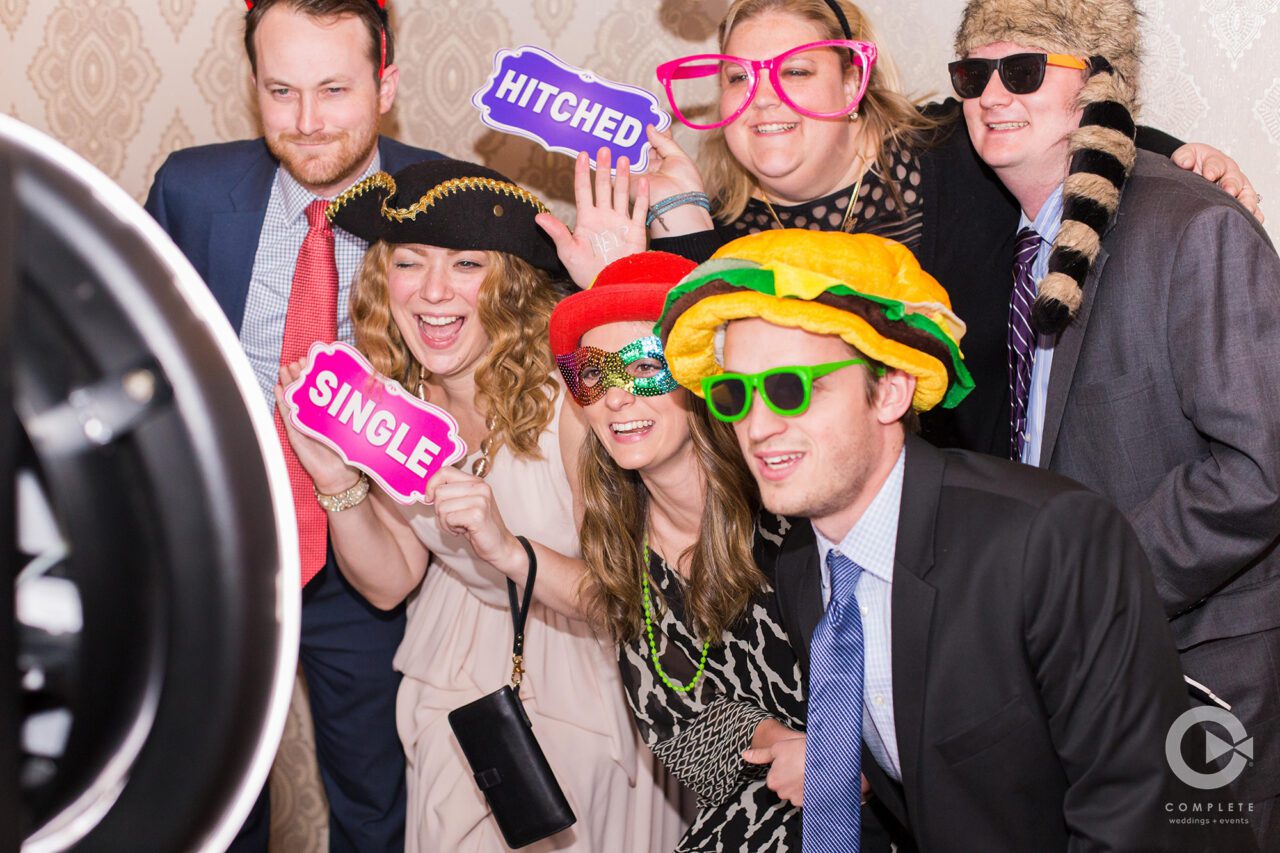 Complete Interactive – Guest Engagement at its Best!
Complete Interactive, hosted by your Complete Weddings + Events DJ, provides numerous activities for your guests to participate in during the reception. Guests' answers, pictures, and other submissions are displayed live at your reception.
Could you not invite everyone to your wedding? Leave the stress behind as the social media wall allows you to submit photos and messages and virtually display them at your event via a custom URL or hashtag to display. Posts on Twitter and Instagram with the hashtag will also be displayed. Essentially it's a live photo booth for all your guests.
Crowd Questionnaire/Trivia
Have your guests learn a little more about the couple with a fun questionnaire! Guests can also battle it out to see who knows the couple best.
Have guests vote on songs they want to hear throughout the night. Instant answers allow the audience to interact live.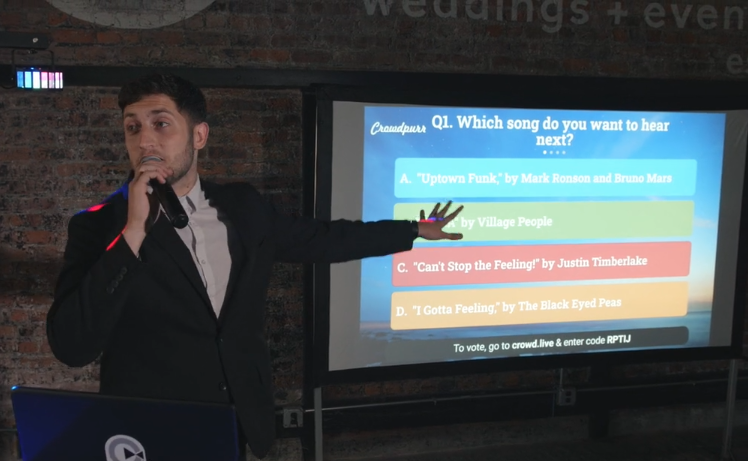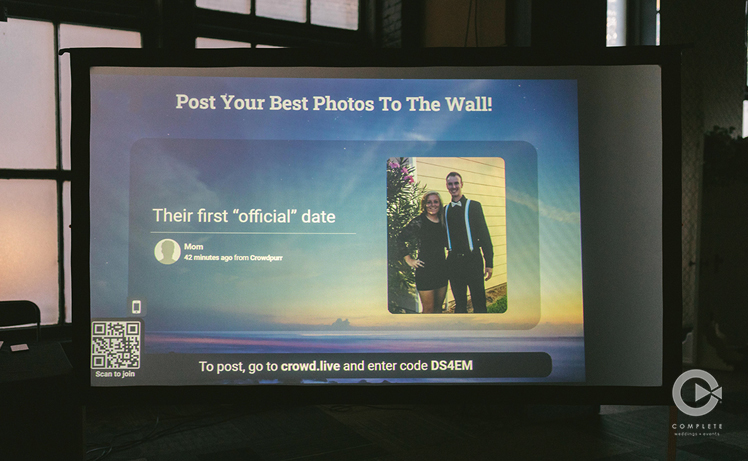 Complete Weddings + Events Manhattan, KS | Photographers | Videographers | DJs | Photo Booth Rental | Coordination
Whether you want one service or all six, we specialize in creating custom packages for our couples to meet their needs and budget. Tailoring each of our services to reflect your style and vision and allowing you to be a part of the planning process every step of the way. The best part is you get a team of professionals to help with all the details from our knowledgeable office staff, in-house full-time wedding planner, and experienced event staff, we have you covered and want your planning process to be a stress-free experience.
Check out our service pages to learn more about how we can COMPLETE your event!
At Complete Weddings + Events, we are the leading provider of event and wedding photography, videography, day-of coordination, lighting, DJ services, & photo booth rental in Manhattan, Lawrence, and Topeka, KS.