Summertime is right around the corner, which means a lot of sunshine and flowers blooming. Planning a wedding is an extremely exciting time, and the planning process brings an opportunity to be very creative with the colors, themes, decor, ensembles, and much more. This is a time to bring your wedding vision to life. For couples planning a summer wedding, there are so many options of colors and themes to choose from to make your special day magical. However, selecting the perfect colors to go with the perfect setting, can be a little overwhelming. This is why we have chosen the best summer colors for you.
Green and White
If you wish to have a garden celebration, then green and white will do a great job for the setting. These are ideal summer wedding colors for a comfortable and intimate ambiance.
For example, you can go for green linens and white floral arrangements. Another option is to choose green dresses for your bridesmaids that will match your white dress. The combinations seem to be endless!
Pink and Mint
Pink and mint make a nice combination for a sophisticated princess-themed summer wedding in a hall. This color scheme creates a calm and bright atmosphere, and you can use it to decorate your invitations or cake with mint flowers. Also, use hot pink letters on the invites for a unique touch that will impress your guests.
Dusty Rose and White
Dusty rose and white-gray shades make a perfect pairing for trendy tent parties. The lively dusty rose perfecting matches white, creating a minimalist effect. To highlight the theme, include dusty rose cocktail napkins, white or gray reception menus, and mixed centerpieces.
Blue and Orange
These are perfect summer wedding colors for a vintage theme, especially if you picked pastel tones. You can turn your venue into a magical place by combining blue linens with orange floral arrangements in different tones.
Brown and Yellow
Mix brown with yellow to complete the rustic ambiance for your barn wedding. The playful yellow shade balances the serious brown tones. You can use brown in your stationery, signage, and decor to complement the look.
Yellow and Pink
If you are going for a retro or vintage effect, this is your win-win combination. You can create beautiful bouquets by using sunflowers with accents of greenery. Also, use other floral arrangements in shades of pink to match yellow linens.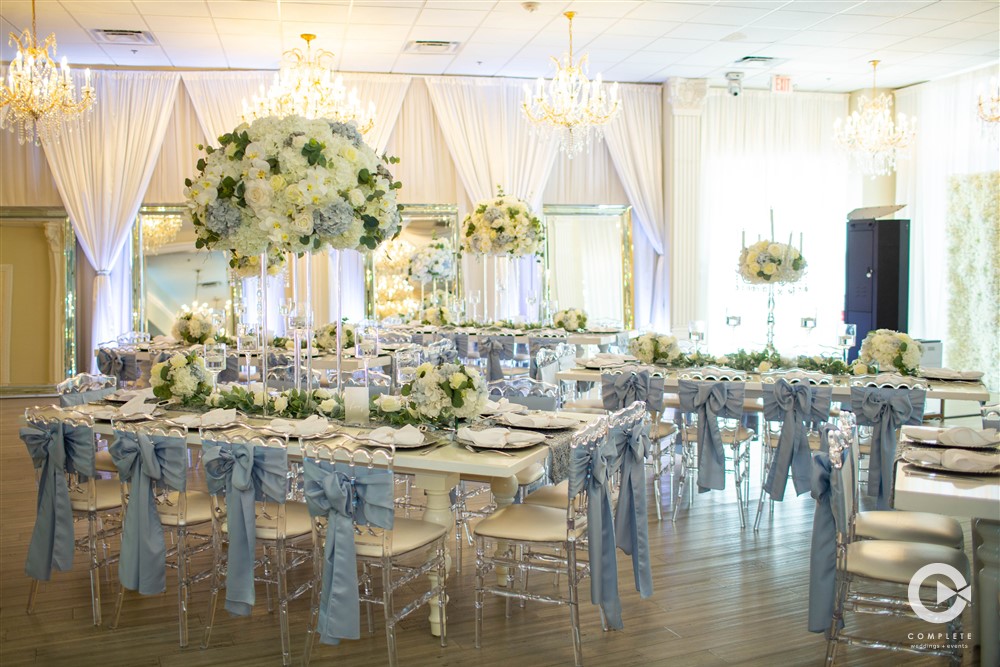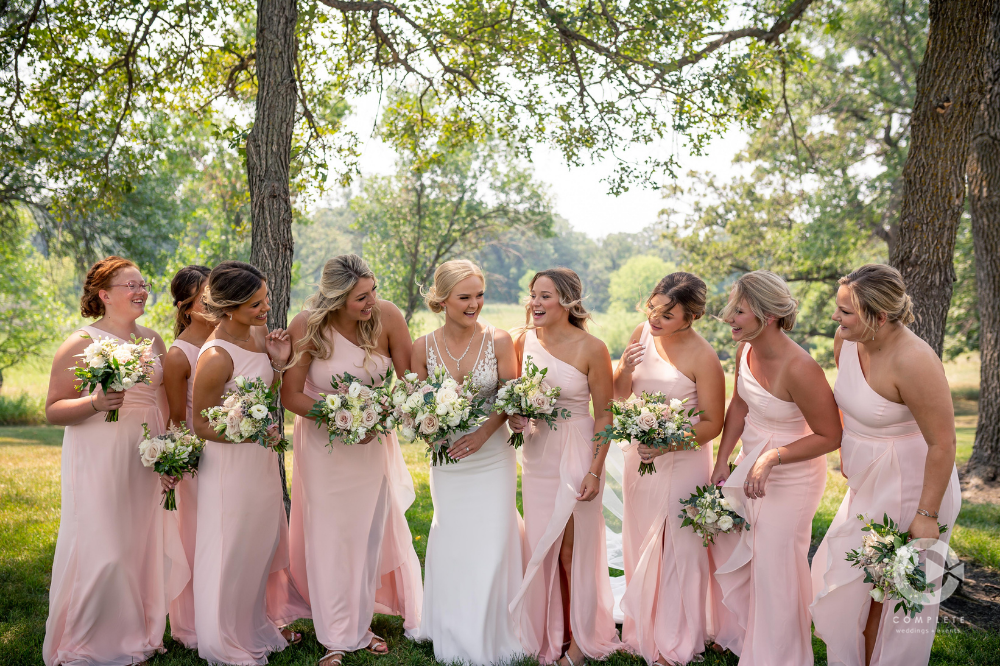 Choosing Your Wedding Colors
Choosing the right colors to compliment your theme of the wedding is extremely important. This will help set the tone for the entire day. You want to pick a combination that will invoke your desired emotions and vibe for everyone in attendance.
Complete Weddings + Events Jacksonville, FL
Whether you want one service or all six, we specialize in creating custom packages for our couples to meet their needs and budget. Tailoring each of our services to reflect your style and vision and allowing you to be a part of the planning process every step of the way. The best part is you get a team of professionals to help with all the details from our knowledgeable office staff, in-house full-time wedding planner, and experienced event staff, we have you covered and want your planning process to be a stress-free experience.
Check out our service pages to learn more about how we can COMPLETE your event!
For more helpful hints or to get more inspiration for your wedding day, visit our blog!