Having an outdoor wedding is always a fantastic idea. There is truly no substitute for amazing natural light. And unless your venue has a wild amount of windows, almost no way to recreate that same look indoors. Throwing an outside event, however, can be a very tricky and expensive thing to pull off. Outdoor weddings in Houston, Texas are especially tricky. There are generally many more things to consider for an outdoor wedding. We have made a quick list of some of the best tips for hosting the perfect outdoor wedding!
Location, Location
If you're planning on getting married outside, then the location is literally the most important thing. Not all venues have outdoor areas that can hold guests. There are also many types of outdoor weddings.
Maybe your dream is having your wedding amidst beautiful trees, on the beach or waterfront, or maybe even just in a gorgeous field. There are many venues in the Houston area that can accommodate that. There are also so many gorgeous outdoor wedding venues in Houston, Texas. The big thing is picking the vibe or setting that you want and finding a location that offers that.
Inclement Weather Plans
If you have lived in Houston, Texas for literally any period of time, you know about our wild weather. Spring (the season, not the city)  is a popular time of year for weddings. It also happens to rain ALL THE TIME. While you want to always be keeping an eye on the forecast, you also want to have inclement weather plans just in case! Hopefully, your venue has an alternate spot inside that you can move to if the weather does get bad.
Tents can also be rented if bad weather might appear on your big day. Renting a tent is also a great idea to help battle against the Texas heat if there aren't many trees or shade at your location. There are also many styles of tent you can rent, depending on the look you want.
Remember to also check the weather prior to your wedding! It might not have rained on the day of your wedding, but if it has rained leading up to the day, the ground might still be wet. The last thing you want is your guests standing in mud or wet grass!
Timing is Everything
Whether we're talking about the time of year or time of day, timing is key. If you are planning an outdoor wedding, think about pushing the time to later in the afternoon. We mentioned the Texas heat earlier. The later in the day, the cooler it will be.
Be sure you time your ceremony with the Sun so that you get the best outdoor lighting possible! There is a reason it is called the Golden Hour. Your Houston wedding photographer and videographers will thank you and your photos and videos will come out amazing. Keeping your guests out of the heat and looking as good as possible on your wedding day, it's a win-win situation.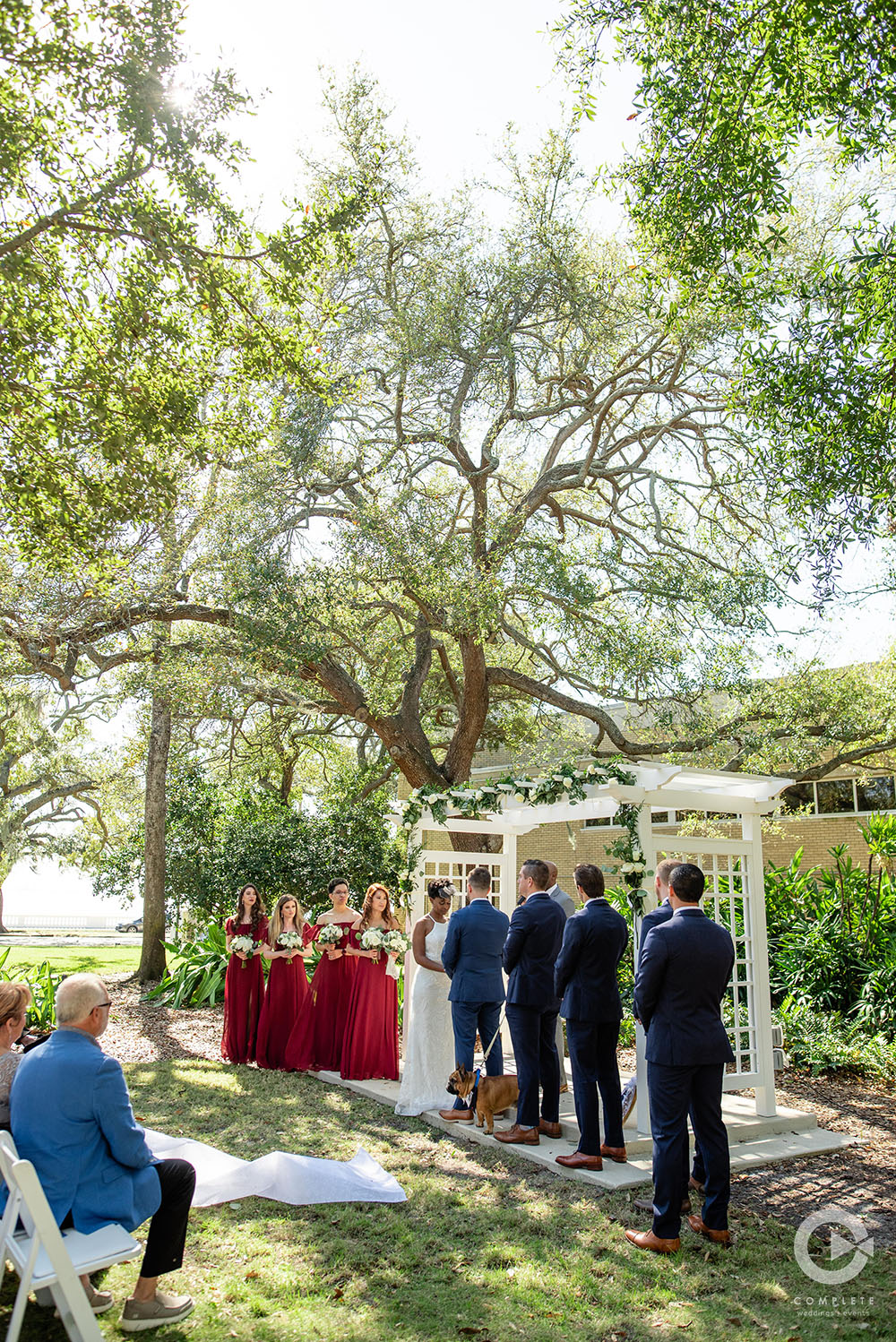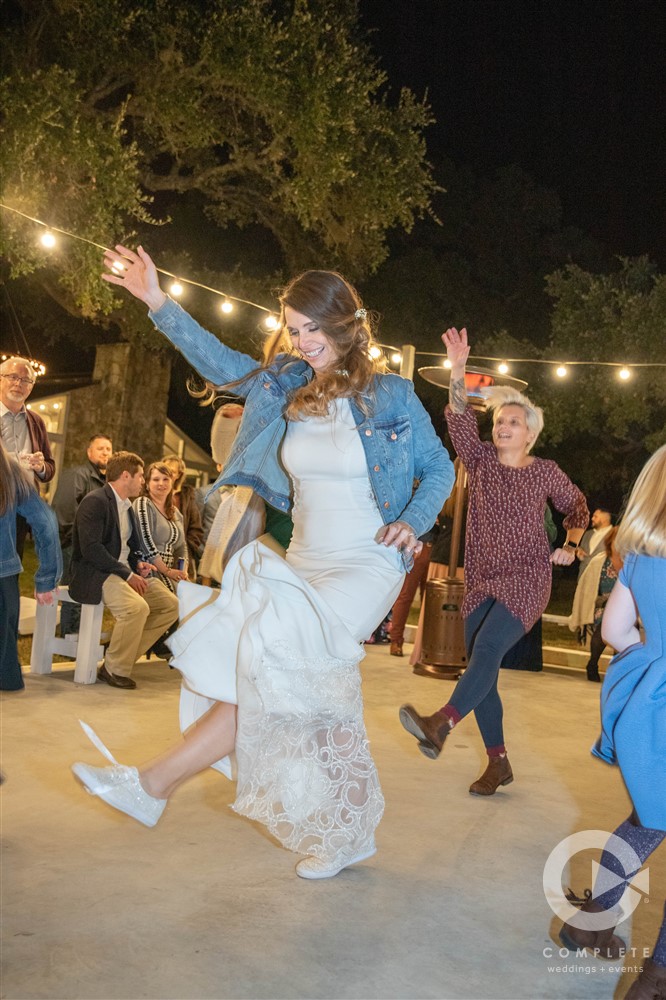 Let Guests Know Your Wedding Is Outdoors
Hopefully, this one doesn't need to be said, but we will anyway! Make sure your guests know it will be outdoors! That way they can prepare for the temperatures, or wear the correct footwear to be comfortable. If your guests are too hot or cold or stumbling outdoors in high heels all night, they might not have the best time.
Let Vendors Know Your Wedding is Outdoors
Definitely make sure all of your wedding vendors know that it will be an outdoor event! If you have a DJ or band or any other entertainment, they may need power. They may need a certain amount of space and have to be under a tent if outside. Some vendors might need to be on their own generator and everyone will definitely need extension cords!
If your wedding venue doesn't provide them, other vendors could offer special items for outdoor events such as fans if in the summer, or heaters if anticipating it being cold. Your caterer may also need a specific prep area, away from guests, with access to things like running water and probably covered or enclosed.
Lighting
Another thing about being outside is when the sun goes down, it can get pretty dark. You might need to book extra lighting. This can be through chandeliers hung in the tent or maybe bistro lighting. This also requires power and be sure to ask your venue what all is possible. For example, in some places, you might not be able to string lights through trees or have open flames if you were planning to use firepits or torches.
Bring Necessities
We mentioned power earlier. Another thing to make sure of is that there are enough bathrooms. If the venue does not have accessible bathrooms nearby, you can rent portable bathrooms. These can be normal porta-potties or even fancy bathroom trailers so that everyone can still go in luxury.
We are also gonna go ahead and mention renting fans or heaters again for your event depending on the weather! We like to think of being comfortable as a necessity.
Water, Water, Everywhere
One thing about Houston weather I think we all know is it is usually HOT. If you are doing an outdoor wedding we highly recommend some type of hydration station. For larger events, maybe even multiple spots. Your guests will be happy that they don't have to wait in line at the bar for water. Your guests who are in line at the bar for alcohol will be happy that the line is shorter! Just be sure that your bartenders or caterer check on it from time to time and make sure it is full to keep your guests comfortable!
Complete Weddings + Events Houston, Texas
We are here to help at any point in the process of planning your outdoor event. If you are in need of DJ, Photo, Video, Photo Booth, Lighting, or Coordination services, or help in finding other great vendors for your big day, contact us today!