When it comes to choosing your bridesmaids' wedding day looks, there's a lot to consider. What styles of dresses will they wear, how will you coordinate their looks, what's their hair going to look like? But there's one final question that we want to help you with: What shoes should your bridesmaid wear? As you already know, there are so many different types of shoes, colors, and heights to consider. We have come up with all the tips in order to create a cohesive look from head to toe, across the board. Keep reading for our sole-styling tips!
What Shoes Should Bridesmaids Wear?
When choosing your bridesmaids' shoes, consider not only the style but the comfort. You want them to look good, but you also want them to be comfortable enough for your bridesmaids to wear all day and night on the dance floor. There are two categories that these will fall into. Flat shoes and heels. Flat shoes will include ballet flats, sneakers, slip-on shoes, boots, and even sneakers! Heels will include single-strapped heels, one-inch heels, pumps, stilettos, etc. Bridesmaid shoes with different heel heights are fine, too. Everyone should wear a pair of shoes they are comfortable in (and in which they can walk confidently down the aisle). The shoes can be super inexpensive — or more luxurious. Don't forget that you can switch out shoes as well! If you can't bear to part from those stilletos in photos, keep them! Just have an extra pair for your bridesmaids for when they want to dance the night away!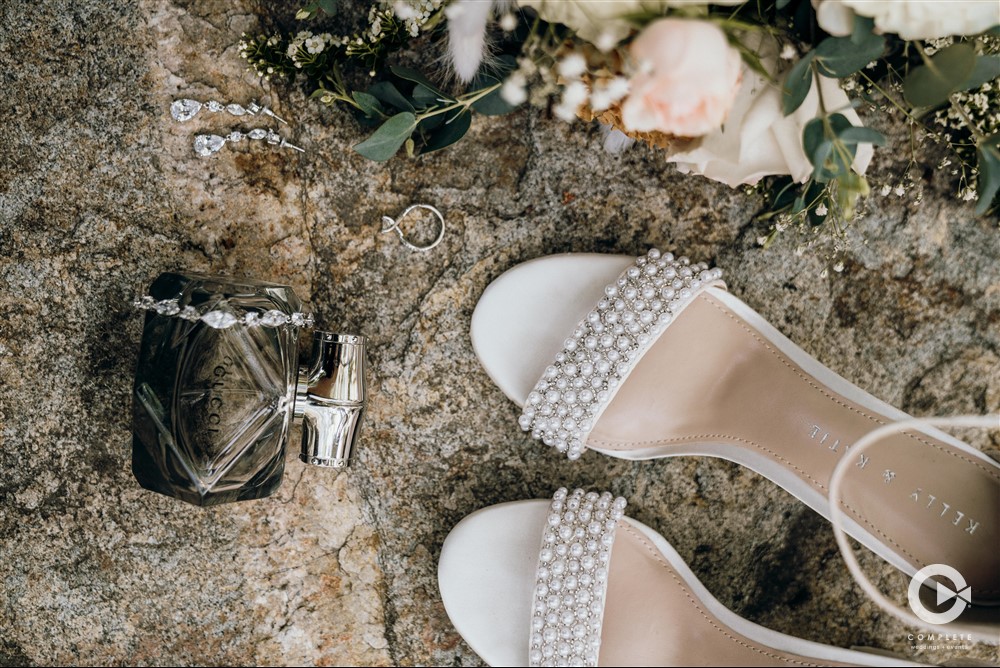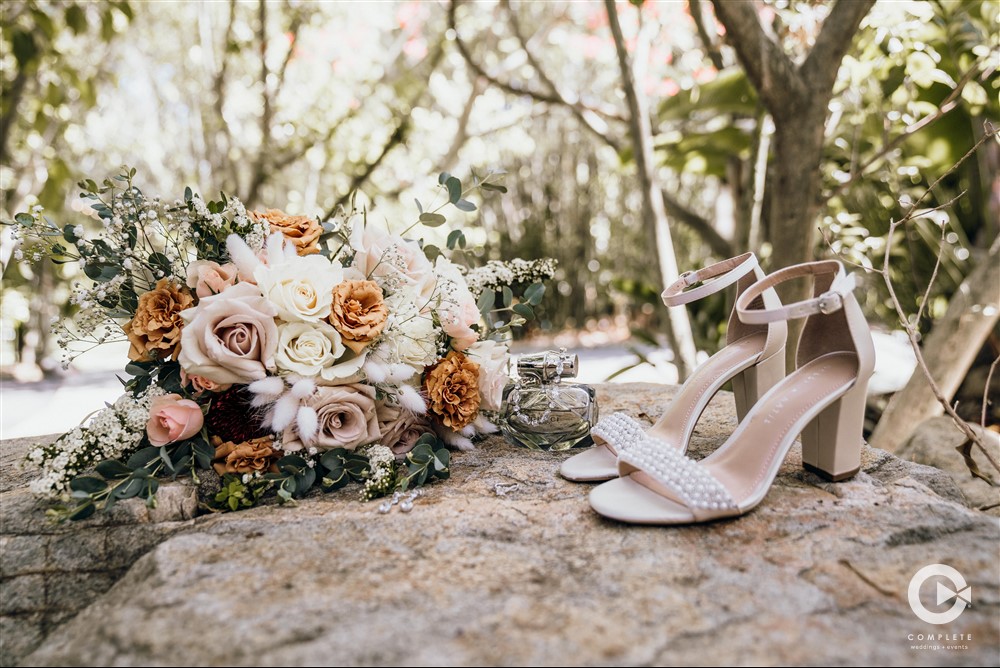 What Color Shoes Should Bridesmaids Wear?
Black: This color for bridesmaids' shoes is a popular choice because black goes with nearly everything! Much like the always-loved little black dress, most bridesmaids will already have a favorite pair of black shoes to wear.
Navy Blue: This is also a great choice especially if you have groomsmen then will be wearing navy blue suits. It'll tie in the color back to your bridesmaids. Keep an eye on your overall palette as well and see if navy blue is something that will tie it all together!
Nude: This is a perfect neutral that also goes with nearly everything. It's a much softer and more delicate alternative to a stark black shoe. If your wedding palette or bridesmaids' dresses has pastel tones, a nude shoe will be the perfect call!
Rose Gold: Are you having your bridesmaids wear muted or dusty tones? Rose gold shoes will give these looks a feminine, bold, and fun flare. Plus, if you gravitate towards simplicity but want to add a little bit of romance, this lustrous and pinkish tone is a perfect pick!
Gold: Gold shoes are perfect to pair with warm-toned, sunset hues. To make it even more special, a metallic or sparkly shoe will add some pretty shine and create a standout look. Choose jewelry in the same metal for a cohesive look to step it up a notch.
Silver: Silver shoes pair perfectly with cool tones (everything from Gem to Marine!). A sparkly silver is an elegant option that will take all of your bridesmaid's looks to the next level. You can't go wrong with this classic tone, as it will pair effortlessly with a variety of silhouettes and styles.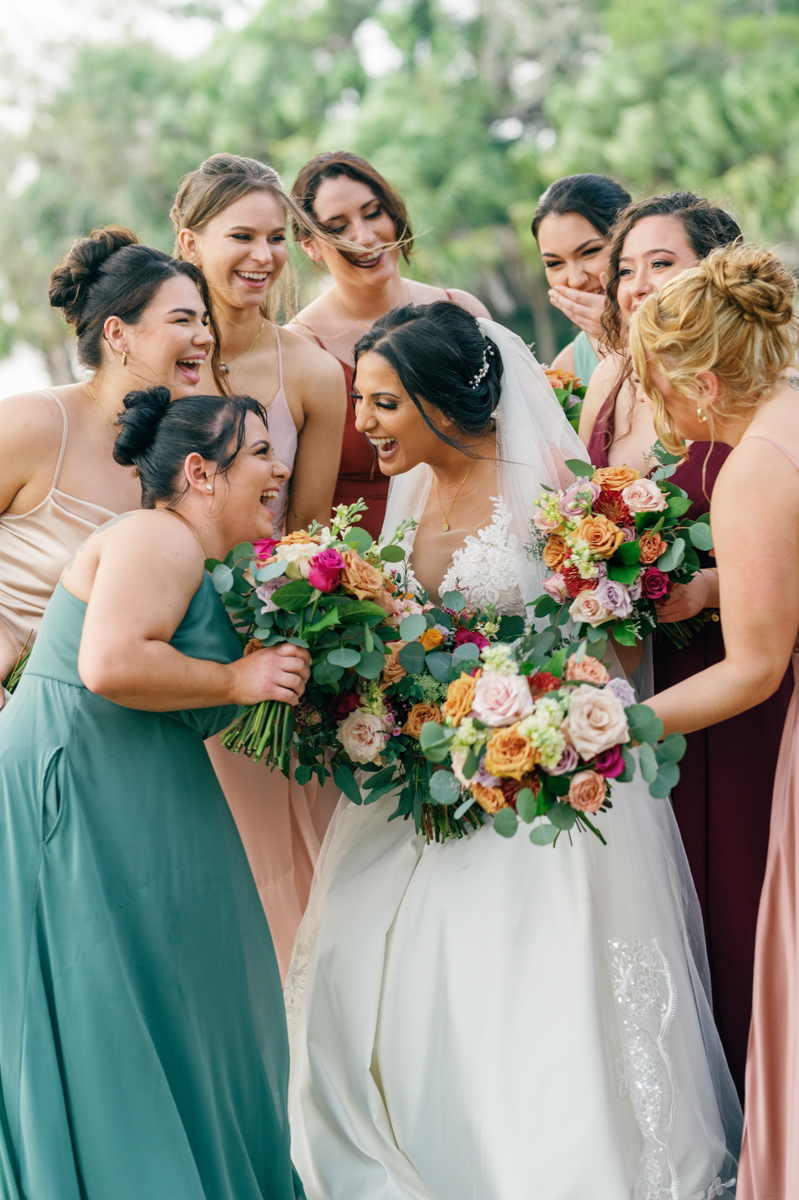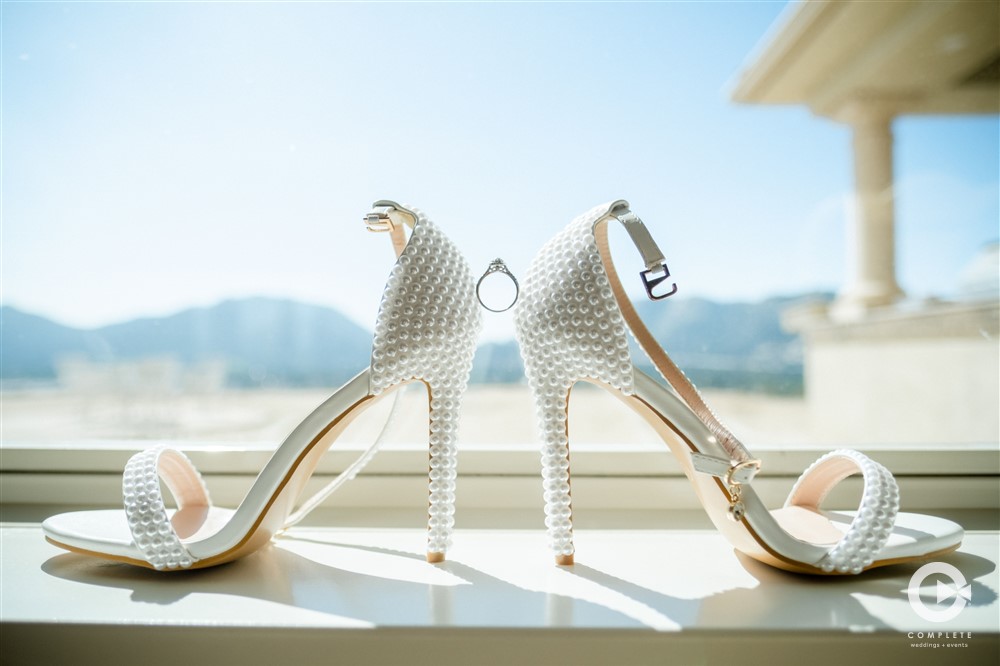 What Shoes To Wear With Long Bridesmaids' Dresses?
For short or long bridesmaid dresses, any shoes will do! However, if the dress is very long, we recommend bridesmaids wear a shoe that will give a little height so the length of the dress isn't dragging on the floor. Shorter bridesmaids may choose to wear a tall heel or wedge; taller bridesmaids can consider wearing flats so that the length of the dress aligns perfectly with their height.
NOTE: If bridesmaids are wearing long dresses, they should wear their chosen shoes to the dress fitting (or a pair similar to what they plan to wear) in order to get the proper measurements and height so the material isn't too long — or too short! — before the big day.
Who Pays For Bridesmaid Shoes?
Great question! Bridesmaids buy their own shoes. However, if you have a specific look in mind and wish for bridesmaids to wear shoes that match each other, we recommend the bride buys bridesmaid shoes if you're asking your crew to wear matching bridesmaid shoes. This is because bridesmaids already pay for the cost of their dresses and the cost of the shoes can, of course, be a part of your bridal party gift to your girls.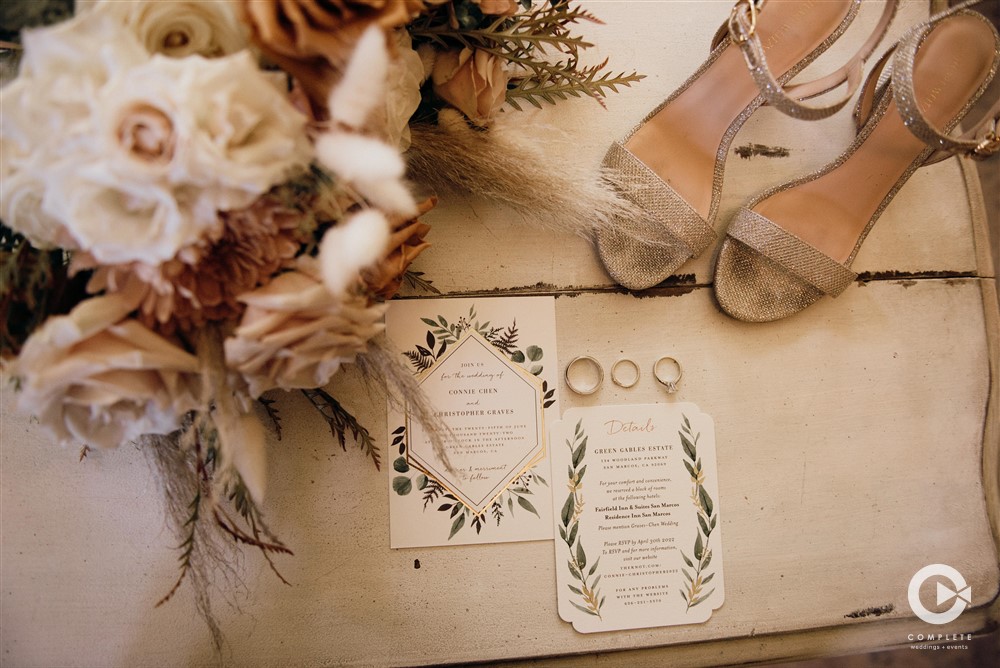 More about Complete Weddings + Events Fort Myers
Are you looking to tie the knot or throw an epic event? Well if so, you have come to the right place. Complete Weddings and Events will help you find the right event or wedding DJ, wedding photographer, and videographer to throw a phenomenal party.  Plus we have fun photo booths and lighting rentals to elevate your event and give you the type of unforgettable experience you're looking for. In addition to Naples, Cape Coral, & Fort Myers, we also serve Punta Gorda, Port Charlotte, Lehigh Acres, Bonita Springs, Estero, Fort Myers Beach, Sanibel Island, Captiva Island, & Marco Island.
When you party with Complete Weddings + Events Fort Myers, it's completely about you! Naples, Cape Coral, Fort Myers leading provider of event and wedding photography, videography, lighting, DJ services & photo booth rental.
For more fun wedding inspiration and tips and tricks you can like us on Facebook and follow us on Instagram!