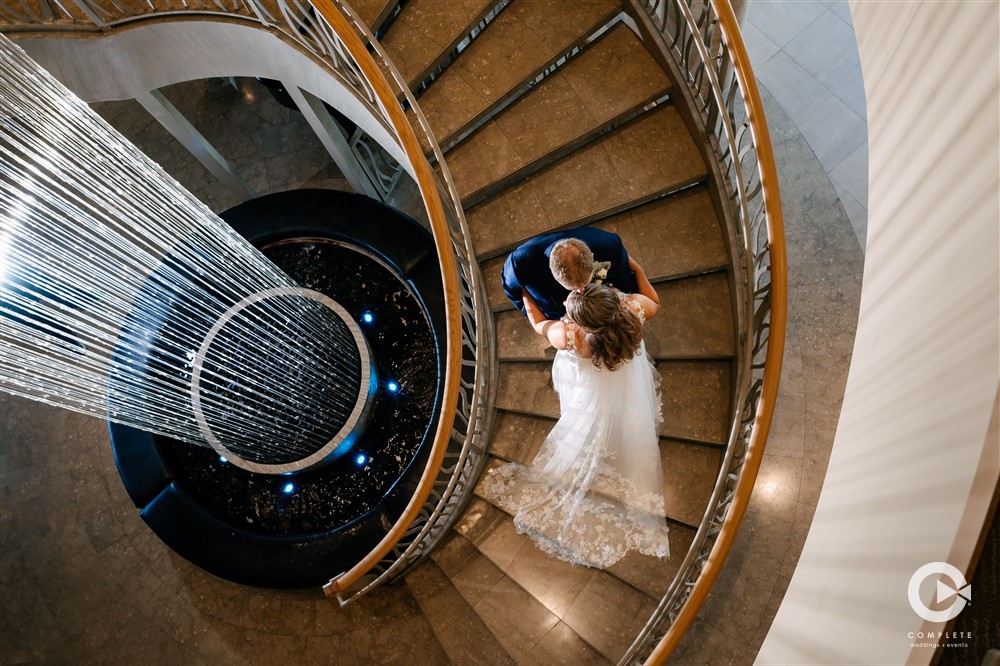 Your wedding day is a once-in-a-lifetime event, and you want to capture every precious moment in a way that reflects your unique style and personality. That's why keeping up with the latest wedding photography trends is key. At Complete Weddings + Events, we've got our finger on the pulse of what's hot in the world of wedding photography. Here are some current trends in wedding photography that we absolutely love:
---
Candid Moments
Gone are the days of stiff and posed wedding photos. Couples today are embracing the beauty of unscripted moments captured on camera. Candid shots tell the story of your big day in a more authentic and natural way. Whether it's a tearful exchange of vows between the bride and groom or a spontaneous laughter-filled moment with your loved ones, these genuine emotions create memories that will last a lifetime.
Drone Photography
Take your wedding photos to new heights – quite literally – with the use of drones. Aerial drone shots provide a unique perspective, capturing breathtaking views of your venue and surroundings. Imagine having a stunning bird's-eye view of your outdoor wedding ceremony or capturing the magic of your first dance from above. Drone photography adds a touch of cinematic grandeur to your wedding album.
Nontraditional Locations
The trend of stepping outside traditional wedding venues continues to gain momentum. Couples are opting for unique and unexpected settings for their nuptials, and this extends to their photography as well. From sandy beaches and lush forests to urban cityscapes and industrial warehouses, the possibilities are endless. These nontraditional locations offer a visually striking backdrop for an unforgettable wedding album.
Artistic Editing Styles
Wedding photography is not just about capturing moments; it's about creating visual masterpieces. The top wedding photographers explore artistic editing techniques to infuse their images with a distinct and personalized style. From moody black-and-white edits to vibrant and dreamy color palettes, these creative editing styles add an extra layer of artistry to your wedding photos, making them truly unique.
Incorporating Nature
The beauty of nature has always been a source of inspiration for wedding photography, but it's taken on new importance in recent years. Couples are embracing the great outdoors, incorporating elements such as blooming gardens, majestic mountains, and serene lakes into their wedding photos. These natural settings not only provide breathtaking backdrops but also create a sense of tranquility and harmony.
Complete Weddings + Events – Wedding Photographers in Fort Myers, FL
At Complete Weddings + Events, we're passionate about capturing the essence of your wedding day through stunning photography. Our experienced team of photographers stays up to date with the latest trends to ensure that your wedding photos are nothing short of extraordinary.
So, whether you're planning an intimate beach ceremony or a grand urban affair, our team will be there to capture every precious moment and turn them into cherished memories that you'll treasure for a lifetime.
Ready to create a wedding album that's as unique as your love story? Contact us today and let's start planning your picture-perfect wedding day! 239.949.5300