Preparing for a wedding is similar to training for a marathon in that it can be psychologically, physically, and emotionally exhausting. But remember, it's supposed to be enjoyable, not stressful. If you tend to lose your temper during the wedding planning process, there are a few steps you can do to relieve tension and avoid a complete breakdown. Some aspects can make your life simpler during the wedding planning period, from daily breaks to find a specialist.
Even though being engaged and marrying is an exciting milestone, wedding preparation is notoriously stressful. The ordinary family does not throw big gatherings like this daily, and juggling the wishes and aspirations of two families can be challenging. It's challenging for someone who doesn't like being in the spotlight. Understandably, some couples want to elope. However, if having a large traditional wedding is essential to you. Still, you're concerned about being too overwhelmed to enjoy the engagement process; we have some advice on how to stay relaxed when preparing your wedding.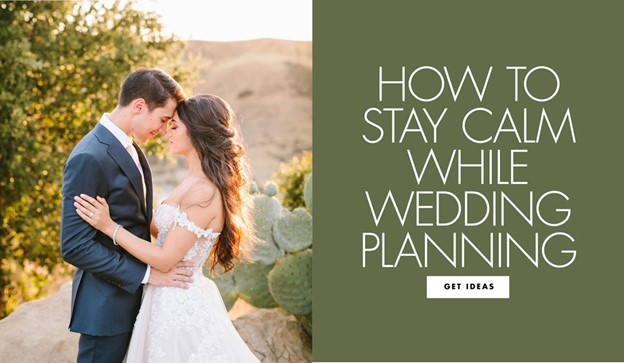 Wedding Planning Stress: Ways To Stay Calm
Go to the gym
It's possible that working up a sweat is just what the doctor ordered. Working out will distract you from your wedding for a while and encourage your body to produce endorphins (you know, those things that make you happy). Once a week, schedule some meditative yoga, a spin workout, or an intensive HIIT class to keep the mind and body in good shape.
Invest in a planner
You may want to hire a wedding planner if you're having trouble coordinating all of your suppliers, schedules, and appointments. Their responsibility is to keep things going smoothly, so they'll undoubtedly relieve some of the burdens of wedding planning. Tip: You can always do this later in the preparation process, but don't feel like you left out if you didn't sign up right away.
Put items into context
Please place it in context for yourself and look at the big picture when you're feeling stressed. Take a few deep breaths to ask yourself that you're doing so much overtime. Remember that at the end of the day, it doesn't matter which cake you pick or which dress you say yes to; all that counts is that you'll be telling your "I does."
Keep all in order
With piles of contracts, checklists, fabric swatches, and bridal magazines strewn about, your home can begin to resemble a wedding warzone rather than a peaceful home. The state of your home will have a significant impact on your attitude, so keep it as tidy as possible to prevent a meltdown (and misplacing essential documents!). Tip: We have a budgeting app, a to-do list tool, a table planner tool, and other tools to help you get things in one place and out of the way.
Give yourself a break
Take a break from what you're doing.  Although you don't want to procrastinate, you still don't want to spend all of your spare time dreaming while you're engaged. Participate in your preferred self-care activities; spend time with your friends and partner without discussing the wedding.
Let's talk about it
Where in question, speak up. Sit down with a couple of your closest friends or family members and tell them about your wedding-planning pressures. Sharing can be a very cathartic experience.
The experiment of new ideas
Take a pottery workshop, learn to crochet, attend a nearby studio's paint night, or do something else that takes you out of your comfort zone. You'll be so engrossed in your favorite passion that you'll almost forget about your wedding worries.
CONCLUSION
No doubt, a wedding is the most beautiful yet challenging phase of everyone's life.  It's normal to feel tensed and stressed out as you must be going through a lot. Wedding is not just the marriage of two people, especially for girls its more challenging as they have to leave their parents, home and everything. Hence, at last, it is the most beautiful time of everyone's life so by applying our advice let your worries go away and enjoy!!
Complete Weddings + Events in Fort Lauderdale and South Florida Areas
If you're planning a wedding in Fort Lauderdale, FL, then you've landed at the right place! Now that you've said YES! to spending your life together, you have some exciting decisions ahead. At Complete Weddings + Events planning, wedding events are what we do best.  Complete Weddings + Events, Fort Lauderdale's leading provider of event and wedding photography, videography, lighting & DJ services