As you're planning your wedding, you no doubt have many things to consider. As a photographer, one of the questions that my clients often ask is "Should we have a first look?"
More than anything, your wedding day is about you and your husband (or wife) to be. If any particular tradition is important to the two of you, then you should stick to it. However, if you and your fiancee are open to a different approach, there are definitely some great benefits to having a first look.
Should We Have a First Look?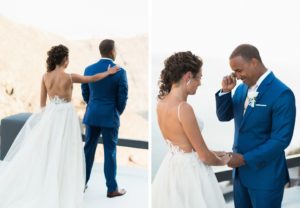 What is the first look?
A first look is a special time set aside before your wedding ceremony where you two can take a moment to enjoy each other before the day gets crazy. When my client opts for a first look, the bride meets the groom at a predetermined, private place. Usually, his back is turned and the bride will tap him on the shoulder too turn and see her for the first time.
A first look allows you to share this incredible moment without onlookers or heckling from the bridal party. In almost every first look I've seen, the couple takes a few minutes to take it all in and chat quietly to themselves about their excitement, how surreal it is, and how much in love they are. The photo and video team will be present, but for documentation purposes. For the most part, we're quiet and just let the moment unfold without any posing. These are some of my favorite moments because the grooms always have the most incredible expressions and the candid photos are so emotional; definitely something the bride and groom treasure.
If you're nervous about pulling it off, don't be. My team sets up the couple in the first look location and gives them some really easy directions to make sure we get the best shots! Every so often we may need to shoot it from an alternate angle or the video team might need some additional footage so we may shoot it a second time. While this may sound weird, it actually sometimes yields even bigger, better reactions than the original moment, plus it provides extra angles and shots that you'll love to look at again and again later on!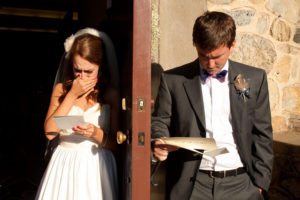 What are the benefits of having a first look?
One of the biggest reasons that I'm a fan of first looks is because it gives you and your honey a private moment to take it all in. Traditionally, the groom doesn't see the bride until she's walking down the aisle and all the craziness of the day has begun, his nerves (and yours) are going crazy. On my wedding day, the whole ceremony was a blur. On the other hand, a first look gives an opportunity for an intimate exchange that usually helps calm the wedding day jitters.
One of the other great benefits of having a first look is that you have plenty of time for bride and groom photos as well as bridal party photos before the ceremony, giving you optimal time after your ceremony to get through family portraits and spend more time with your guests; OR you can use the extra post-ceremony time to sneak away for a private moment!
Lastly, when you opt for a first look, you have full control. Since a first look is planned ahead of time, there's no worrying about having enough time or daylight left to get the photos you want. This is especially useful for evening or winter weddings.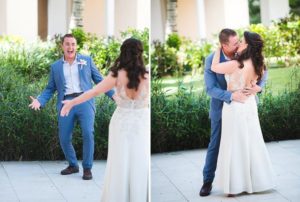 It's Still A Surprise
While I have nothing against the tradition of waiting til the aisle, I do want to debunk one myth that I hear about first looks. Occasionally I hear some make the assumption that a first look is "less special" simply because it isn't tradition. But let me assure you, I've seen a LOT of first looks in my career and I have come to believe that they can be even MORE special because it allows for the couple to have a few minutes alone before things get hectic.
But what about when I'm walking down the aisle? Won't that be less special? Nope! Couples who do the first look still have that electric twinkle in their eyes as the bride is coming down the aisle, the groom still holds back (or doesn't hold back) tears of joy and awe. Seeing each other before the aisle doesn't take away from the "OMG ITS REALLY HAPPENING, WE'RE FINALLY HERE" moment of the aisle. In fact, sometimes it intensifies it!
A bride's thoughts…
Kamrin, one of my past brides, volunteered her experience with a first look:
"Morgan and I decided we wanted to have a first look because we wanted that special moment to ourselves. That's one of the most memorable moments on a wedding day and it's normally shared while walking down the aisle. We wanted to capture it better and share the moment one on one. I'm so glad we did because every time I look at those first look photos in our beautiful photo album I get those same butterflies all over again. I suggest that anyone considering a first look should DEFINITELY do it! It helped calm our nerves on our wedding day!"
What do you think? Would you consider a first look? Or do you prefer to keep the tradition of waiting until the ceremony?
Complete Weddings + Events in Fort Lauderdale and South Florida Areas
If you're planning a wedding in Fort Lauderdale, FL, then you've landed at the right place! Now that you've said YES! to spending your life together, you have some exciting decisions ahead. At Complete Weddings + Events planning, wedding events are what we do best.  Complete Weddings + Events, Fort Lauderdale's leading provider of event and wedding photography, videography, lighting, DJ services & photo booth rental.