Justin and Cesarina were married at the Tideline Ocean Resort & Spa in Palm Beach, FL. The warm, summer day provided the perfect backdrop for Florida weddings, and it doesn't get much better with the Tideline's ocean views. The couple's decor played off of the stylish, upscale venue that helped make this a luxurious event!
Plum, Purple and Everything in between!
Purples and lavender shades were prominent throughout the day, with everything from deep plum bridesmaids dress to the bride's pink-purple lip color. The outstanding purple decor pieces you could not miss were the floral arrangements. The bride kept her bouquet of flowers predominately white with just a kiss of purple color, but both the ceremony and reception were filled with the most gorgeous floral centerpieces.
Room Transformation: From Ceremony to Reception
White flower petals speckled the aisle, leading up to the wedding altar with bunches of purple bouquets including roses, lilacs, and lilies. Tall, glass vases elevated bouquets to frame the wedding scene as well. The room was transformed from the ceremony to the same reception space. If you've ever wanted to see a room flip, this is a great example of a wedding with the ceremony and reception in the same space. The wedding altar became the backdrop for the couple's sweetheart table. The same elevated floral displays were used as centerpieces at the reception to fill the space with an abundance of purple!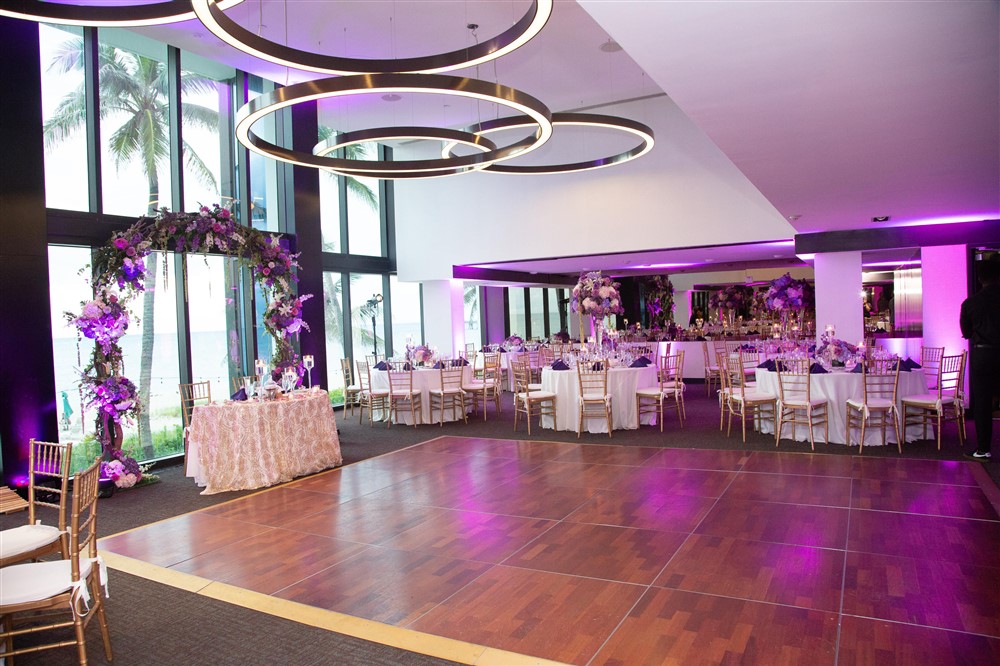 Details of the Day
Cesarina kept completely her classic white look with pearls accents including wedding dress hanger, Kate Spade pearl earrings, and diamond and pearl hair piece. Her bridesmaids had rocked their own style of plum bridesmaid dresses, along with hairstyles of their preference.
And finally the cake was a true display of balance and beauty! With four tiers and a custom initial monogram, this treat lived up to Justin and Cesarina's luxurious lavender wedding! Peek the photos below of this party at the Tideline Ocean Resort and see just how the couple customized their wedding day.
*** UPDATE ***
If you are not familiar with Tideline Ocean Resort and Spa, it is located about 9 miles from Palm Beach International Airport.  The hotel is pet-friendly and features a 2 oceanfront restaurants as well as a private beachfront restaurant. An outdoor pool and free WiFi are on site.
Tideline Ocean Resort and Spa rooms include a private balcony or terrace and a flat-screen cable television.
Guests at the Tideline Ocean Resort and Spa have access to an outdoor pool and free WiFi.  You also get to experience therapies and fitness classes in the full-service spa and a meditation garden is also only steps away.