We've worked with thousands of brides and grooms just like you who are eager and excited to tackle wedding planning, but can easily be overwhelmed as the to-do list grows. We believe the entire wedding planning process can be fun, and we like to treat it that way! In the end, it all pays when you can trust those who chose to help execute your day. Reach out to us to learn about how we can help create and capture your big day, or just read on to hear straight from newlyweds who chose Complete Weddings + Events!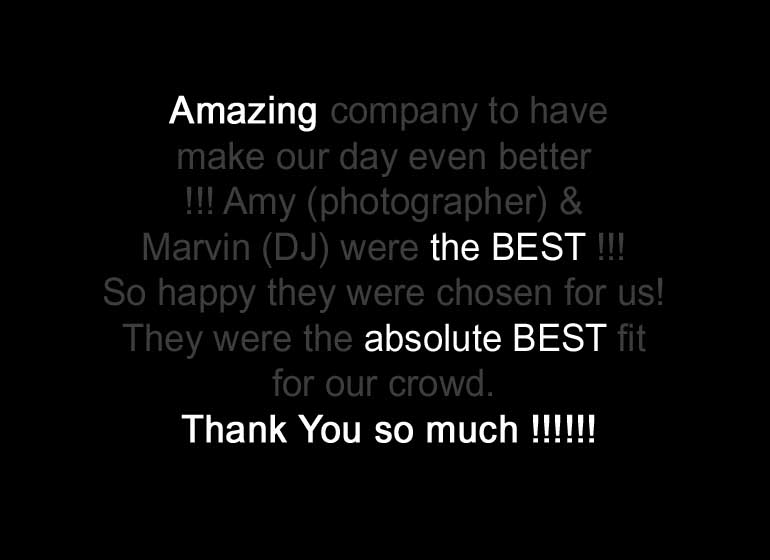 "I knew this was a company that I could trust and know will get the job done. But it does not end there, the staff is just amazing to say the least. Highly professional and truly caring about you and your special day. They really are there every step of the way. Their communication is by far the best." -Maxine Y.
—————————————————————————————————————————————-
"Our DJ was perfect all night. He got literally everybody on the dance floor and our reception went smooth all night long! Our photographer was patient and took whatever pictures we wanted. It was freezing outside, but she went out and got pictures of us after the venue turned the lights on. Finally, our guests loved the photo booth. They gave us copies of all of the photo strips in a scrapbook, and everyone in the pictures wrote something in it. These three people helped make our night absolutely perfect!" – Owen K.
—————————————————————————————————————————————-
"Our photographer was the bomb! He was extremely personable and his personality was matched so well with our quirks, we hit it off right away. He asked questions, planned with us and had fun with us in the process. He made sure we got the shots we wanted and caught so many candid shots throughout the night that we can't wait to see them! Thank you for the incredible experience." – Lisa F.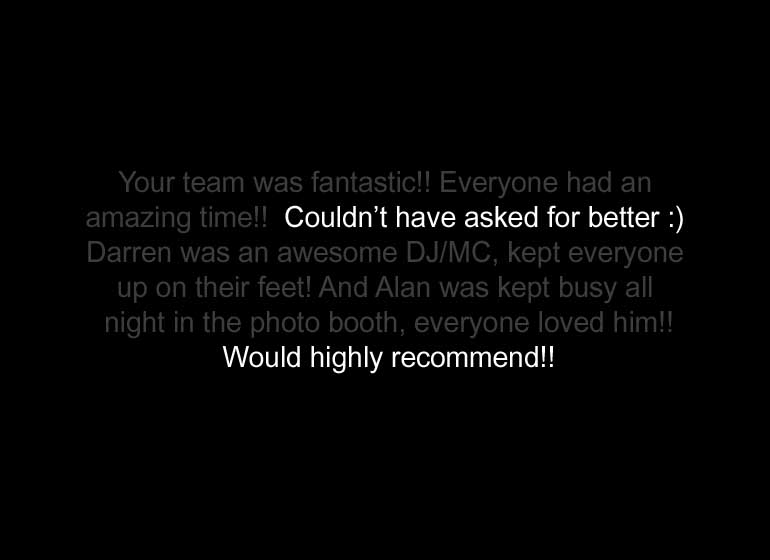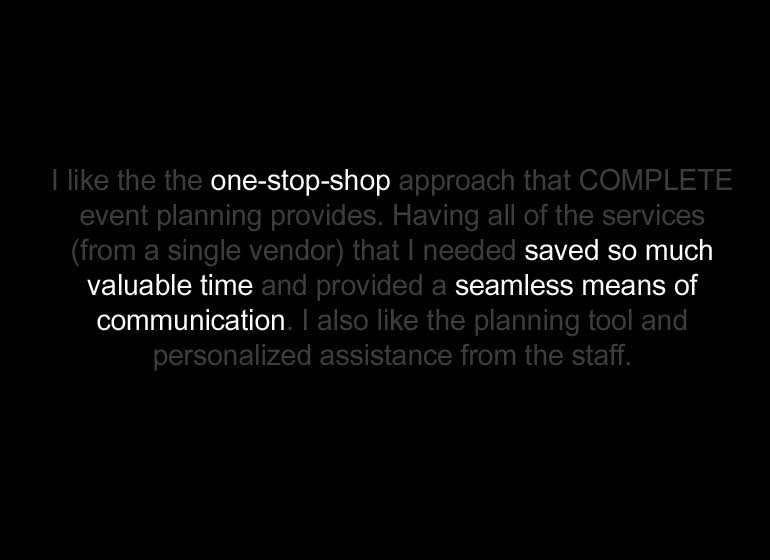 "I felt like I could really trust Complete with our wedding. They were all super nice and responded to emails very quickly. The individual workers (DJ, photographers, etc.) called ahead of time and gave out their personal cell phone numbers. Weddings are incredibly stressful, and Complete made the planning process so much easier! I will highly recommend this company to all of my friends and family." – Marianne D.
—————————————————————————————————————————————-
"On behalf of my new husband (still weird to hear it ?) and myself, we would like to extend our gratitude to everyone on your staff that helped make my wedding a day we'll never forget!! Thank you for always responding timely and answering all my questions!" -Kim H.
—————————————————————————————————————————————-
"I would and will highly recommend your company to anyone! I appreciate that you guys treated my small wedding like it was just as important as a large one, and everyone I emailed with and spoke to on the phone was wonderful. Thank you all so much for everything!" – Amanda M.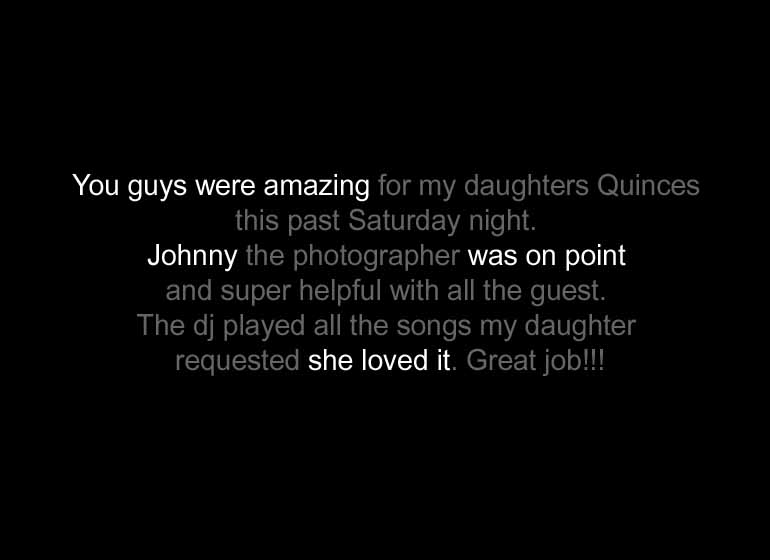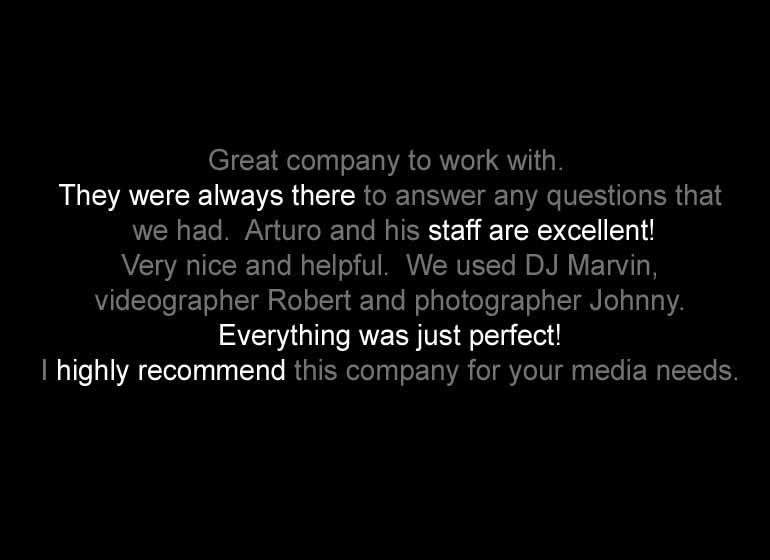 "The DJ/MC sets the tone/feel for the evening and you far exceeded our expectations. Would absolutely recommend to anyone. Our Photo Booth attendant was very helpful and attentive with the Photo Booth, which was a huge hit. I understand that this was a new photobooth, and I really liked the quality and output for the photos. Our guests absolutely loved it and so did we. It's awesome that you gave us, the bride and groom, a copy of every photo strip. Love that. We had a blast looking through them the day after the wedding." – Alex
—————————————————————————————————————————————-
"The photo booth was amazing! Our guests had so much fun taking pictures in it and the attendant was so professional and nice. He made sure that our scrapbook was perfect and put together and came and found me to make sure I got it at the end of the night. Would highly recommend this company for a photo booth and any other service. Amazing service, quality, and professionalism for an awesome price!" -Katie E.
—————————————————————————————————————————————-
"I loved that using multiple services made planning our wedding less stressful because I could make 1 phone call to check off 3 things on my list instead of calling 3 different people to get answers." -Djeeposn J.
—————————————————————————————————————————————-
"SO much more than just a photographer! She was my refuge throughout my whole wedding day. She was there to bounce ideas off of and give great advice. She would secretly slip me some water when I couldnt get away from conversations with guests. She saved my wedding dress from an impossible pizza sauce stain with some Tide To-Go. I loved this company and their customer service! Totally worth every cent!"
"We used complete wedding and events to live stream our wedding virtually for our guests who were not able to attend our wedding in person. Damon made the whole process super easy and stress free! He was great with communication which meant a lot since our wedding was very rushed and last minute! Matt was our tech guy during the ceremony and he was AMAZING! He streamed the perfect angle for our wedding, not in the way of anyone, and was on time with streaming our video . They were great! I would recommend it to anyone!! Xoxo"  –  Amber M.

—————————————————————————————————————————————-
"I'll start with Arturo . I met him at different bridal shows and he was awesome. We ended up working with Arturo after he followed up with us. He was so great and always prompt to follow up and answer our questions.
Now to Darron! We could not have chosen a better DJ for our wedding than Darron. He was easy to work with, kept our guests happy, and was so flexible with all of our wants! He truly made our day more special. We had so many cultures and backgrounds represented at our wedding from Irish to German to Jamaican to Cuban to Peruvian…. I can't even count how many nationalities! Plus a big group from South Florida and a big group from Texas, so the music was going to be tricky, but Darron exceeded all of our expectations in making everyone feel included. Everyone had a wonderful time and we can't thank him enough for making our day so special!"  –  Megan M.
Complete Weddings + Events in Fort Lauderdale and South Florida Areas
If you're planning a wedding in Fort Lauderdale, FL, then you've landed at the right place! Now that you've said YES! to spending your life together, you have some exciting decisions ahead. At Complete Weddings + Events planning, wedding events are what we do best.  Complete Weddings + Events, Fort Lauderdale's leading provider of event and wedding photography, videography, lighting & DJ services