Choosing the perfect pair of shoes needs a huge consideration and analysis as compared to buying shoes for any other casual occasion – it's a no-brainer. The biggest dilemma that hits us while deciding on wedding shoes is whether we pick comfort over glamour or vice versa.  In my opinion, the choice should be based solely on one's own personality, but of course, there are plenty of things to consider before deciding.  I also discuss your shoe options with Mira Hightower from Heather Hightower, a luxury shoe and accessory company in South Florida.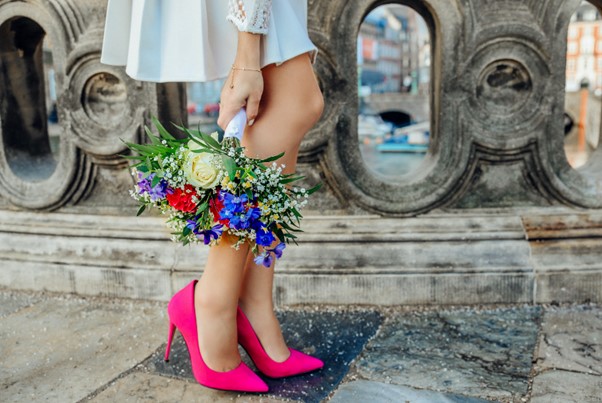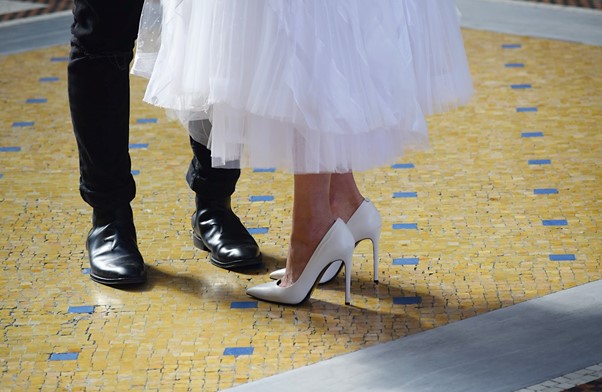 Flats vs Heels: Wedding Shoes
Personality
The prime concern should be what is your style and personality. The person who has always been fashion-conscious should go for a more glamorous pick. Whereas a person who has never gone out of her comfort zone should not try wearing heels just to abide by societal norms.  Going glamourous and sexy or keeping it simple should be a bride's decision based on her own personality. But most of the time, brides choose their dress first and the shoes later.  So that the shoes compliment the dress well. Unfortunately, most of the bridal boutiques make dresses with such flares which look good with heels on.  Brides who want to wear flats should consult the boutiques regarding this or customize their dress of choice accordingly.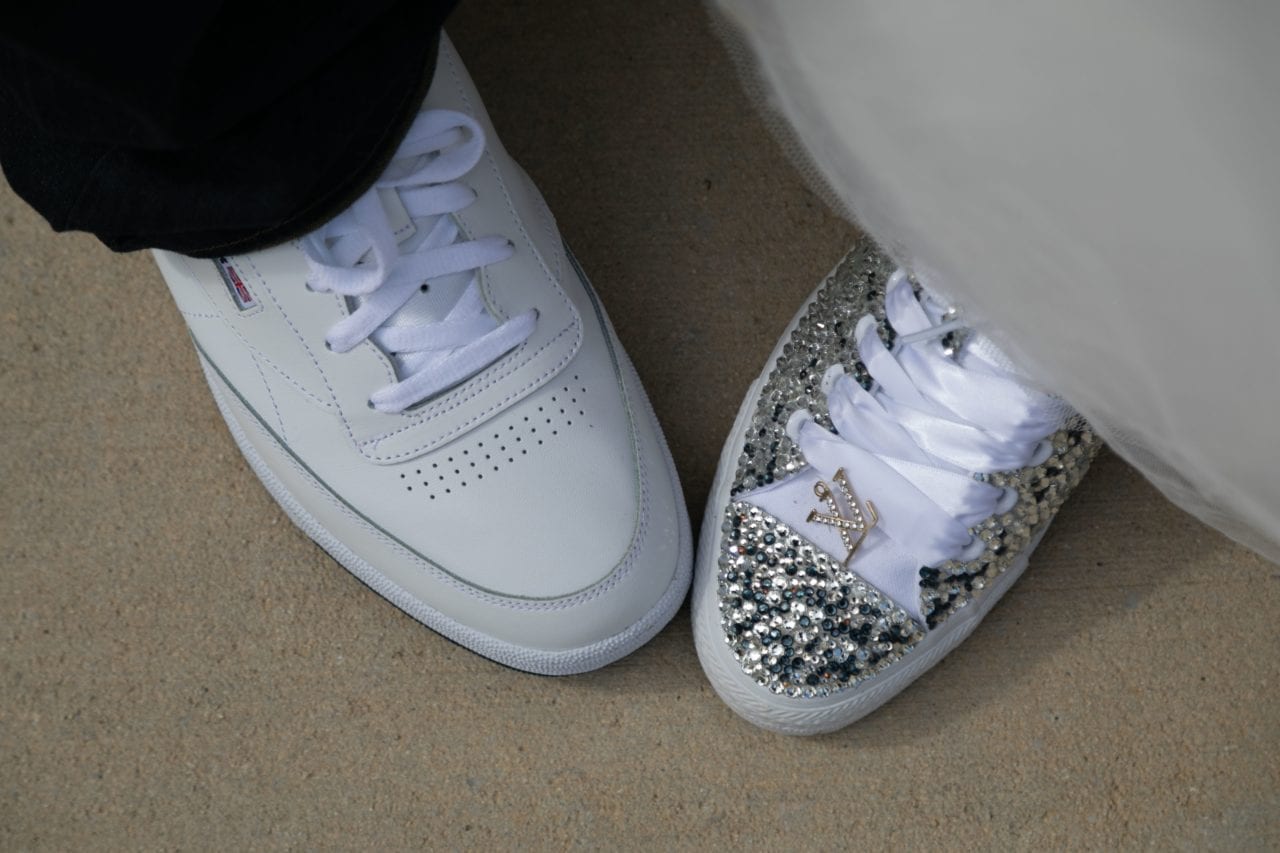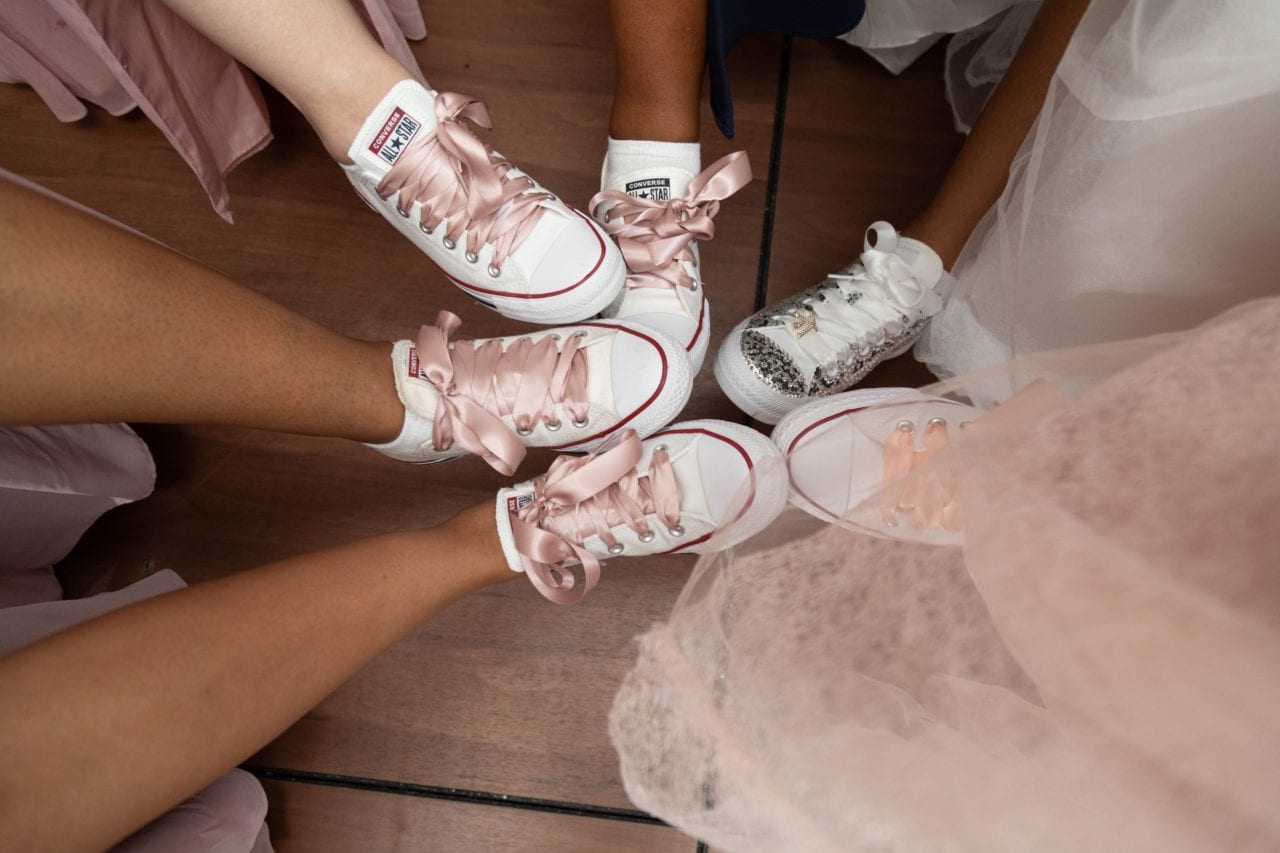 Sometimes there are gaps between different events and brides get enough time to switch their looks for different events. In such cases, the bride can have multiple options as her choice for each event of the day.  Most brides wear heels for wedding ceremonies and flats for dance and reception.  If this is feasible for the bride, she enjoys the best of both by eliminating sore feet and blisters.  Brides must check the fitting of their shoes well before the wedding date. It is great if she properly practices using her wedding day shoe to be a hundred percent sure that the shoes right fit her and are not malfunction at all.  Brides should also consider their everyday wear, if the bride is planning to wear heels she should start wearing different heels months before the wedding to get used to it.  We girls know it is an easy task to wear heels and top up the elegance.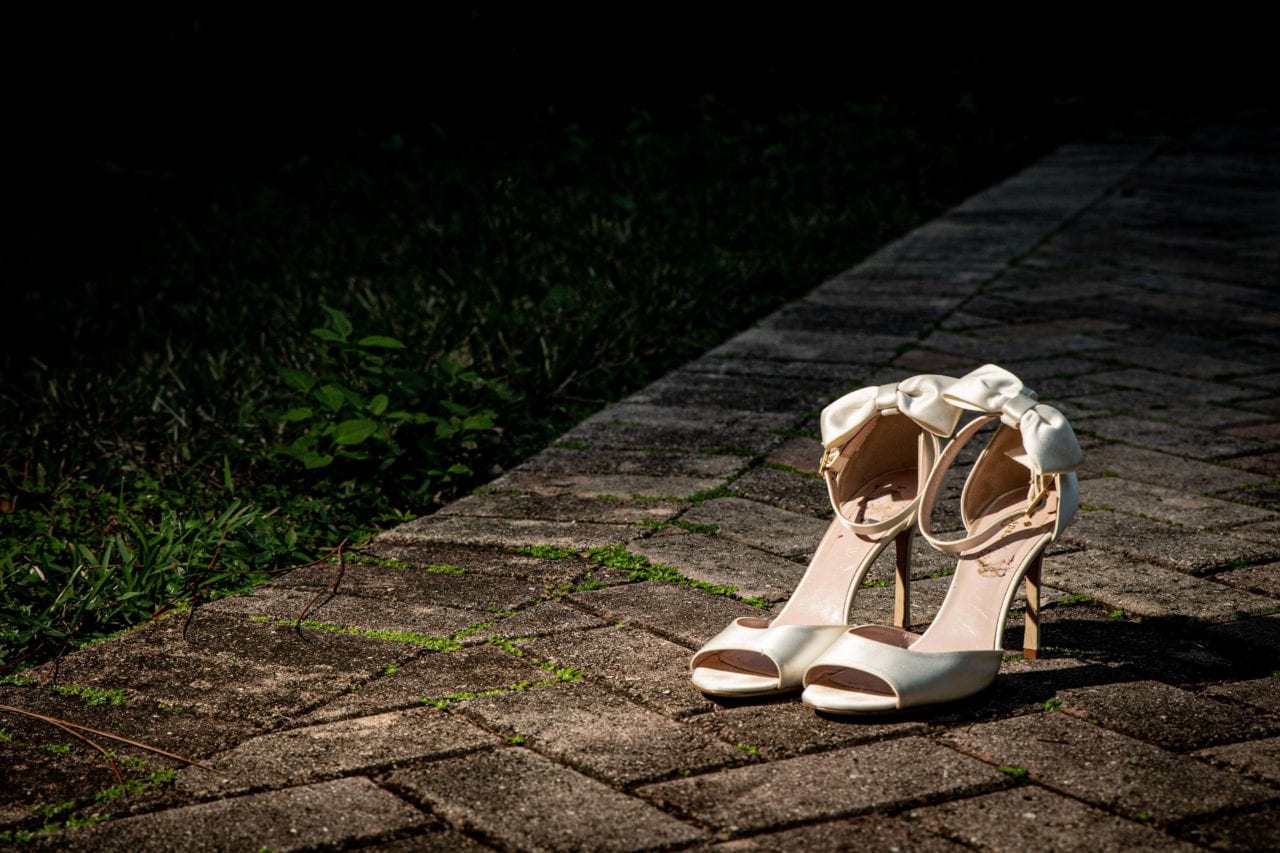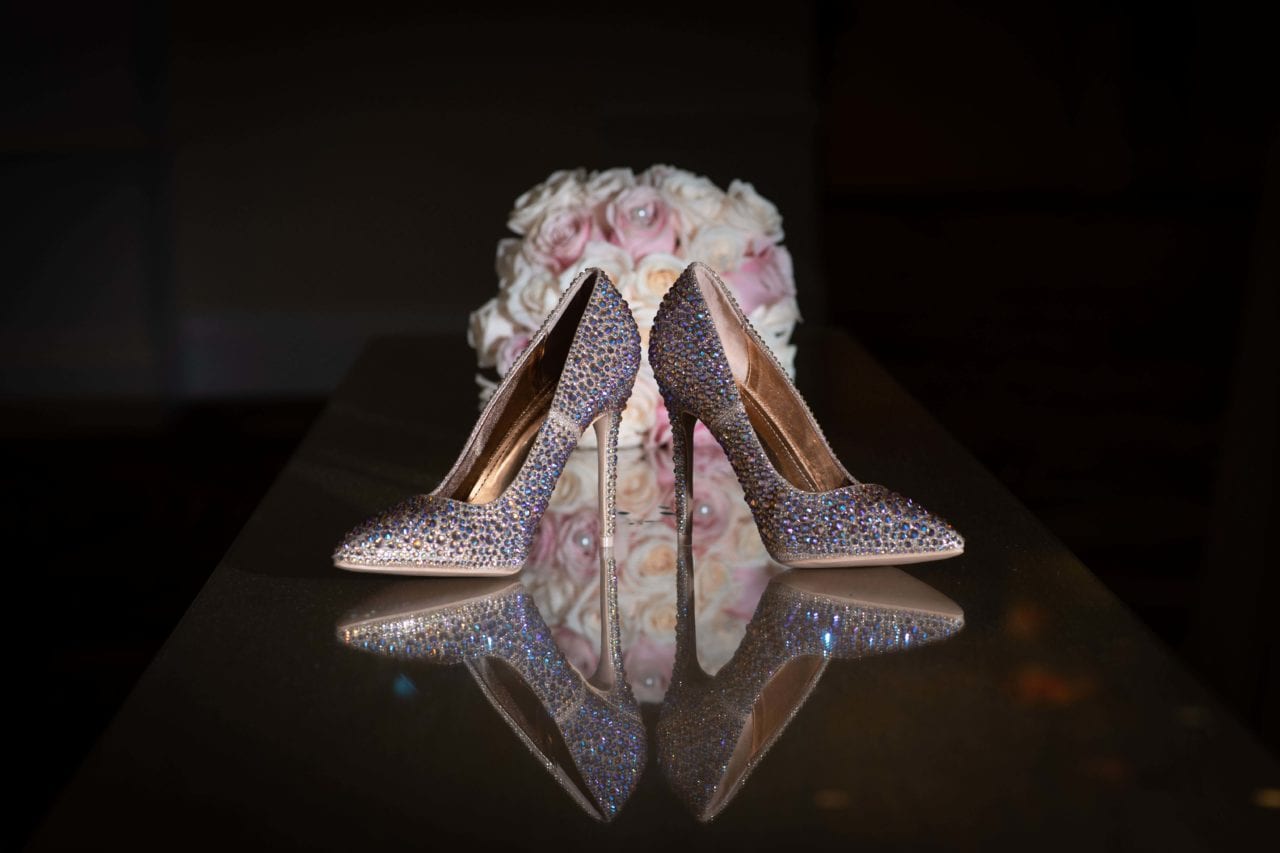 Height
The choice of bridal shoes is also influenced by the height difference between the bride and the groom. This difference greatly impacts the frame of photography, so in order to get the best wedding photos, the bride and groom need to incorporate these minor details.  If the bride is taller she wouldn't want to wear a heel that will make her look enormous or gigantic. Contrary to this if the bride is way too short for the groom, she might wear heels to match her significant other.  But the biggest NO is to try to buy shoes at the last minute, this will not only risk your comfort but the bride's overall look. Usually, brides shy away from colors but recently the fashion trends have brought into the limelight the incorporation of different colors in wedding shoes. Some brides hire wedding experts to help out with every little detail and if anyone can afford it that might be a relief.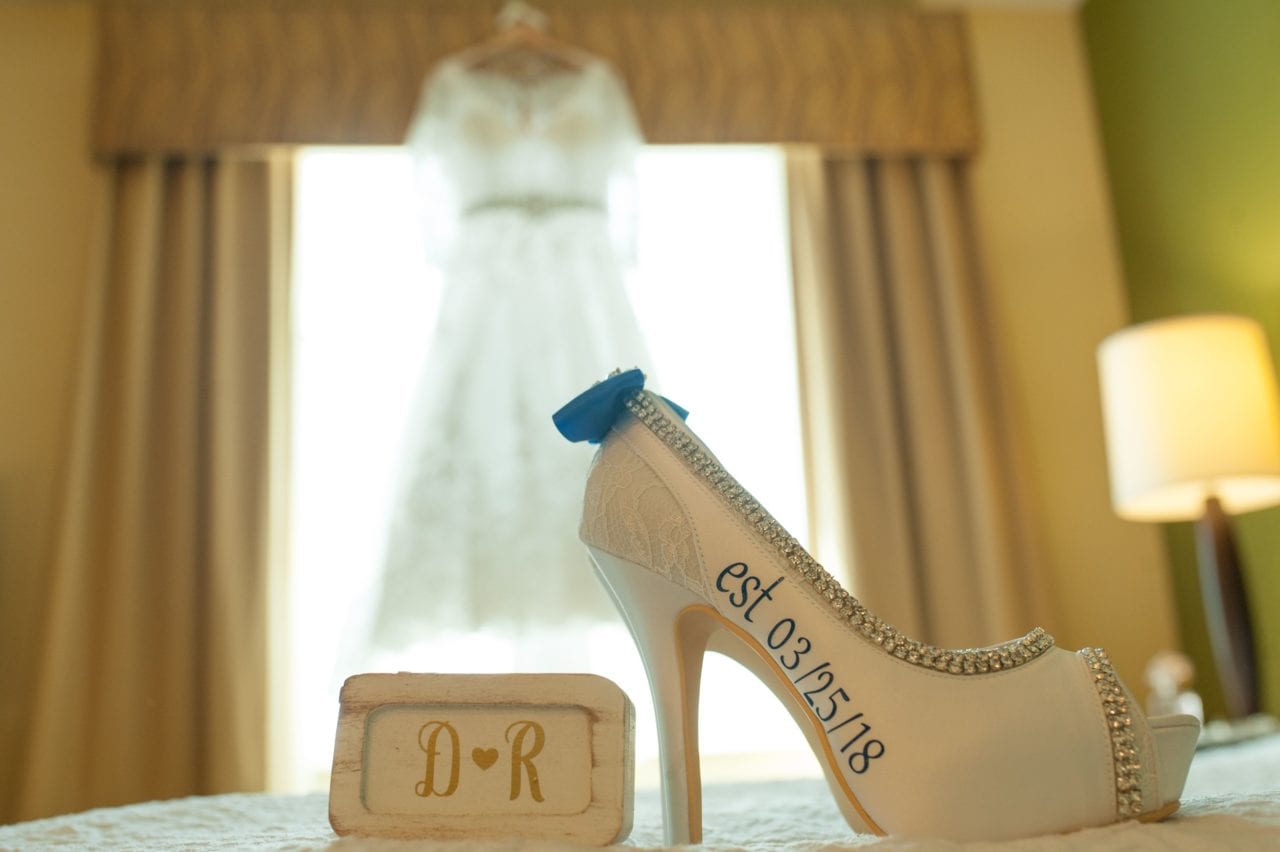 The bride must choose her dress first and a shoe which compliments it later.  But if the bride goes for pencil heels she should avoid pencil heels with higher inches because a wedding lasts for 12 hours at least and wearing heels throughout the session might lead to serious complications. For the brides who want to opt for flats don't feel pressured otherwise, there are companies that make beautiful flat shoes that perfectly complement wedding dresses. The decision is a hard one and must be done with full consideration.
Complete Weddings + Events in Fort Lauderdale and South Florida Areas
If you're planning a wedding in Fort Lauderdale, FL, then you've landed at the right place! Now that you've said YES! to spending your life together, you have some exciting decisions ahead. At Complete Weddings + Events planning, wedding events are what we do best.  Complete Weddings + Events, Fort Lauderdale's leading provider of event and wedding photography, videography, lighting & DJ services