From the hundreds of weddings I've been a part of over the past 20 years, I've come up with a list of 10 tips that will help you end up with beautiful wedding photographs. This is an important day, and fabulous wedding photos are something you can cherish forever!
Tip 1: Be Choosy – "Don't Choose Uncle Bob"
When interviewing a photographer, ask what kind of professional camera equipment that they use. A true professional photographer will have at least two professional cameras in their arsenal, as well as three or four professional lenses, and a camera bag full of accessories. Go ahead and hire a seasoned professional. Also, if you're looking at a low-priced photographer, you may get a deal on pricing. However, the overall quality may not be to the level that you really want. With less than adequate pro gear, your wedding photos may resemble Uncle Bob's home photos. Hire a pro who loves photographing weddings… you deserve the best!
Tip 2: The Engagement Session – Let's Have Some Fun!
You get married in a flash. You get busy making a new life together, and years will pass by at a moment's notice. Take some of this precious time and schedule a personal engagement session.
Engagement sessions of the past consisted of a few simple portraits for a newspaper announcement. However, today's engagement sessions can accomplish not only that. They also go beyond to capture incredible moments. They also give you a chance to get used to the camera and create a collection of classic, art-edition photographs that you will keep forever. A professional session takes the engagement shoot to an entirely new level. It makes you feel like a celebrity! Be sure to add this to your top ten list of your wedding plans!
Tip 3: Hire A Personal Wedding Assistant with your Wedding Planner
Many wedding planners offer a personal assistant that will help you on your wedding day, be at your beckoned call, and take care of you. A personal wedding assistant is your liaison between you and the wedding coordinator, the photographer, the reception band or DJ, the limo driver, and anyone else with whom you need to communicate. Think of this person as a personal bodyguard or a personal shopper. The cost is not very much, and well worth it. Wouldn't it be nice to have someone take care of all those last-minute details, make phone calls for you, and let you have a relaxing beautiful wedding day with less stress?
So many brides arrive on the wedding day to find an earring missing, or garment missing, or some details left unfinished. You can delegate tasks to your mom, sister, or best friend. But then poor Mom gets all the tension and misses important moments in the day. Let her have the day off! Good planning, fun, and a personal wedding assistant will make your day a beautiful, fun event and less stressful!
Tip 4: Beautiful Flowers
Have your florist prepare the wedding facility or church at least five hours ahead of the wedding. Outdoor decorations are the first flowers to go up, then the alter and church pew decorations. The reception area is the last area requiring decor. Be sure to discuss this with your florist and have a plan. Many wedding photographers are delayed in shooting detail and pre-wedding photography due to the florist being late or not completing the decorations on time.
If you are taking pre-wedding photos, let your florist know so your flowers are ready for the shoot. Also, it helps to assign one bridesmaid to pin on the groomsmens' boutonnieres. Many photographers face delays when the groomsmen are not ready. Typically, guys won't pin them on themselves… they are much too manly to do this.
Keep your flowers chilled or in water all day long to keep them fresh. After a half-day, flowers tend to wilt.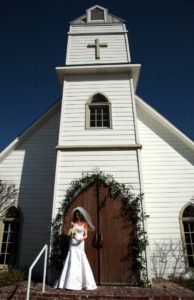 Tip 5: Art is in the Details
Have your photographer shoot detail shots. Detail shots are specific photographs of all of your wedding details like flowers, the wedding dress, the tuxedo, close-up shots that show all the details of your wedding day events and decor. The details are what make your wedding unique, so you'll want lots of photos to look back on after the wedding day.
Details can include flowers, table and place settings, food and desserts, wine and beverages, the dress and accessories, and the decor and architecture of the venue. Great detail shots will make your wedding look like an event from In Style Magazine or Martha Stewart Living. Imagine decorating your new home with these photos! Many couples love to blow up giant-size canvas prints and create art for their homes to enjoy in a new modern way.
Tip 6: Schedule a bridal portrait session
A pre-wedding bridal portrait session is like a dress rehearsal for the big day. It's a great opportunity to see how you look and feel in your wedding dress. Many times the dress may not fit quite right and can be altered for a better fit. This is a great day of fun too!
How many times in your life do you get to be a high fashion model and look like a princess for a day, besides your wedding day? Bridal portrait sessions give you many more images to add to your bridal proofs. The hottest trend today is a bridal album to be given to the groom as a gift. Some sessions can even include a more intimate and tastefully done boudoir session that the groom will cherish and adore.
Many times the wedding or reception venue will allow you a free day to use their facility as a backdrop, and your florist may make you a bridal bouquet just for the session if you offer to give them some photos of the session for their generosity. Another plus is the ability to print a portrait on a large canvas and display it at the wedding reception. It also makes a nice portrait for mom and dad to keep in their home to show their beautiful daughter on her grand wedding day.
Tip 7: Hair and Makeup and The Wedding Day Schedule
It is essential that you schedule a professional makeup artist that has wedding experience and knows how to apply makeup for photography. A good makeup artist will place you near a bright open window for the best light. Lighting in a bathroom is generally poor and is the wrong type of light required for good coverage.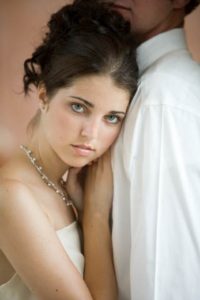 Want all-natural looks? Even an all-natural look requires a good foundation, concealer, powder, eyeshadow, and lip color. Today's cameras can see every pore on your face, every blemish, and every detail. Great wedding photography starts with great makeup.
Plan your first hair and makeup session at least two months ahead. Most professional salons will schedule a practice session and consult with you on your goals for your wedding day. The practice day is good for bridal portrait sessions too!
Start your wedding day early. Pro photographers will want to start shooting at least 3-4 hours before the wedding ceremony. Pre-wedding photos have become the most important photos of the entire wedding day. That means the entire wedding party needs to be ready early. If you show up late for the starting photography session, then you may lose out on some of the best photos of the wedding day. Most photographers will arrive at the bride's home or bridal room to catch photographs of the bride & bridesmaids getting ready, then take photos of the groomsmen too.
Some salons can delay your wedding day by not scheduling your day early and staying on schedule. And, most appointments generally run behind, so start early! Don't let your wedding day get by you too fast!
Tip 8: Is Mom Ready Yet?
One more tip for the bride and groom on the wedding day is to make sure mom and dad are dressed and ready early.
Today's photographers begin the wedding day with pre-wedding photo journals of the bride and groom getting ready. Typically, Moms and Dads don't think about being in these photos, but they should. Parents should be dressed and ready. Sometimes parents will dress at the last minute, then in pre-wedding photos you see your mom with no makeup, and in her robe. Dads may not wear makeup, but dad in a robe is not a very pretty sight.
I suggest scheduling some special moments with your parents just when you slip into your gown. Let your family know an exact time for this, and have the photographer on standby to catch this special time. Parents live for this day! Giving their daughters and sons away to matrimony is a blessing in life.
Tip 9: Lighting is Everything!
Another tip to make your wedding reception incredible is to hire a professional lighting designer. Don't rely on just your band or DJ for a few tiny lights. Many local lighting companies design lighting themes for major corporate events and concerts; see if they also offer wedding lighting services.
You can have just a dozen lights on a dimmer system with color gels to match your theme, or go all out and have dozens of lights focused on specific architectural elements and details of your reception. Beautiful receptions can be simple and elegant with accessory lighting around the reception hall, or you can choose a rock-and-roll laser light theme with smoke machines.
Make your wedding a grand event with help from your event planner or photographer. They can suggest lighting that will enhance your photographs and give you a night to remember forever!
Tip 10: PDA
Be romantic! Be sure to show lots of PDA (public displays of affection) on your wedding day.
Some couples tend to be so busy and excited about their wedding day that they forget to show each other how in love they are and how happy they are to be getting married. Great photographers capture real emotions. Be sure to help out by being sexy and romantic… show a little PDA!
You don't have to go overboard with poses. However, simple things like holding hands and kisses on the cheek provide great material. A good photographer will coach the couple with simple posing ideas. Don't be shy. Have fun and enjoy it! Be creative and push your photographer to step out of the box with edgy art!
Complete Weddings + Events in Fort Lauderdale and South Florida Areas
If you're planning a wedding in Fort Lauderdale, FL, then you've landed at the right place! Now that you've said YES! to spending your life together, you have some exciting decisions ahead. At Complete Weddings + Events planning, wedding events are what we do best.  Complete Weddings + Events, Fort Lauderdale's leading provider of event and wedding photography, videography, lighting & DJ services