So, what exactly is a first look? Well, read on for some really cool first look wedding ideas.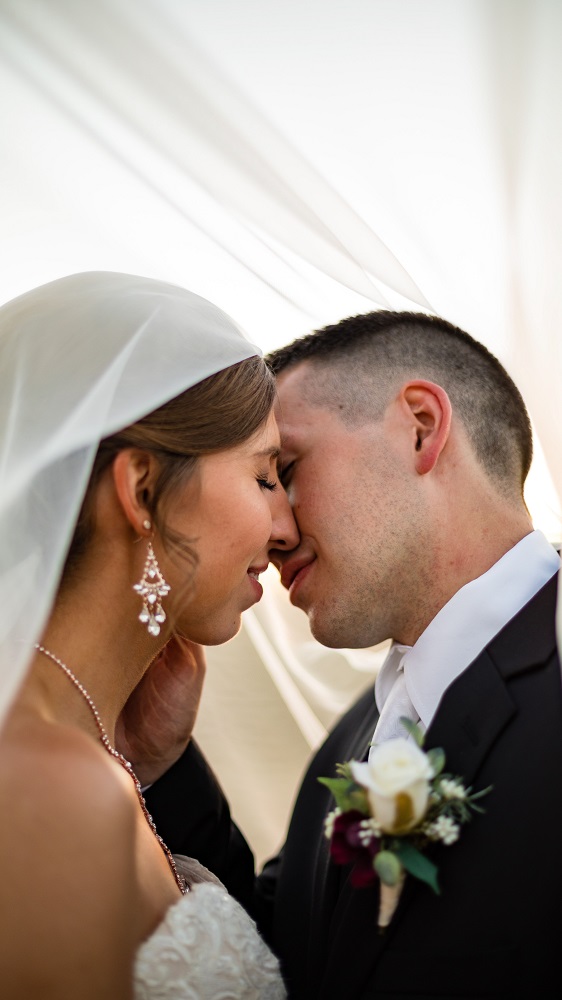 First Look Wedding Ideas
A First Look is when the couple chooses to see each other for the first time before the wedding. This is usually done about an hour and a half to two hours (or less in some cases) before the ceremony. It's traditionally a very private moment, shared with just the couple – and the photographer, of course.  The bride or groom is asked to stand in a set location, while the other bride or groom walks up behind them and taps them on the shoulder. Then when they turn around they get to set their eyes on their soon-to-be spouse for the first time.
Why do couples choose to do a first look?
Well, for a few different reasons! But the main one, quite simply, is time. When you do a first look, it allows you to take all of the pictures of your wedding party (and sometimes your family) before the ceremony even occurs. Traditionally, most of those pictures happen after the ceremony and the wedding party, most of the family, and the couple could end up missing most (or all) of the cocktail hour.
First Look Wedding Photos
The first look is a tremendously emotional moment. It's the moment you've spent months preparing for. It's the moment just after you share the words that translate your heart, and just before 'the rest of your lives'. You'll want to make sure your photographer captures every second, and you'll want to do it dramatically. Consider all sorts of poses like back-to-back or traditionally holding hands through a partition to put it all together.
Holding Hands Before First Look
Holding hands before the first look moment is a longstanding tradition that has been modernized beyond the classic partition. An important addition to the wedding photo album, this moment bridges the gap between the past and the future. Play with a few location ideas before coming to a decision. Hold hands across a threshold, around a tree, or through a tornado of balloons. It is very important to plan his out ahead of time.
First Look Wedding Photos With Bridesmaids
Another First Look Wedding Ideas is Modern first looks that extend beyond the bride and groom. A trending addition to the wedding photo album is to blindfold the groom on a full first look display of the bridesmaids. Another fun trend is for the bride to reserve the first look for the bridesmaids as opposed to the groom. This may be a little untraditional, but these are your girls. They were with you before you met the groom, and they've helped you every step of the way.
Groom's Emotions
Some grooms are very serious. They never crack a smile, and they rarely show how they feel. But on this special day, they just can't help themselves. Even the toughest of men will run the gamut of emotions, and every second just has to be captured for the wedding photo album. Indoor photos of the first look are often more intimate and romantic. But, the outdoors offers more light to help capture the nuances of his facial expressions. Choose wisely!
Complete Weddings + Events in Fargo, ND
If you're planning a wedding in Fargo, then you've landed at the right place! Now that you've said YES! to spending your life together, you have some exciting decisions ahead. At Complete Weddings + Events, planning Fargo wedding events is what we do best. Complete Weddings + Events, Fargo's leading provider of event and wedding photography, videography, lighting, DJ services & photo booth rental.