Kristen and Brandon's wedding was a dream! It was a beautiful day in May, the flowers were blooming and there was a very special couple waiting to be married. Today we will be featuring Kristen and Brandon. Their relationship began online and Kristen knew there was something special about Brandon. Let's take a look at Kristen and Brandon's May wedding.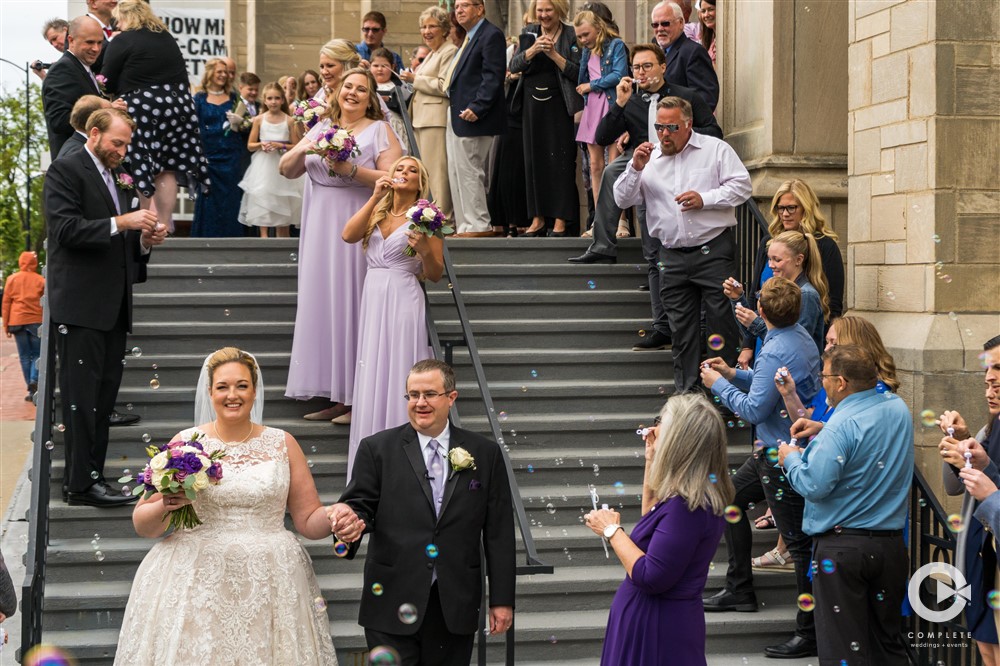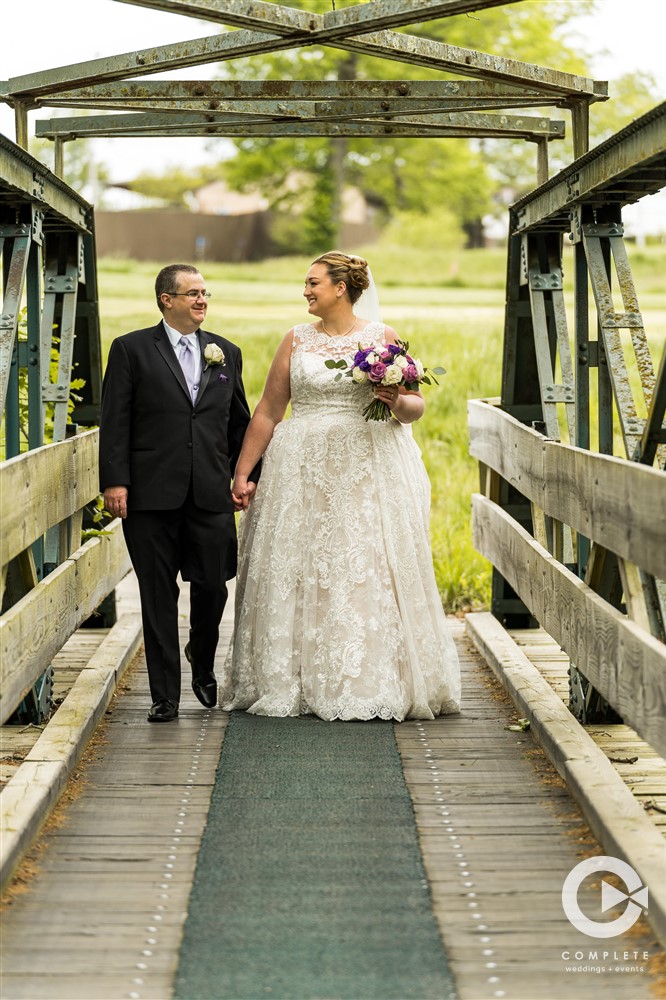 Kristen + Brandon's Wedding at Columbia Country Club
Wedding Vendors
Venue
The Columbia Country Club is a beautiful venue! Kristen and Brandon did an excellent job creating a vision for the reception space. The Columbia Country Club has an amazing bridal suite where the bridal party can take their time getting ready in a relaxed environment. There is also a room where the groom and groomsmen can get ready and relax while waiting for the wedding to begin! This wedding venue is definitely one to keep on your radar if you are planning a wedding in Columbia.
Cake & Flowers
The florist Kristen and Brandon chose was Allen's Flowers. They did a beautiful purple color scheme to match the bridesmaids' dresses. The flowers created gorgeous decor and a beautiful bouquet for the bride and bridesmaids. These flowers were also used to decorate the cake. The bakery the couple chose for the cake was Pohlman's Create a Cake. The flowers added color to the vanilla frosted cake. The different embellishments added amazing textures to this cake. Don't forget to check out Allen's Flowers and Pohlman's Create a Cake for your flower and dessert needs!
DJ
The couple booked our DJ Joe Northern. Our DJ service is our most popular service at Complete Weddings + Events. The purpose of a DJ is to not only play music but keep the crowd entertained and involved throughout the event. This is exactly what Joe Northern provided throughout the couple's wedding reception. He played upbeat fun music from a variety of genres and used his entertainment skills to keep the crowd engaged. Joe made sure everyone was having an awesome time and as much fun as the bride and groom.
Photography
The couple also decided to use our photography service by booking one of our popular photographers Alexander Ostinelli. Similar to video, photographs capture the emotions of people. Yet, photos are still shots that connect us to our past. They can remind us of past times in our lives while representing who we are. Photographer Alexander did an excellent job of doing just this. He made sure to take pictures of the bride and groom, plus the entire wedding party. Alexander not only did an excellent job of capturing this, but he also made sure to take pictures of the guests and specific details of the wedding that bring the entire wedding together. The photographs show the true essence and love of the beautiful bride and groom.
Video
Another popular service for Complete Weddings and Events is our videography. The couple booked Sean Greene as their videographer. His amazing technique captured the bride and groom's love on film. He managed to do this, while still capturing the crowd's emotions as well. His use of slow-mo, zooming in, panning, even exposure, and many more techniques created a beautiful video that the bride and groom, Kristen and Brandon, can cherish forever. The video is a really fun and digestible way to relive your wedding.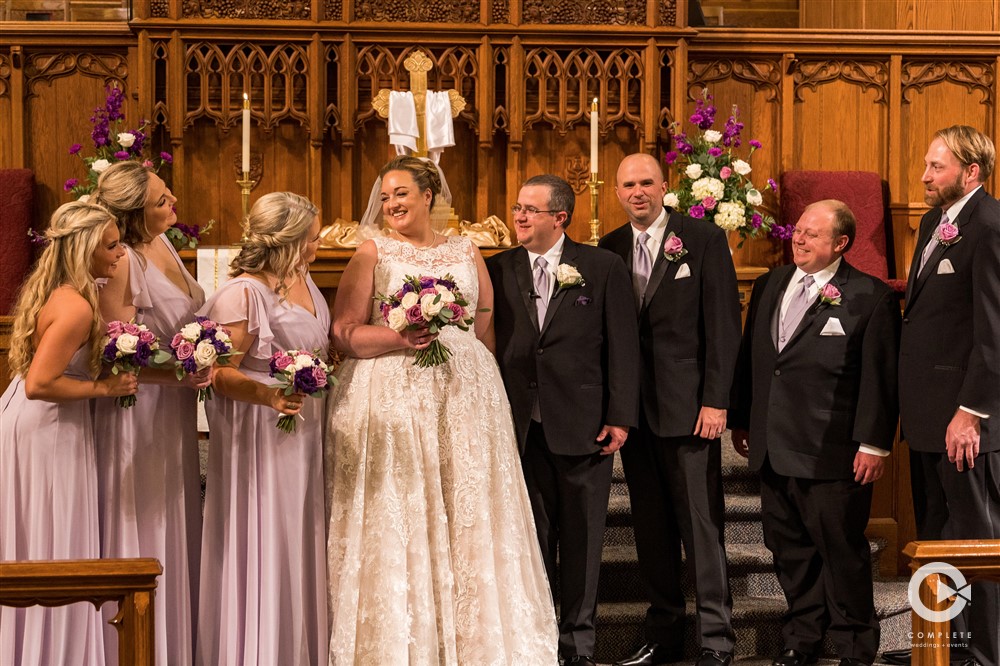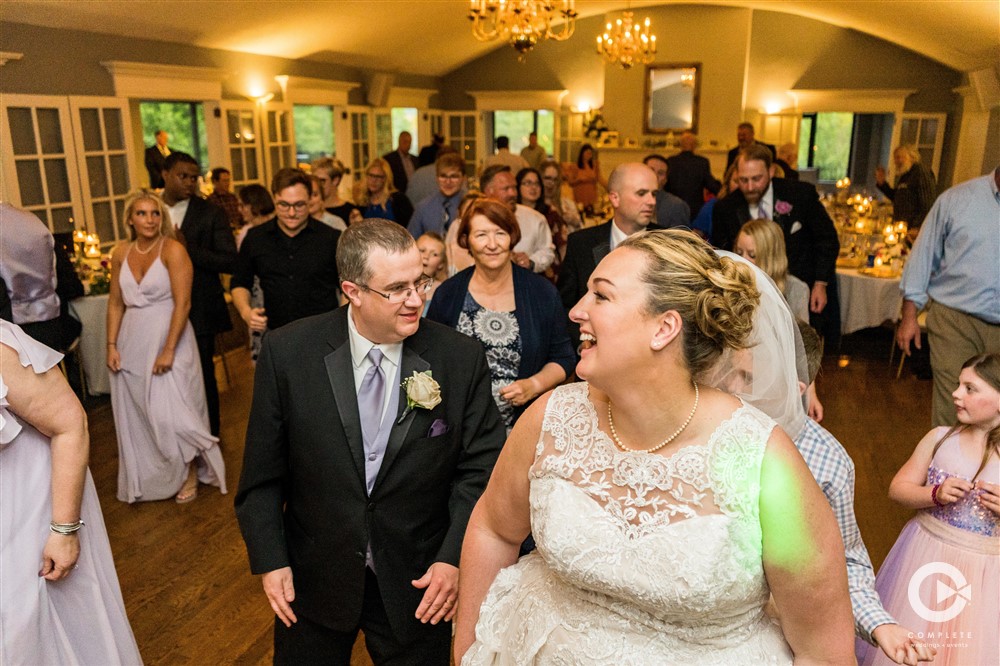 Complete Weddings + Events in Columbia, MO
Complete Weddings and Events strive to create an inclusive environment for everyone!  For further assistance, check out our DJ, Videography, Photography, Photo Booth services for all of your wedding planning needs!!