Anne and Wyatt were in their final year of high school when they met. A few conversations in between classes led Wyatt to ask her to go to prom with him. That fateful prom night, he asked her to be his girlfriend. With how much chemistry they had, Anne couldn't help but say yes. As it was their senior year, she had already made plans to go to college in a different city. For the first year of their relationship, they committed to each other by pushing through in a long-distance relationship.
After that first year, Anne decided to move back to the city where her family and Wyatt were. Five years down the road, it was time for Wyatt to ask yet another question to move their relationship forward. On a family trip high up in the mountains of Crested Butte, he got down on one knee and asked Anne to marry her. Well… the rest is history. Let's take a look at Anne and Wyatt's breathtaking wedding at Hearth House in Colorado Springs.
Anne + Wyatt's Monument Wedding at Hearth House
Getting Ready
To ring in the new year, Anne + Wyatt decided to have their wedding at the Hearth House. They started their morning by having their wedding party get ready in their designated suites. In the bridal suite, the ladies got ready while sipping on some mimosas. Getting ready was easy breezy in their matching satin sky blue jammies. Once the bridesmaids had hair and makeup done, they were ready to help Anne get into her dress.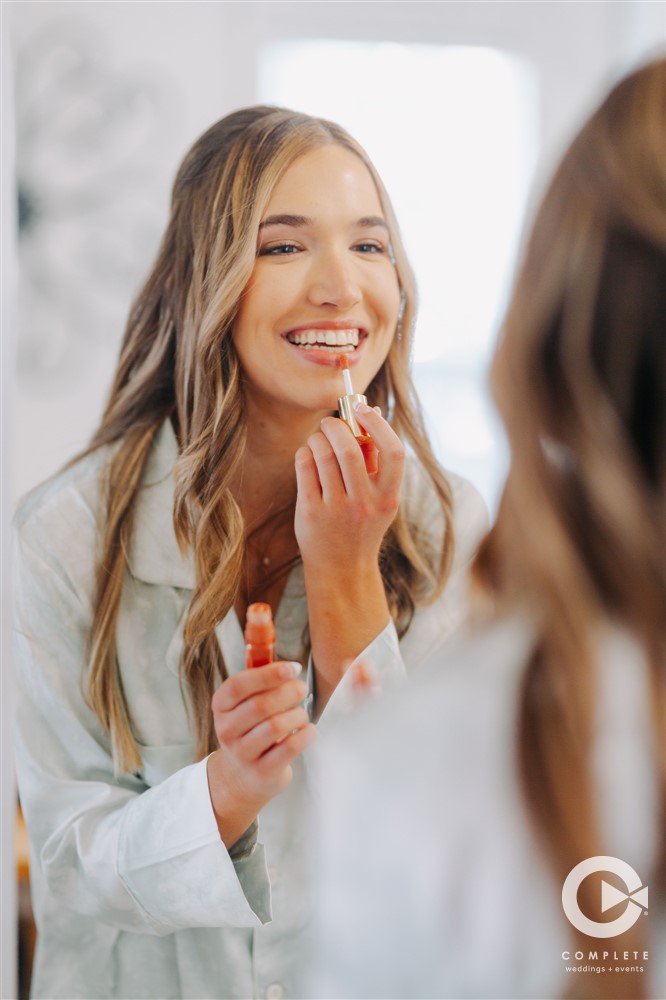 The Bride
Anne slipped into her a-line wedding dress. It had white floral motifs scattered in the top half of her dress and faded out into the skirt of the dress. The two straps that held the dress up had subtle beading that ran through them. The front of the bodice had tulle carefully draped across her chest to create a flattering shape for the dress. To go in line with the princess-esque vibes of the dress, Anne wore her hair in a half-up half-down hairdo with tousled curls. Her sister gently placed her veil on top of Anne's head.
Church Ceremony + Attire
Next, once everyone was ready, the ceremony was ready to start. Guests arrived and took their seats in the St. Peter Catholic Church. It was important to the couple that they begin their next journey in their relationship with their faith. Once the music began playing, it signaled to the guests that the ceremony was beginning. Two by two, the wedding party made their way down the aisle. The ladies wore black velvet dresses and held white bouquets that popped against the dresses. The groomsmen also wore classic black suits with white button-down shirts. The suits were given a more upscale look with the touch of a black bowtie.
Then finally came the bride with her father leading the way up to the altar. Anne looked up and there he was. Highlights of the last six years of their lives flashed before her eyes as she looked at him. He stood there wearing an all-black suit that matched the groomsmen. To stand out amongst them, he paired his suit with a black button-down shirt and black bowtie. Anne + Wyatt took each other's hands as they exchanged vows. Their next chapter was sealed with I dos and a kiss! They were finally married!
Wedding Reception + Decor
The guests and wedding party all cheered in excitement for the newly married couple. Soon after the ceremony, they all made their way to the Hearth House. A perfect venue for a wedding of any season. Anne + Wyatt decided to play off the winter season and place pinecones throughout the venue, greenery, and accents of gold for decoration.
Once guests had mingled and seated, the wedding party was ready to make their entrance. Each came in pairs and did their own dance out into the reception dance floor. This all led up to the newly married couple making their way out. After the entrances, heartfelt toasts were made. Anne + Wyatt had their first dance, which then encouraged everyone else to make it out onto the dancefloor. Lastly, at the end of the night, the two had celebrated their love with their closest friends and family. Making it one of the most special nights of their lives!