You've dreamt about the amazing ceremony that will bring you and your partner together. Now that you've picked the venue where you'll be saying "I do," your dream is one step closer to reality. Once you move past the amazing food and wedding toasts, it's time to figure out how you would like to celebrate your Big Day as the sun sets. Why not dance the night away with the people you love? You shouldn't be tasked with putting together a playlist that will have your guests tapping their toes and grooving all night long. Instead, you should leave all of that to your Colorado Springs wedding DJ. Their job is to take the passion they have for music and spin it into songs that keep the party going. It can make for a tall order, but a great DJ makes it happen.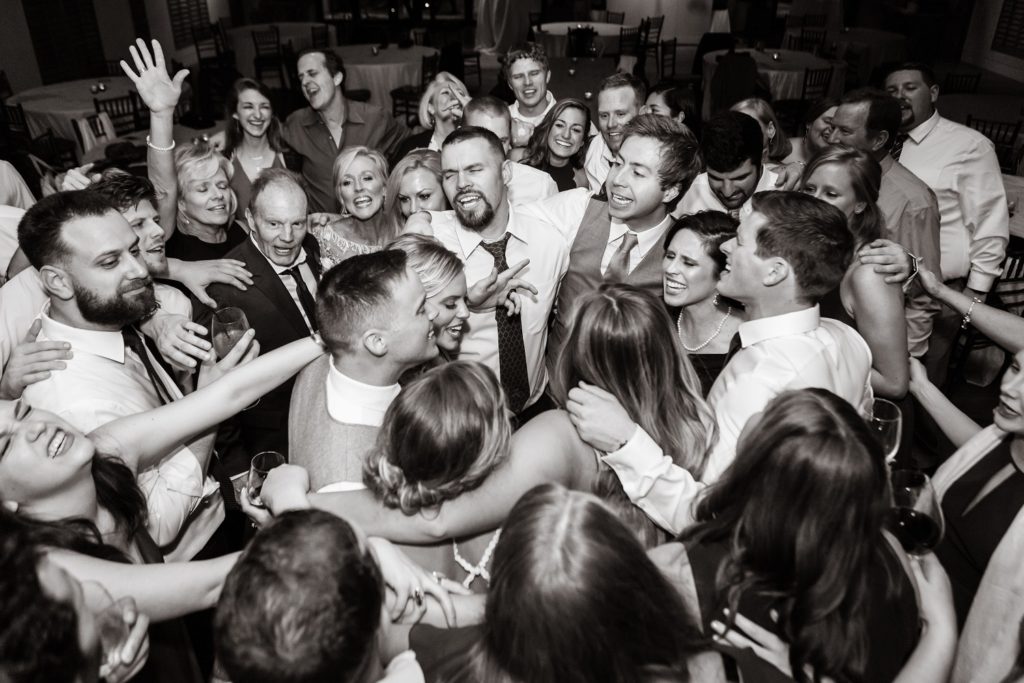 What Makes a Great DJ?
A truly great DJ has a passion for music. The music they choose helps shape your event into the wedding of your dreams, and they know the right songs to get people on the dance floor. Great wedding DJs know the magical combination of keeping your guests entertained without losing their interest and providing structure to your whole event. They are committed to making sure that the wedding day experience is wonderful for you and all who are in attendance.
9 Qualities to Look for in a Wedding DJ For Your Colorado Springs, CO Wedding

Like choosing the right photographer, choosing the right DJ can make or break an event. While there are no one-size-fits-all for DJs, there are some qualities that you can look for to choose the right DJ for your event that allows you to not just consider how they'll work on the dance floor, but with you, too.
Here is a list of the 9 of the best qualities to look for in a wedding DJ:
Confidence says that they know what they're doing. You want a DJ who is sure that they know how to bring the right sound to your special day. They know the power of a playlist and are able to help you understand how to make that work for your event.
This is one of your cornerstone vendors, and choosing someone with experience is essential. You want a DJ who has been around for a little while. Not only should they be able to spin tunes, but they should be able to adhere to a time schedule and keep the event moving along. This is your day, and you want to leave the hosting of it in the hands of someone who knows how to make sure that everything is done well.
The best wedding DJs know that skill set isn't a guarantee toward booking jobs. They need to be quick when responding to emails and requests. They also know that dressing well, being organized, and working well with other vendors is a part of their job. They are your host for the event, and as such, they should look the part. That also includes acting the part—they should be present, not checking their phone or wandering too far from their equipment. They have a job to do and want to do it well.
A great DJ is a master planner. When they book an event, they go the extra mile to make sure that they know the details of your day, the venue, and any special requests that may come their way.
Wedding DJs are masters of the playlist. Working with you, they help to build the perfect list of songs that will fit different moments of an event. From cutting the cake to the perfect first dance, a wedding DJ…
This may seem like an obvious quality, but knowing what you're doing is important. A DJ does so much more than just pick the next song to play. They have to blend, cut, and mix those songs to keep the party moving smoothly. A great DJ does this without missing a beat—literally.
A DJ understands that there are different moods that need to be set throughout an event. You want a calm ambiance during a meal, a playful mood during the cake cutting, and an upbeat party vibe for dancing. All of these are formed with the help of the right music and commentary from your DJ.
This may seem similar to the point above, but it's truly one of the most important qualities of a DJ. An observant DJ is able to look at your guests and see what is going to be the best song to play to keep the momentum going. They know how to change things up if need be to meet the expectations of the crowd.
Most DJs specialize in one area of events, like weddings. However, a great DJ has played a little bit of everything. This allows them to know how to handle anything because they have experienced many different kinds of events. If they can work well outside of their comfort zone by working an event that is not their specialty, then they will thrive doing an event that is.
How to Pick the Right Wedding DJ in Colorado Springs, CO
All of the skills listed above are an absolute necessity when it comes to looking for the best Colorado Springs wedding DJ. However, we love to match you with the right personality and music selection as well! There are so many things that go into finding that perfect DJ for your wedding and we love being there to help find that perfect fit for your big day. Contact us now to get a quote and learn more about how we can make your wedding the day you've dreamt of!
Complete Weddings + Events – Book a Wedding DJ in Colorado Springs, CO
We offer more than just DJ for weddings and events! Complete in Colorado Springs also offers photography, videography, photo booth, and uplighting! We'd love to put together a complete wedding package, click here to get started!