There is nothing more gorgeous than a summer engagement photoshoot! It is a season of wildflowers, miraculous golden sunsets, and lush green surroundings. Therefore, it is the perfect setting to mark your first step toward the new chapter of your life.
However, with so many options, the choice of location, theme, or backdrop can easily become overwhelming. If you do some research, you will find numerous wonderful ideas, but the decision will not come lightly. There are many factors to consider, so simply admiring what other couples have done will not do the trick. You need to be well-informed before deciding what your engagement will look like. 
With this in mind, we have created a list of wonderful ideas to help you out. And do not worry, we have thought of every little detail!
Pick the Right Colors 
For an engagement photo session, you can pick different kinds of attire. You can go with casual combinations or elegant and sophisticated choices. Depending on the location you pick, you can decide how you want to set the tone for your photoshoot. However, you need to be careful with the colors of your clothing. 
Since you are marking a special occasion in your photos, we recommend using white or neutral options. That said, you should avoid dark combinations when posing in outdoor areas in the sun. You want to blend in with the surroundings, so opt for something light. Namely, you will look stunning in white if you decide on a beach photoshoot. Similarly, light pink or blue tones will perfectly match green surroundings like gardens.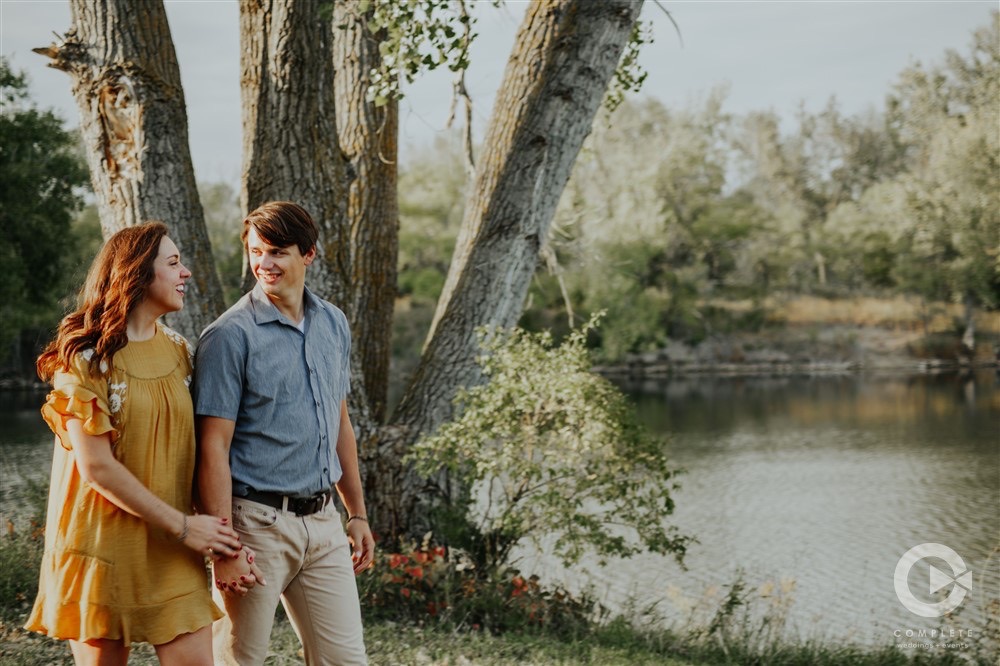 Location with Meaning is a Must 
Summer gives you a lot of location options, but choosing one with meaning will provide a magical spark to your engagement session. You can consider a place where you first met or a spot you enjoy visiting together. The location you pick will give a background story to your summer engagement photoshoot that will continue once the big day comes. 
Moreover, if you and your other half enjoy the natural surroundings, why not shoot magical photos at the beach? You should use the summer season to the fullest, so do not forget about the miracles this season gives us. Another way is to pick a lush green spot and obtain fairytale photographs.
Communicate with Your Photographer 
Many couples focus on their attire, setting, or poses and easily forget to talk to the person who is doing the shooting in the first place. You may have fantastic summer engagement ideas, but they might not become a reality if you do not communicate with your Charleston engagement photographer.
Before the photo session starts, determine what you want to achieve. Your photographer is an experienced professional who will help you obtain the desired results by guiding you.
Strive for Spontaneous Shots 
When looking for summer engagement ideas for a photo session, do not forget to think about posing. You do not want forced and unnatural photographs. Instead, try to achieve as many natural shots as possible. 
Do not be afraid to move in front of the camera. For instance, exchanging spontaneous looks and smiles with your partner will do wonders for your summer engagement photos. In addition, strollings and light movements can also bring outstanding results.
Best Places for Engagement Photos in Charleston, SC
If you're searching for the perfect backdrop to capture your love in Charleston, SC, look no further! This charming city offers a plethora of stunning locations for your engagement photos.
Historic District: Stroll hand-in-hand through the enchanting cobblestone streets of the historic district, where the old-world architecture and quaint gardens will add a timeless touch to your pictures.
Waterfront Park: a touch of nature's beauty, with its majestic fountains and panoramic views of the Charleston Harbor.
Sullivan's Island: An unbeatable, dreamy, sun-kissed setting, with picturesque beaches.
With its Southern charm and diverse array of settings, Charleston promises to be the ideal place to capture those cherished pre-wedding moments with your partner.
Complete Weddings + Events – Charleston, South Carolina
A summer engagement photoshoot gives you a lot of options. Therefore, choose what best suits you and your partner and makes your experience special and meaningful. The photos you make will be your lifelong mementos, so plan beforehand and make the most of it! 
For more wedding and engagement tips, do not forget to visit our blog page.
Looking for an engagement photographer in Charleston, SC? Complete Weddings + Events has you covered with that too!