Throwing a memorable event or celebration requires finding the perfect venue that combines a stunning location with exceptional amenities. Look no further! Homestead Reception Center is the ultimate choice for anyone seeking an extraordinary setting that will leave a lasting impression on guests. Tucked away in the heart of serene surroundings, this venue offers an unforgettable experience that guarantees an absolute blast. We'll delve into the highlights and features of Megan and Collin's wedding at Homestead Reception Center, proving why it's the ultimate destination for your next shindig!
The Ambiance 
Imagine hosting your event amidst enchanting landscapes, picturesque gardens, and breathtaking views. Homestead Reception Center is all about creating a dreamy ambiance that adds that extra oomph to your special occasion. You'll fall in love with the lush greenery, big red barn, and rustic interiors. If you time it just right, you can have the most epic sunset photos at Golden Hour, just like Megan and Collin did.
Be it a wedding, corporate bash, or family celebration, the natural beauty surrounding the venue will ensure your event stands out from the rest.
Indoor and Outdoor Setting
At Homestead Reception Center, you'll find a wide range of event spaces designed to cater to any gathering. Whether you're planning an intimate indoor affair or a larger-than-life outdoor extravaganza, this venue has got you covered. Their versatility means you can choose the perfect space that aligns with your vision, ensuring your party feels tailor-made to your needs.
Megan and Collin opted for an indoor ceremony and reception so they didn't have to stress about the weather. You cannot go wrong with their outdoor ceremony option as well, with green space as far as your eye can see.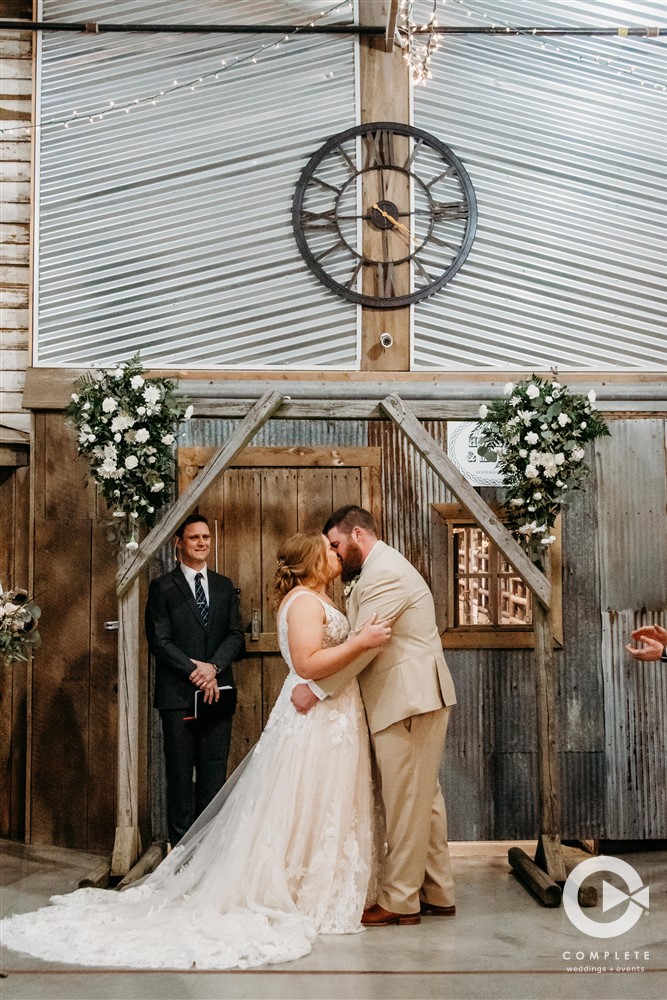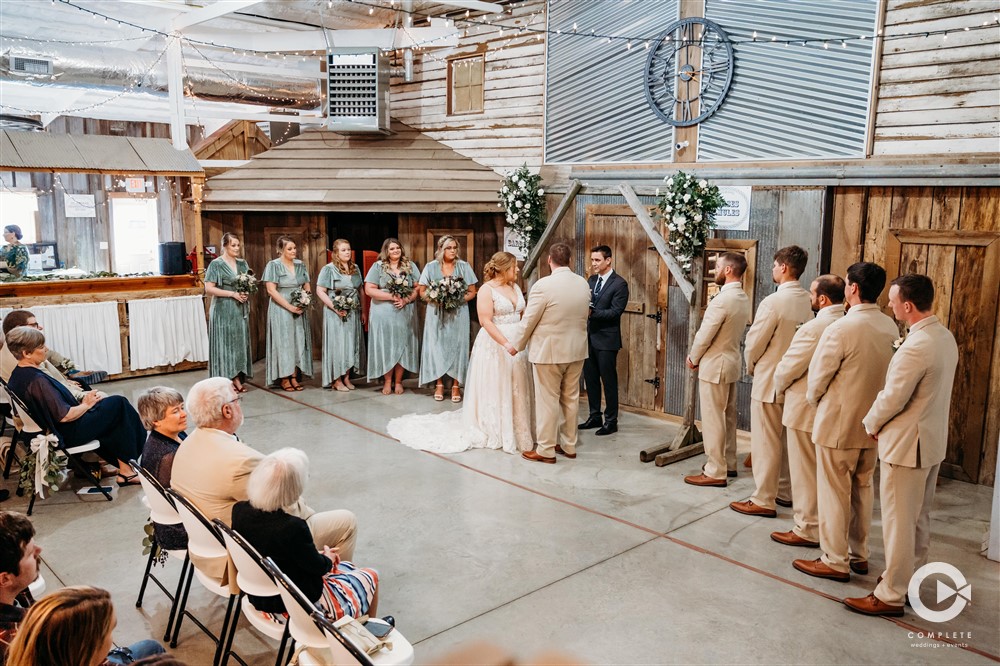 Personal Details
The folks at Homestead Reception Center know how to throw a party, and they're here to make your life easier! Their expert event planning team will be by your side, guiding you through the process from start to finish. With their keen attention to detail and knack for understanding your unique requirements, they'll turn your vision into a reality. From concept development to handling all the logistics, their expertise ensures a seamless event that exceeds your expectations.
At Homestead Reception Center, they believe in adding those personal touches that make your event one-of-a-kind. You'll have the freedom to customize the space with decorative elements, floral arrangements, and lighting enhancements that reflect your unique style. The dedicated staff is there to make your dreams come true, going above and beyond to create an atmosphere that matches your vision perfectly.
Design the Wedding of Your Dreams
For a venue that combines natural beauty, top-notch amenities, and a personalized touch, Homestead Reception Center is where the party's at! With its stunning surroundings, versatile event spaces, modern amenities, expert event planning, mouthwatering culinary creations, and endless personalization options, it's the ultimate destination for unforgettable weddings, corporate blowouts, and all-around amazing celebrations.
So, whether you're planning an intimate gathering or a wild bash, Homestead Reception Center is ready to turn your party dreams into reality. Get ready to let loose and have the time of your life!
Complete Weddings + Events Central Illinois
We had such a blast at Megan and Collin's wedding. We cannot thank them enough for allowing us to be such a big part of their wedding day.
If you're planning a wedding, you've come to the right place. At Complete Weddings + Events, our team of photographers, videographers, DJs, photo booth rentals, and event consultants specialize in wedding services to make your day a success and make sure you're just worried about enjoying it. Contact us today to learn more about our wedding packages best for your special day!