Wedding guest books have been in use for years! Many couples love having a list of everyone who was at the wedding. However, how likely are you to dig up that old book and reminiscing by reading the names of everyone that attended the event? Now with technology, we don't absolutely need everyone's address is written in a book to get thank you notes sent out. So, what are the alternatives to the classic guest book?
Alternatives to A Classic Wedding Guest Book
Guest Note Cards
A great alternative to guest books is having everyone sign a sealed notecard and write a little message for you! This is a much more personal note than anything you could ever say in a guest book. You'll simply order enough note cards for everyone and have them sign it, seal it in an envelope, and put it in a box for you! Imagine having little messages from all of your guests to read for the rest of your life! 🙂
Personalized Pieces
Another creative alternative is to have everyone sign something that's personal to you and your fiance! Whether it's signing a photo that you both love or creating art out of something altogether, this is something you'll always appreciate! It will be extremely cool to have the ability to hang something up in your first home together with a signature of everyone who celebrated your big day with you.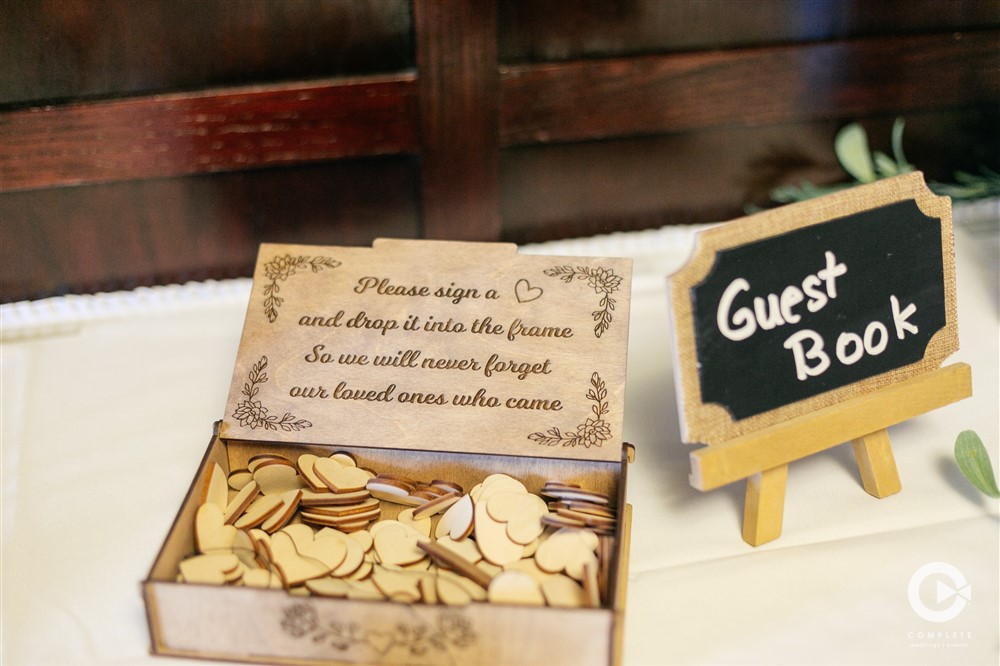 Dictionary Guest Book
Such a fun idea is to grab a dictionary and let your guests circle a word that they think should describe the couple! This is a very unique way to let your guests touch on what makes you special as a couple and is such a cool keepsake. A dictionary guest book is SUCH a fun way to look back on everyone who attended the wedding
Puzzle Guest Book
A puzzle guest book is another fun alternative to the typical guest book at a wedding! You'll simply have your wedding guests sign individual puzzle pieces and at some point, after the wedding, you and your spouse will have the opportunity to put a puzzle together while reminding yourself of everyone who attended the wedding. This is another amazing opportunity to remind yourself of everyone who attended without simply having a dusty book that you rarely pull out of the closet.
Photo Booth Scrapbook
Photo booths are an extremely fun part of your wedding and can actually double as an awesome guest book as well! With our photo booths, our photo booth operator will actually put together a scrapbook from all of the printouts! Everyone can sign their name where their photo booth prints are and this will be a much more fun way to create and look at your guest book.
Complete Weddings + Events Rochester, MN
We'd love to speak to help you plan your wedding! We have tons of ideas on our blog in addition to offering DJ, photography, videography, photo booth, and uplighting. Take a look at our blog to get inspiration on planning or contact us today to learn about our services!