Hello, radiant brides-to-be! Firstly, heartfelt congratulations on this beautiful chapter of your love journey. If the mesmerizing Black Hills are your chosen backdrop for engagement photos, you've made a truly magical choice. We put together a complete guide to fall engagement photos in the Black Hills.
If you are planning a romantic celebration in Western South Dakota or Northeast Wyoming, keep reading! Designed with the modern bride in mind, this guide delves into the most picturesque locations, the trending fall colors for 2023, and outfit inspirations to ensure your photoshoot is every bit as enchanting as your love story.
1. Picture-Perfect Locations in the Black Hills
2. Trending Fall Colors 2023
The color trends for fall 2023 lean toward the warm, earthy, and timeless:
Terracotta: This warm, earthy color is perfect for fall and complements the natural tones of the Black Hills.
Midnight Blue: Elegant and deep, this hue is a sophisticated choice for evening shoots.
Golden Harvest: Think of the rich shades of fallen leaves. This color will blend seamlessly with your surroundings.
Dusty Rose: A romantic choice that adds a soft touch amidst the bold colors of fall.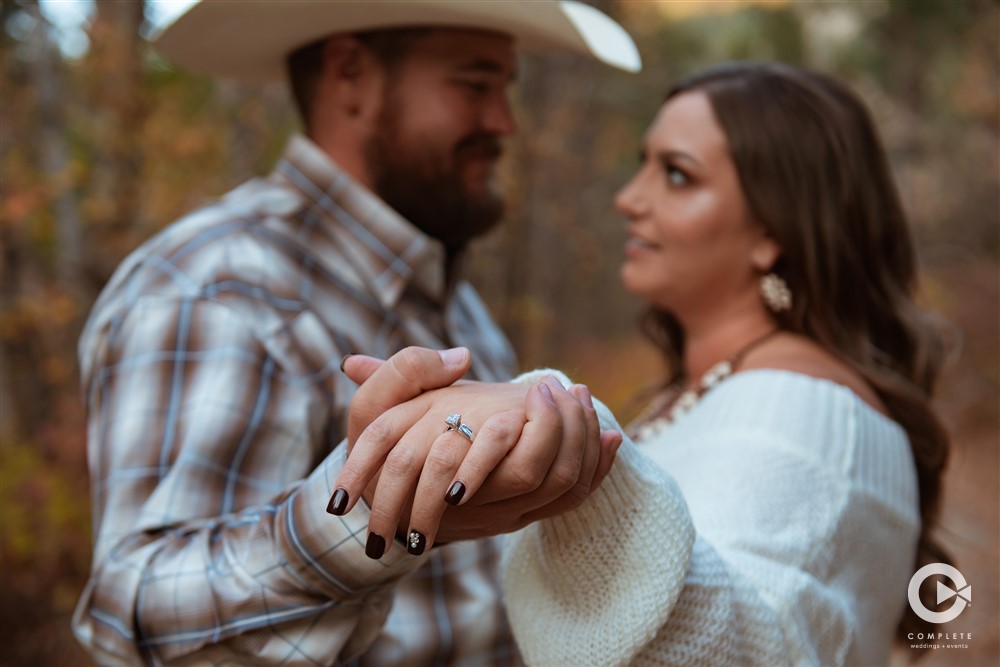 3. Engagement Photo Outfit Ideas and Tips
Ladies: Consider pairing a flowy terracotta dress with a statement necklace or earrings. Another option could be a golden harvest sweater with a neutral-toned skirt, coupled with knee-high boots. If you're leaning more casual, go for a dusty rose top, paired with deep denim jeans.
Gents: A midnight blue blazer over a white shirt, complemented by tan chinos, can make for a dashing look. For a more relaxed vibe, a golden harvest sweater with dark jeans works wonders.
Coordinate, Don't Match: Remember, it's essential to coordinate your outfits, but matching from head-to-toe can seem forced. Find a balance where both outfits complement each other without being overly identical.
Accessorize: Think scarves, hats, and unique jewelry that reflects your personal style. These additions can elevate your entire look.
Comfort is Key: While looking your best is a priority, make sure you're comfortable in what you're wearing. You'll be moving, sitting, and possibly hiking to get to some of these locations!
Engagement Photoshoots in the Black Hills
The Black Hills offer a mesmerizing setting for your fall engagement photos. By coupling the natural beauty of the Black Hills with the right outfit choices based on 2023's fall color trends, you're bound to have an engagement album that's both timeless and trendy. Complete Weddings + Events of the Black Hills brings a photography team with more than 50 years of combined experience. Find out how we can make your dream engagement photos a reality!
Complete Weddings + Events – Engagement Photographers in Rapid City, SD
Book your FREE consultation at www.completerapidcity.com
Follow us on Facebook, Instagram, and YouTube, or check out our blog for more real South Dakota weddings, ideas, and inspiration.
At Complete Weddings + Events, we are the leading provider of event and wedding photography, videography, DJ, coordination, and photo booth rental services in Rapid City, SD, and surrounding areas.