Wedding party photos are some of the most memorable pictures you can take away from your Orlando wedding day. So many times, couples can forget to plan or don't think about what they want to achieve with their wedding party photos. Think about the following: What would be cute for social media? What would I want to be printed in an album? What would I want to hang on the wall? This will help with brainstorming what you'd like so you can give your Orlando, FL wedding photographer some ideas walking into your wedding day! We've also got some ideas to get you started as well. Read on for some fun Orlando wedding party photos you might want in your wedding day gallery.
The Fun Photos
Our first piece of advice when planning what you want your wedding party photos to look like is this: MAKE IT FUN! Honestly, when you all are being yourselves you will most likely get some cute photos in there. A silly one-on-one picture can be a nice post for a wedding party member's birthday on your Instagram story, and could easily be framed for your home office or desk.
With the whole wedding party, a silly photo looks amazing as part of a printed wedding album or as your cover photo on Facebook. Making a Tik Tok or Instagram reel with a fun song in the background is a great way to re-live the fun you had with your best friends!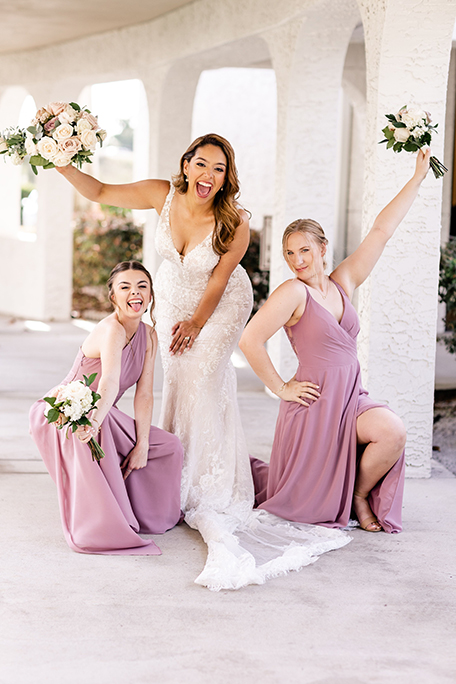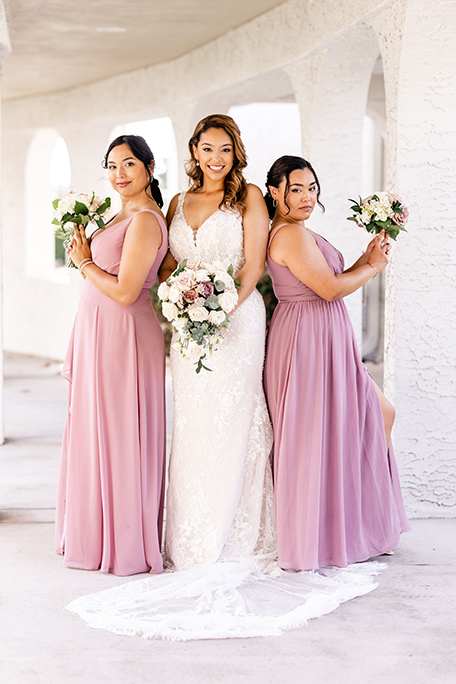 Themed Pictures
If you are having a themed wedding of some sort, we definitely recommend getting some awesome pics that highlight that with your Orlando wedding party! For example, if you love Star Wars, definitely take some photos where your wedding party is holding light sabers.
If you are having a Harry Potter-themed wedding, you could assign each of your wedding party members a house to be a part of and buy them jackets to wear! If you are having a Disney-themed wedding, take a photo with some Mickey and Minnie ears on! The possibilities are endless, and will be sure to have memorable photos for your social feeds, albums, or other prints!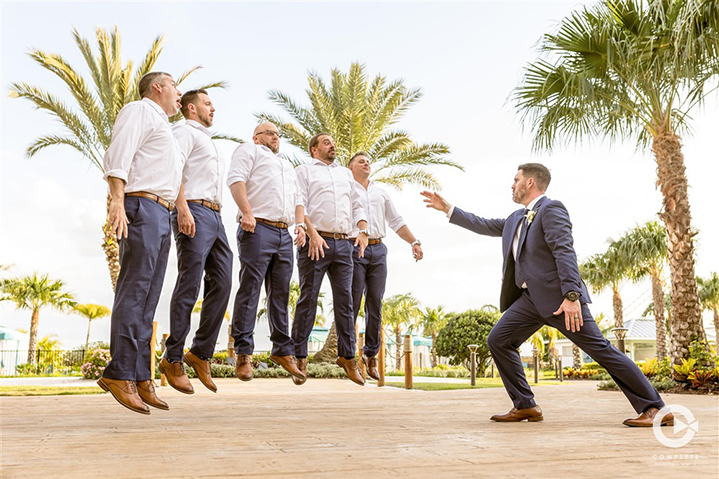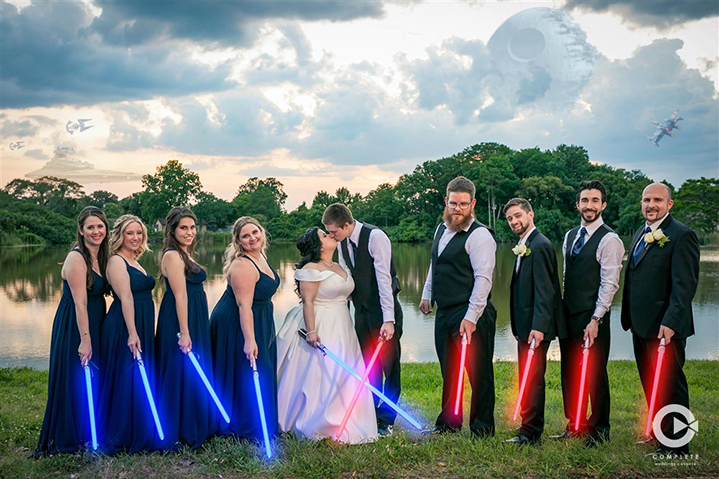 The Tackle
This is the most adorable and is a MUST to be in your wedding gallery! This is cute for both the girls and the guys. The candid joy you can see on everyone's face is priceless. It shows the excitement that is to come for the day, but also the excitement everyone feels that is coming for the rest of your life!
These are your closest, most-trusted friends, so to many, they can be the most cherished pictures taken from the wedding day to look back on. These are great additions to your wedding album, but are awesome for a quick "friends appreciation" post; whether it's with the whole wedding party, or just you with the girls or the guys!
Laid Back and Candids
To be honest, the super posed Orlando wedding photos can get a little bit old. Obviously, you need a couple of these to make your wedding album complete with some nice smiles from everyone. However, it's also fun to be able to take a more laid-back photo. Your photos can still be posed, but is a little more modern-looking.
We also love true candid pictures. The ones where you are laughing with everyone truly capture the delight! You are fun and so are your friends; let's make sure that's captured in all your photos! P.S: these are the ones that are the CUTEST for social media.
Celebrate
Grab a couple of pics where everyone is celebrating. The most popular is where you are kissing your new forever partner, and everyone is cheering in the background. Add a little bit of your own flair to it and add some flower petals or confetti that everyone can throw. This looks GREAT printed to put up on a wall in your home.
Another idea is to pop some champagne and have every cheering you on as the bottle explodes. Another cute option for your Facebook or Twitter cover photo!
Complete Weddings + Events Orlando, Florida
Our photographers not only capture your day, but help you create a gallery that you will remember forever, and want to share with all your family and friends! Complete Weddings + Events is Orlando's leading provider in DJ, photography, video, photo booth, and day-of-coordination services. Our team works together to create and capture awesome memories that last a lifetime all throughout the Central Florida area. Contact us today to set up a consultation and get the wedding planning started!