Everyone LOVES photo booths and they are a great way to kick off your cocktail hour and wedding reception! Photo Booths are a fun way to break the ice as guests wait for the newlyweds to be introduced. The fun doesn't stop after the grand entrance though! Not to mention the photos from the booth are a party favor that guests will keep for a lifetime! To make sure it's the hit of the party here are some fun Northwest Arkansas Photo Booth ideas you can incorporate.
Fun Northwest Arkansas Photo Booth Ideas to Incorporate
Creative Backdrops
Adding a creative backdrop to your photo booth not only sets your wedding apart but will also leave a lasting impression on everyone that makes a silly face in front of it! From a rustic pallet with floral accents to a mosaic of a colorful paper, pick a backdrop that fits your wedding style. Check out some of our favorite backdrops we came across scrolling through Pinterest!
Fun and Colorful Paper Mosaic
What an affordable and fun DIY backdrop! All you would need is a variety of colored paper pom poms, fans, or flowers to create a mosaic with different layers of texture and colors.
Elegant Drapery with Greenery
Hosting a wedding that is a formal affair? You can't go wrong with classy drapery with accents of greenery or flowers!
Custom Printed
I really like the idea of a custom printed photo booth backdrops is that the options are ENDLESS! The fact that I can use the same design to tie my invitations, menus, and photo booth backdrop all together is really appealing!
Rustic Pallet with Florals
A pallet backdrop is a great option for any DIYer or rustic themed wedding! The floral accents take the pallet from shabby to chic. <3
Larger Than Life Props!
Having great props is a HUGE part of the success of having a fun photo booth! Adding large props like furniture for guests to sit on or frames from them to hold is a unique way to set your photo booth apart from other weddings. Here are some fun ideas on larger than life props you can add!
Oversized Polaroid Frame
What I love best about Polaroid picture frames is that the bottom can be personalized! Hang the frame to make it a stand-alone prop or add it to prop stash for guests to pick and choose.
Vintage Furniture
Vintage Furniture and especially anything velvet is super hot right now! Placing a blue velvet couch for wedding guests to take a picture on will really make a statement and draw people in!
Oversized Christmas Wreath
There is nothing better than a good wedding theme and Christmas themes are one of my favorites! Seriously though, how magical does this oversized wreath make this photograph?
Personalized Props
Anytime I see a photo booth I go straight to the prop table to check out the goods! I LOVE coming across personalized props that go with the event theme or is a nod to them as a couple. Having a garden theme wedding? Plut some flower crowns on the prop table! Or my personal favorite, pictures of the bride and groom on popsicle sticks!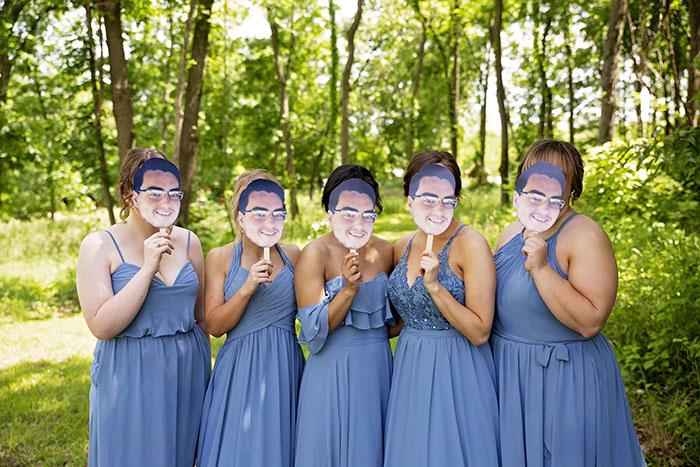 Complete Weddings + Events Northwest Arkansas
Planning your dream wedding or event should be simple and fun, and we firmly believe that having all our services under one roof makes planning easier for you. So relax. We've got this. Our job is to make this easy for you, your job is to enjoy the party! Complete Weddings + Events, Northwest Arkansas leading provider of event and wedding Photography, Videography, Lighting, DJ services & Photo Booth rental.