The Right Photo Booth Rental in Minneapolis for Your Event
Selecting the right Minneapolis photo booth rental service requires a bit of forethought. Consider the mood you're hoping to capture for your event – unlimited prints, open-air setups, and more traditional booths all have their merits.
It's important to consider the things you value most when determining which special events photo booth in Minneapolis to use. Prioritizing digital copies of every single photo taken at your event, for example, can help you determine which rental option is best.
Can't I Just Take Smartphone Photos?
Snapshots taken on your phone will likely stay there. Photo booths offer you and your guests something truly special: the chance to make a memory and walk away with a souvenir in hand.
Bring guests of all ages together as they delight in the opportunity to create something timeless. No matter their background, age, or idea of fun, your friends and loved ones will relish the chance to get in the photo booth.
Major Props
When you choose a Complete Weddings + Events Photo Booth rental in Minneapolis, there are a variety of options for prints, props, and digital downloads. Your guests will delight in the chance to pose with fun photo booth props including wacky glasses, cute signs, hilarious hats, and more!
While many companies offer photo booth props, our complete service ensures the best props specifically tailored to your event. While you dive into the booth and live it up, our photo booth attendants take care of the details. It's the best way to stay present amidst the frenetic excitement of a party!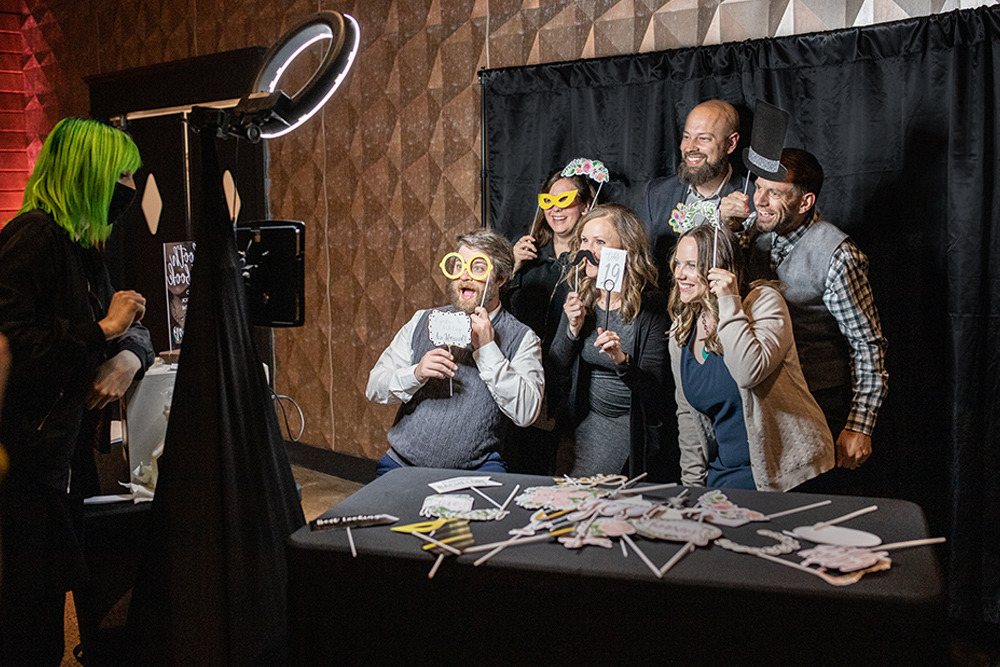 Minneapolis Photo Booth Rental Company
Complete Weddings + Events provides only the best photo booth rentals in the greater Minneapolis region. Our team will help make a list of your priorities and preferences to ensure you receive the exact experience you're imagining. In addition to customizing your photo booth service, we'll also have staff on hand to ensure things go off without a hitch.
We'll even compile a special scrapbook for you to take home with you! This scrapbook, along with the unlimited prints and digital downloads of shots taken throughout the night, helps document treasured memories of your big event.
Rent a Photo Booth Minneapolis – Complete Weddings + Events
An event photo booth can elevate a party from fun to fabulous. Complete Weddings + Events can help you design the perfect photo booth experience for your guests. Beyond props and photos, we can also help you find the perfect DJ, photographer, videographer, and more.
Our passion for creating once-in-a-lifetime moments is infectious – your guests will treasure the memories made at your big event with the help of Complete Weddings + Events!
Whether you're hosting a wedding, a birthday party, or a corporate event, a Minneapolis event photo booth can be the cherry on top of a perfect evening. Contact us to book a photo booth rental in Minneapolis today!
Customer Reviews
"Working w Complete as a whole was incredible from the start. We hired them for photo booth services only. I put in my submission for information and it was less than two hours before I got a call that talked through all of the questions and information I wanted. Cheyenne was our photo booth attendant and she was an absolute dream come true! She was professional and sweet. Came to me directly for anything she needed. I loved working with her and I was incredibly happy we had the opportunity to work together." – Elise L 

"Marielle was our DJ and she was amazing! She was super accommodating and helpful with all the questions I had, and she had great suggestions when I wasn't sure what to do for music. She kept checking in on us to make sure everything was running smoothly, and she kept the dance floor filled! Cheyenne was our photo booth operator, and every time I looked over at the photo booth, there was someone taking pictures! Everyone seemed to enjoy having the photo booth there with the fun props." – Erin D. 

"We had a Complete wedding and it couldn't have gone smoother! DJ Todd was amazing and kept the crowd going and was very interactive with the guests throughout the day. He made sure bride and groom were happy with what he was doing throughout the night, as well. Coordinator Stacey was also amazing! She helped solve problems before the bride and groom knew about them. And handled an especially difficult company that was supposed to deliver chairs. Photographer Leah was great! Very funny. And captured every moment throughout the day. Videographer Sam was very nice. Followed Leah's lead and also captured every single moment. And Chelsey, who managed the photo booth, was lovely and helped made sure everyone signed the book. Overall, Complete Weddings deserves 6/5 stars. Great experience." – Grace E. 

"We had a great time working with Hannah and Complete Weddings & Events! Everything from scheduling, to speaking with Hannah to discuss exactly how the photobooth process will go and the designs that we want, everything was sooo smooth and easy! We appreciate all of their hard work for ensuring that our company Holiday Event was well lit and had a great photobooth! Thank you!" – Maggie H. 
Areas We Serve
At Complete Weddings + Events, we are proud to serve couples throughout Minneapolis, MN, and the surrounding areas. We are committed to providing exceptional event and wedding photo booth rental services in:
Golden Valley, MN
Columbia Heights, MN
Robbinsdale, MN
Saint Louis Park, MN
Roseville, MN
Crystal, MN
Richfield, MN
New Brighton, MN
New Hope, MN
Edina, MN
Fridley, MN
Brooklyn Center, MN
Hopkins, MN
Saint Paul, MN