One of the most joyous signs that you are finally married is taking your exit at the end of your wedding ceremony. After all the preparation and the stress, it's now time for you to take a real breather. As for most brides and grooms, they want to close their ceremony or day in a more memorable way by playing magical send-off music.
Choosing a unique song for your wedding that's personal can stir more emotions and set a better tone for your exit. The golden rule is to use a lively and upbeat exit song, but we think you should put thought into other factors too. Like these ones: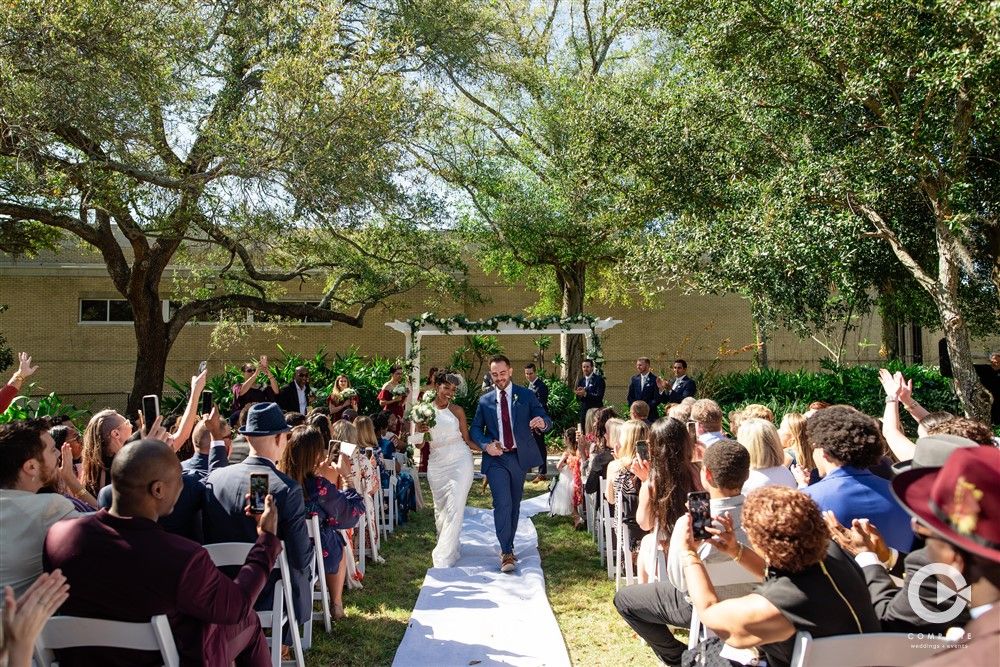 Choosing a Unique Song For Your Wedding
The Venue
This is often overlooked by many, but if you're doing your wedding in conservative venues, you'd want to discuss your plans first. Talk to the venue provider or manager and ask about any restrictions as to what you can play. Religious venues or places of worship often have a list of songs that you can pick from. Some may be open to whatever song you want (but still subject to the review and approval of the officiant), white others may allow anything that has no recorded words or instrumental.
Your Love Story
It's not only your processional song that tells your beautiful story, it should also be heard on your send-off track. What's the song you always dance to in the kitchen? A track you love singing in the car? Or, perhaps, a song that reminds you of your most exciting adventures together? Find a unique song that has a personal connection to your story as a couple. Examine the lyrics!
Ceremony Type
A wedding exit song should not just be right for the venue or your history as a couple, but the type of your wedding ceremony too. If you're having a religious ceremony, be aware of the limitations as to what you can play. But if you're planning for a civil wedding, it's best to opt for a more modern or fun song (not overly religious, of course).
Live Play
One fantastic trick to make your send-off song more unique is by having it played by a live band. Whether it's a tried-and-true love ballad or a popular jam, live musicians can make your wedding exit extra special and engaging. After all, maybe we can all agree that live and breathing music gives off a more unique experience than a pre-recorded song.
Choosing a unique song for your wedding. There you have it – some tips to help you select the perfect song for your wedding exit. Again, these are just recommendations. The choice is totally up to you and your partner. Treat it as the opening soundtrack to your future together and make it a personal statement of love and celebration!
About Complete Weddings and Events in Melbourne FL
If you're looking to tie the knot or throw an epic event, you have come to the right place. Complete Weddings + Events in Melbourne FL will help you find the right event or wedding photographer, videographer, and DJ to throw a phenomenal party, plus we have a fun photo booth and lighting rentals to elevate your event and give you the type of unforgettable experience you're looking for. When you party with Complete Weddings and Events, it's completely about you! Offering the best wedding services in the area.
Complete Weddings + Events, Melbourne's leading provider of event and wedding photography, videography, lighting, DJ services & photo booth rental.
For more wedding inspiration and tips and tricks you can follow us on Instagram and like us on Facebook!