Planning a wedding can be overwhelming and time seems to fly by. Because things come at you fast in this time, it's easy to make a few mistakes. While you may be trying to save money or time, there are just some things you shouldn't cut corners on. Here are seven wedding planning mistakes you should avoid at all costs.
1. Assuming Invited Guests Will RSVP "No"
There's a good chance that you've created a list of people you're going to invite and a list of people you expect to attend. You may even give your caterer and reception venue a number of attendance based on the people you expect to say "no"! However, there are going to be a few people that will likely surprise you and end up attending your wedding. Don't count anyone out.
If you don't want to exceed the number of guests, then simply don't invite those guests!
2. Allowing Others to Tell You Who to Invite
If you've already decided on a wedding venue, then you're likely limited to the number of people you can invite to your wedding. Plus, catering and other expenses will add costs when you start inviting every single person you've ever met!
With that being said, remember that your wedding is YOUR wedding after all. You go ahead and invite who you want to invite, and don't let others tell you who you should/shouldn't invite!
3. Skipping the Hair + Makeup Trial Run
You never truly know what you'll look like after the hair + makeup makeover until all is said and done. So, shouldn't you at least go in and try things out to make sure you have the look you're going for? YES!
Makeup artists and hairstylists create dramatically beautiful looks. However, if all that eye shadow and volume isn't you, make those decisions ahead of time.
4. Allowing Cellphones During the Ceremony
Your ceremony should only include one photographer, the one you hired. Hire two professional photographers in Fargo, ND if you want extra stunning shots! Trust us, no one else will capture a better picture, and someone is bound to forget to turn their phones on silent and keep the flash off. The LAST thing you want is for your great aunt to ruin the ceremony by blinding the officiant with her iPhone's flash!
5. Letting Others Talk You Into Traditions You Don't Want!
The chicken dance, the dollar dance, receiving line, etc. There are so many things that could go into a wedding that you either love or you hate. With that being said, if you're all for the chicken dance at your wedding, don't let anyone tell you to cut it! However, if you can't stand the dollar dance and everyone tries to tell you to add it, don't listen to them!
Your wedding day/night is about YOU. Don't allow anyone to sway your opinion.
6. Second Guessing Choices Made
With so many choices being made and so many options, it can be easy to second guess decisions you've already made. If you second guess the choices you've already made, then all you'll be doing during your planning process is second-guessing.
We urge you to be sure of the choices you make. However, once you make those choices, be confident in them. Otherwise, you'll only add stress to the process.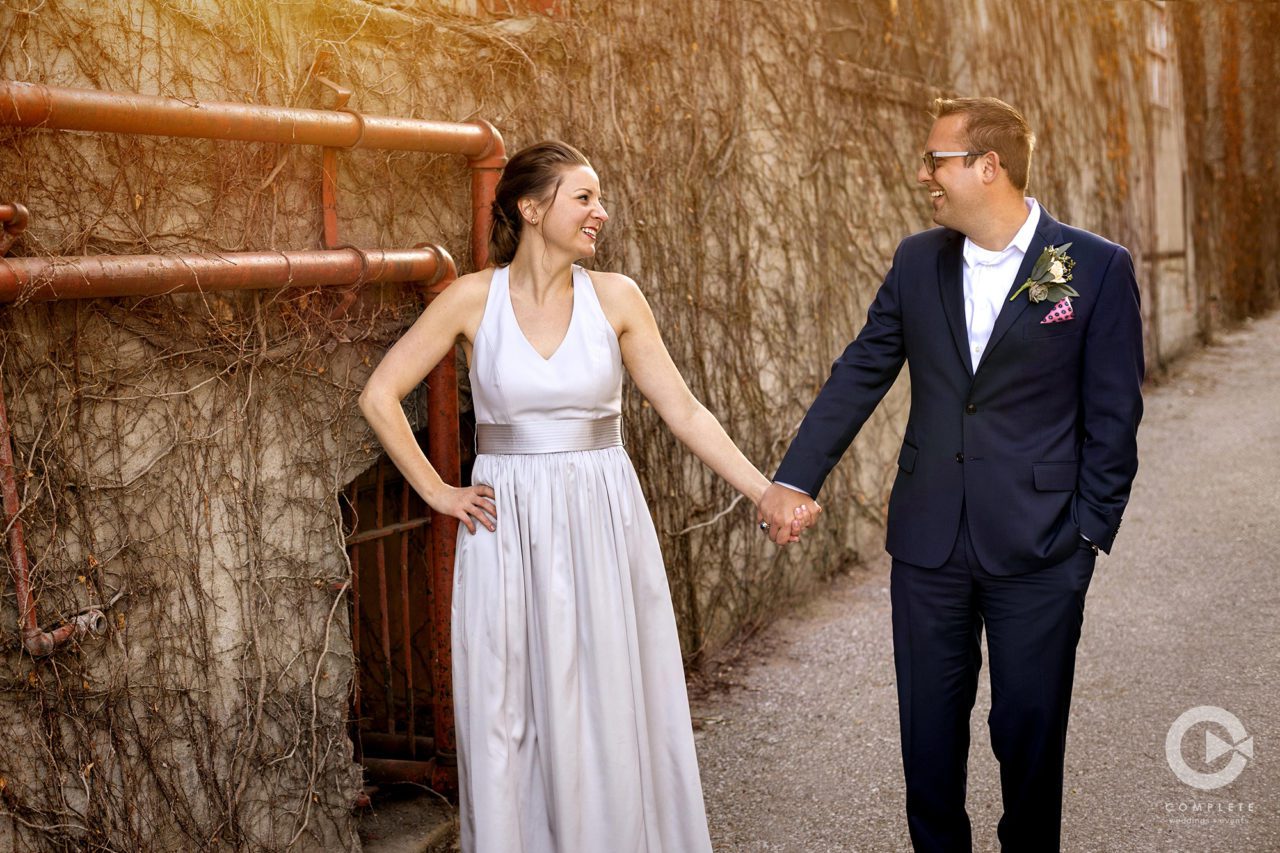 7. Not Hiring Top Notch Vendors
The vendors you hire should act as a team on your wedding night. One weak link on the team could ruin all the great plans you've set for the evening. Don't cut corners when it comes to hiring wedding vendors in Fargo, ND. Be sure they work well together, are super-experienced with weddings, and have great reviews. For example, pair a Complete Weddings + Events photographer with a Fargo, ND photo booth rental to help capture your night from start to finish.
We hope these tips will help ease your wedding planning process. We urge you to be sure of your decisions made and don't let anyone tell you otherwise. Most importantly, have fun throughout the wedding planning process because it only happens once!
Complete Weddings + Events Reviews
Here are some reviews that show how Complete Weddings + Events can help you with the planning process.
"Complete Weddings + Events was so easy to work with and listened to my very last detail. They made my day super special and I couldn't have asked for a better team to make my day perfect!" -Kennedy Muckey, April 9th, 2022
"Pat was great to work with! He was even able to stand up for what my husband and I wanted when approached by family members and did so in a polite way. He asked in the pre-interview a few weeks before the wedding how much energy we wanted from him and how much freedom he could have with the music. Pat was given only a few requests and then took care of everything else. He even made a few special moments that I wasn't expecting that I will remember forever with my spouse. Couldn't give a rating higher than a 10 but he was phenomenal!" -Kahlie Peterson, February 26th, 2022
Complete Weddings + Events Fargo, North Dakota
Ready to bring your wedding ideas to life? Contact us for details on planning the perfect wedding day!