After You Say "Yes"!
You are engaged!  Emotions are running wild and everyone is so excited, happy, and hopeful?!  What is next? Engagement Pictures!  Downtown Charleston, SC is truly a photographer's dream and the perfect location for Megan and Aaron's engagement session. They were not only fun to work with but also were absolute naturals in front of the camera.  You could tell that these two were made for each other! Picking an engagement session location in Downtown Charleston can be challenging as there are so many places to choose from. However, we found several that captured the classic and romantic look of Downtown Charleston.  It was the perfect day with the perfect couple! Here are the Top Spots in Downtown Charleston for Engagement Photos.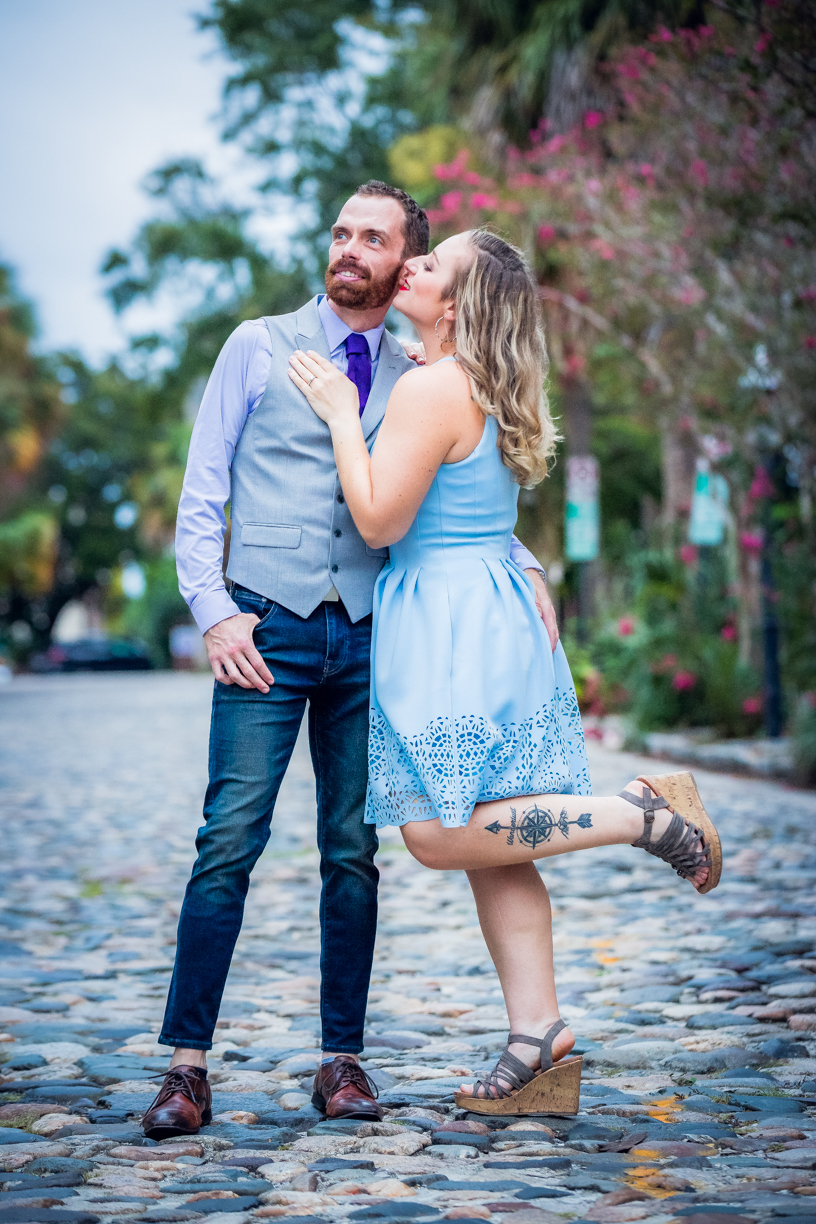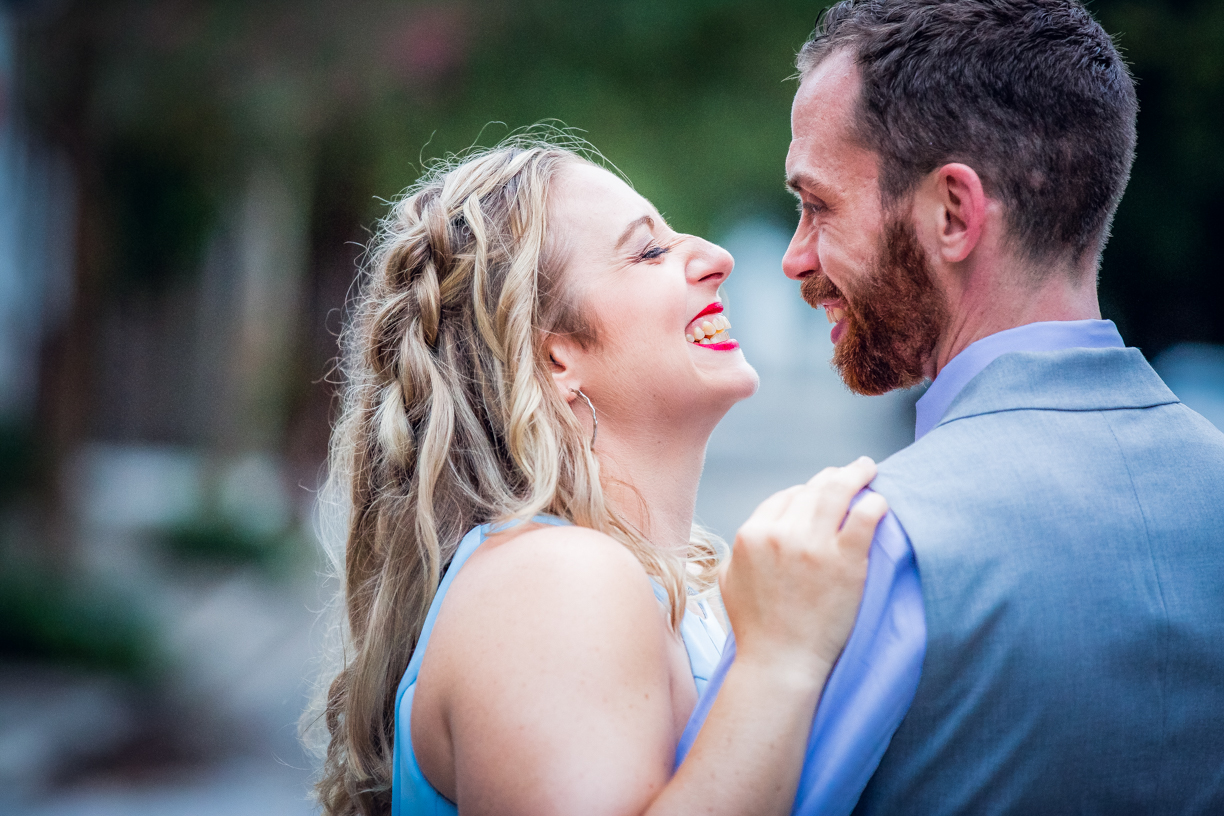 Top Spots in Downtown Charleston for Engagement Photos
Colorful, coastal architecture of the low country
Whether you are a born and raised local or a visitor to our great city, Downtown Charleston SC 's magic and charm attracts lovers from all around the world. It is so easy to become enamored with the sights and scenes that Downtown Charleston has to offer.  From the enchanting oak trees and cobblestone streets to the stunning magical fountains.  We had so much fun capturing Megan and Aaron and their glowing personalities.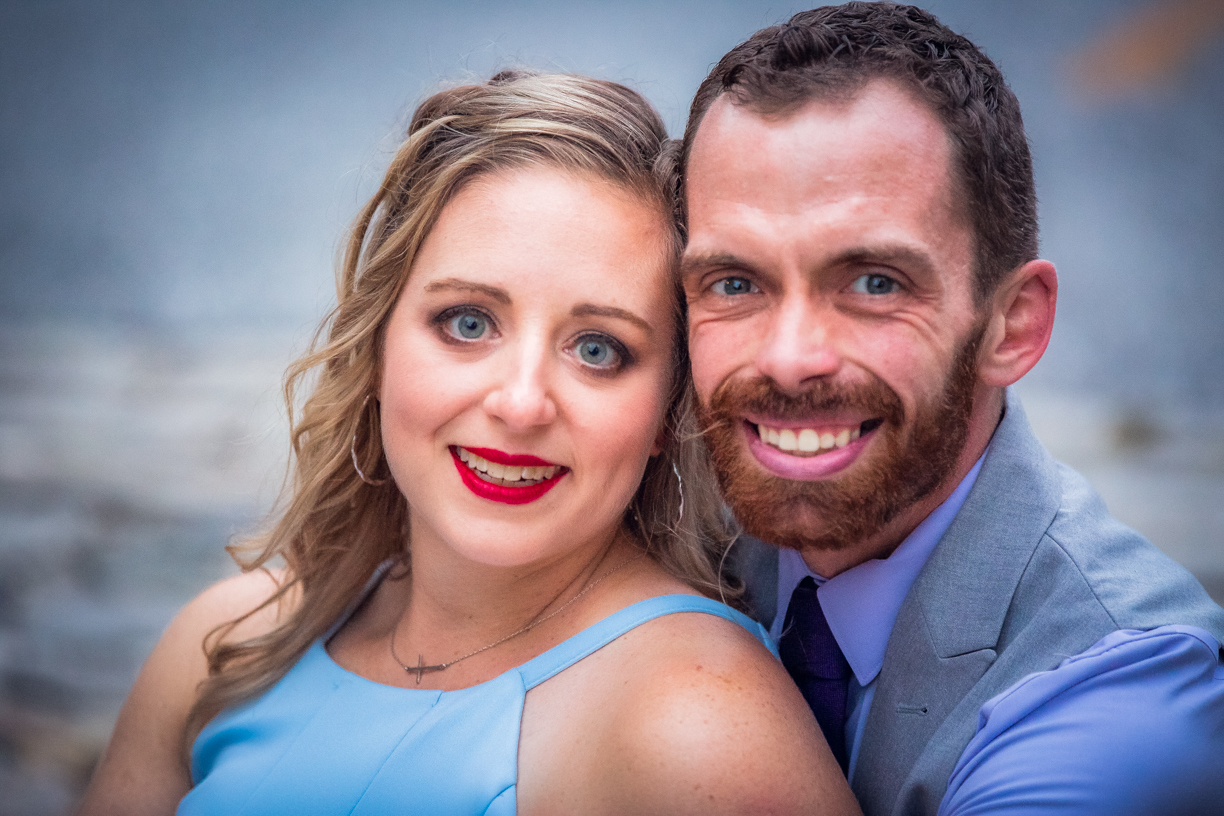 Megan + Aaron's Love Story
Megan and Aaron share a love of running, which is how they met. One day, Megan posted a comment on a Facebook running group that she was going out for pizza. Aaron showed up later that evening and they went salsa dancing!
We all know that exercise (and, yes, salsa dancing is exercise) induces the same symptoms as romantic attractions: sweaty hands, a racing pulse, and shortness of breath. This is certainly the case for these two. They pulled an all-nighter getting to know each other and sharing their life stories.
The next three weeks were spent talking endlessly on the phone and sharing their hopes and dreams. Aaron then pulled a fast one by asking her to attend a wedding. The small catch: it was in New York! For Megan, a Louisiana girl, this was a major decision, but she said YES and they had so much fun!
They saw their first Broadway show – The Phantom of the Opera, walked through Times Square holding hands, and soaked in the lights and sounds of the Big Apple. Although this was only their third date, this special time sealed their relationship forever.
Their lives are like their races; Aaron is usually ten paces ahead of Megan, but he always comes back to her side for the finish line. The way he looks at her, you can tell that he is so happy, proud, and full of love. And as you can see in these pictures, they are an adorable couple.
We are so excited to share in their upcoming May 2021 wedding at one of the most beautiful venues in the area, Wild Dunes Resort, where they plan to have a beach ceremony and the reception at the Country Club.
Complete Weddings + Events in Charleston
Creating your wedding planning checklist in Charleston is a big job, but it doesn't need to be overwhelming. By making a plan to start and then working one thing at a time, you will find yourself a master party planner in no time. Try our lists to get started right away! And for everything else you have questions about, Ask Complete Weddings + Events to get our expert help on wedding planning in Charleston!